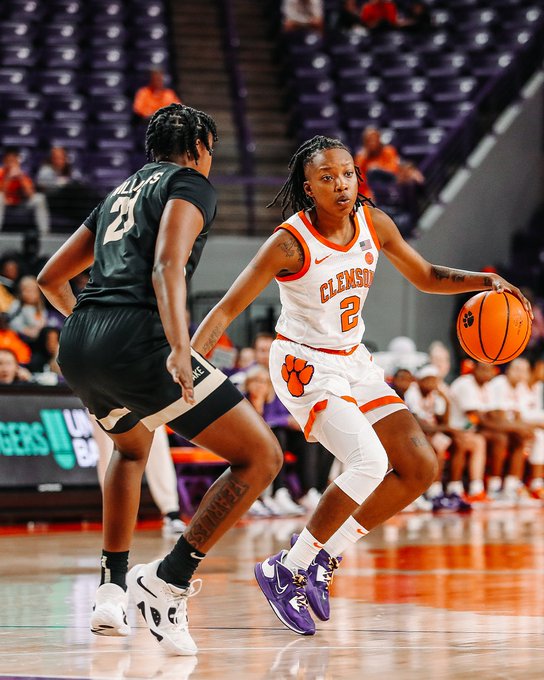 Clemson Downs Wake Forest on Sunday, 60-59
CLEMSON, S.C. – Hannah Hank blocked an attempted put-back at the buzzer and Clemson held on against Wake Forest, 60-59, on Sunday afternoon inside Littlejohn Coliseum. The win moves the Tigers to 11-4 (2-1 ACC) on the year, while the loss drops the Demon Deacons to 10-5 (1-3 ACC).
Freshman Ruby Whitehorn led the charge for the Tigers with 16 points going 6-for-11 from the floor and 4-for-5 from the free throw line. Graduate transfer Brie Perpignan added an additional 13 points and a team-high seven assists. Eno Inyang rounded out the Clemson offense as the third player in double-digits with a season-high 10, going a perfect 5-for-5 from the floor.
Wake Forest took the early lead, but Clemson was able to respond with an "and-one" from Whitehorn under the basket. Perpignan and Amari Robinson sank three points to give Clemson an 18-12 advantage after the first quarter. The Demon Deacons tied the game at 24-all with four and a half minutes to play in the second and were able to maintain a seven-point advantage at the half.
Whitehorn and Perpignan dominated the opening minutes of the third quarter to keep Clemson in the game, knocking down two layups and a three-pointer, respectively. The two programs traded points the remainder of the quarter with Ale'jah Douglas and Whitehorn hitting some crucial free throws, and Hannah Hank making a three on a fast break to give Clemson a 47-46 advantage.
The fourth quarter was much like the third with both teams going basket-for-basket with one another. Neither team was able to take more than a three-point advantage throughout the quarter. Wake Forest held a one-point lead with three and a half minutes remaining. The Tigers' victory was put on the line as Daisha Bradford stepped to the free throw line with 2:22 left to play and sank both free throws after Hank tallied a crucial steal to give the Tigers' a one-point lead.
Wake Forest got a good look at a three with under 10 seconds to go, but Hank blocked the final shot as time expired to seal Clemson's second-straight ACC win.
Clemson is back in action on Thursday, traveling to Tallahassee, Fla., for a 6:00 p.m. matchup against Florida State.