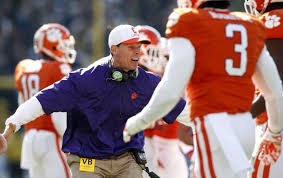 2018 Allstate Sugar Bowl – Clemson Defensive Coordinator
Brent Venables Quotes – 12-28-17
Q. Is it easier to prepare for a team whose identity ‑‑ as you know, Derrick Henry is 80% of it or 70% of it, or if you know it's Baker Mayfield who everything's built around, kind of what one guy does. Is it more difficult that Alabama doesn't seem to feature one guy?
COACH VENABLES: Oh, sure. Obviously, I think some things are going to be this is what we do and, at the other end, you're required to do it. And I think each one probably brings a little bit something different to the table. But, I mean, they are able to stay fresh. As much as anything, it's their ability to physically impose their will on people. And they've got terrific players, very highly recruited players in every single position in that huddle.
So, even when everything is right, the margin for error is very little. Fundamentally, athletically, physically. And when they're able to keep guys fresh at the skill position when they're featuring the running backs, it can be ‑‑ it's a great, great challenge, as we know.
I think they established a running game early last year. We got settled down and got a little bit better. Losing Henry was a big deal for them. But, as we thought a year ago, 34 is a great player as well. And I think this year has proven that. So they've got home‑run hitters, man, outside and in that backfield and then the quarterback.
The first few plays of the game against one of their early opponents ‑‑ I mean, second play of the game, he's flipping the field and 60 yards later, it's a touchdown. And that's what they do, some option principles in some ways. They do a great job of getting their best players in football on the perimeter, in his face, against maybe smaller cover‑type guys as well. They force everybody to get involved. You're not going to hide against these boys. They're not, "Well, I'm going to cover my guy over here." They're smarter than that. And so, if you have some deficiencies, they'll expose you in a minute.
Q. How has Brian [Daboll]'s stamp print on this offense been different than Lane's [Kiffin]?
COACH VENABLES: I always look at each game as kind of a season or life of its own. I don't really look at trying to compare or contrast what they do different. I just look at players and what they do best, how they feature them and, you know, don't really try to even compare. But they've got great backs. Again, they've got really good receivers. They're doing a very good job of establishing the line of scrimmage, utilize the screen game, the boot game, play action, and, again, get some one‑on‑one opportunities outside and over the top.
So those are all similarities. And some of the play designs are the same, and some of it's a little bit different. And, obviously, they got back here. I think, for the most part, all year they were the number one team in the country and destroying everybody. So what they've done is very effective. The coaches change but the players keep doing the same stuff and scoring a lot of points and moving the ball both on the run and the pass game.
Q. Do you feel the defense has kind of taken on the personality of the defensive line and the team really has taken on that personality?
COACH VENABLES: I think that's where our most experience is coming back. And it's a group that's probably got our best collection as a position, our best collection of leaders. They kind of set the tempo in regards to our work ethic, our attitude. They bring a lot of energy. They like to practice. They like the weight room. They like it all.
And it's not a group of guys that you've got to pull any teeth to get ready to prepare and work, whether we're playing Citadel, Auburn, or Alabama, it doesn't matter. Our guys like to play the game. So I do think that, as a group, you want them to get off the bus first.
And they've been very productive, too. And it's a disruptive group that, you know, has had another strong year. And it's not a group that's really concerned with reading their press clippings and things of that nature. It's a very humble, hard‑working, tough‑minded, group of guys that are selfless in everything that they do and their leadership.
Q. Were you surprised at all, when coming into this year, how humble and selfless that front line remained, knowing they were all kind of battling for publicity, draft status, that type of thing?
COACH VENABLES: Not surprised. We addressed it all the way back in the summer, when everybody wanted to anoint the defense or them as the best ever. And who's to say who's who and what's what. I'm one to say we haven't done anything yet. This book is far from being finished. And I just despise putting the cart before the horse.
And this has been a group that has been easy to coach because of their humility. And they're just a very grounded group of young men that all come from good mamas. And I say that sincerely. That's why they are who they are.
But I'm not surprised, though, that they've remained humble, no, not at all. And I think that also, that's what our program is. And that's something that Coach [Dabo] Swinney nourishes and demands. And there will be no entitlement in this program. They kind of lead the way.
Q. Talking about the best effort, the guys were really up and they wanted to be better than 2014. Do you feel like they are?
COACH VENABLES: I'm not really concerned with comparing them. It's been a fun group to coach. And that was a terrific group. Because, as much as anything, they competed and finished everything. And we still have more in front of us. But this has been a group that it's been fun to watch. Because despite injuries, despite lack of depth, despite some lack of experience at some spots, you've really kind of seen them for the most part get better as the year has gone on. And those are the most fun groups to coach.
And it doesn't happen every year. But the best units, the best players that you've been around, that's something that's a quality that they all have. They just keep getting better, keep their nose down, know how to work. And this group is actually doing that.
Q. How much is Dabo [Swinney] a guy that says, "You coach the defense and do what you want," and how much is he a guy that says, "You coach the defense within these parameters and do it the way I want"?
COACH VENABLES: Well, I mean, there's certain standards that are uncompromising. But he gives you a great deal of autonomy. He's great to work for.
First, he believes in you. And we all need structure. We all need a little bit of help staying in our lane here and there. And he does a great job from just a balance standpoint of knowing what we're doing, doesn't ask a whole lot of other questions.
If something's wrong, whether it's personnel or scheme, he's going to make sure that you're checking your oil, which any great CEO or head coach is going to do and should do. But he gives us a lot of autonomy and a great deal of trust. But you earn that over time. And, like I said, we all need structure. You don't want too much autonomy. And so he does a great job, easy to work for.
Q. You anticipated Alabama adding offensively at the end of the last season.
COACH VENABLES: You know, there will always be wrinkles. There's differences. A year ago, you prepare, whatever it was, six days thinking that you're getting ready for Lane Kiffin's offense; and then [Steve] Sarkisian comes in and he's got his o