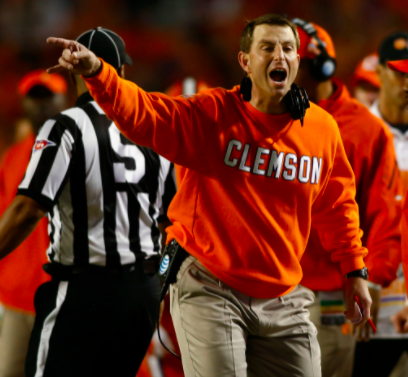 The Clemson coaching staff has gone through a transition. All you have to do is look at social media and this Tiger team is going down the tubes because two coordinators decided to leave Clemson for head coaching positions. Out of 130+ college football teams in the country, Clemson is the only one going through such a transition. How will Dabo survive? Who will leave next?
Back away from the ledge. Social media has been waiting for Clemson to have a down year. What's amazing is that out of those 130 teams, 28 were good enough to win 10 games. Oh whoa is Clemson, having a down here with a 10-3 record.
DC Brent Venables left Clemson after 10 very productive years and headed to Oklahoma to take over a storied program. He is ready to be "the man", but in doing so, he took Clemson staff member (not on the field) Miguel Chavis, a former Clemson player, to coach the defensive ends. Director of Football Recruiting and External Affairs Thad Turnipseed has also packed up his family and moved to Oklahoma to be Brent's right hand man.
As everyone knows, defensive line coach Todd Bates, who just recently got a promotion within the Clemson staff, decided to take his talents to Oklahoma as well. It's not publicly known why all of a sudden this happened, but the fact is, he is now a Sooner coach.
Wes Goodwin has been in the background for several years now, and it could be said he was Brent's right hand man and his "answer man." Goodwin stepped in to the DC role and led the Clemson defense in the Cheez-It Bowl game victory. The Tiger defense held Iowa State to 270 total yards and didn't skip a beat on that side of the ball.
OC Tony Elliott has departed to take over as head coach at Virgnia. We will be seeing him again in the near future. His protege and next in line, Brandon Streeter, will be the beneficiary of having Maxpreps Player of the Year and 5-star quarterback Cade Klubnik at his disposal next year. There will be an epic quarterback battle in the spring.
Offensive line coach Robbie Caldwell will no longer be in that position on the field. He will stay within the administration in off-the-field duties. Former Clemson offensive linemen Thomas Austin and Brandon Thomas will take control of the offensive line. Out with the old and in with the new? New blood, new Clemson era.
Rumor has it that current Auburn defensive line coach Nick Eason will be returning home. Eason played in the NFL for 10 years and coached for 7 more years before returning to college football in 2021. This could be the last piece to putting the puzzle back together, Dabo's new staff is younger, experienced, and has that certain Clemson flavor to it. People want to say "hire outside the program, new ideas, fresh blood." Clemson doesn't need "outside the program." Clemson wants coaches AND players that fit the Clemson culture.
Clemson running backs coach CJ Spiller. Clemson wide receivers coach, Tyler Grisham. Offensive line coaches, Thomas Austin and Brandon Thomas. Defensive line coach Nick Eason. Offensive coordinator Brandon Streeter. All former Clemson players playing integral parts in this Clemson football program. Might we see current linebacker James Skalski returning to Clemson in some sort of position?
Things are far from gloom and doom in the Clemson football coaching ranks.