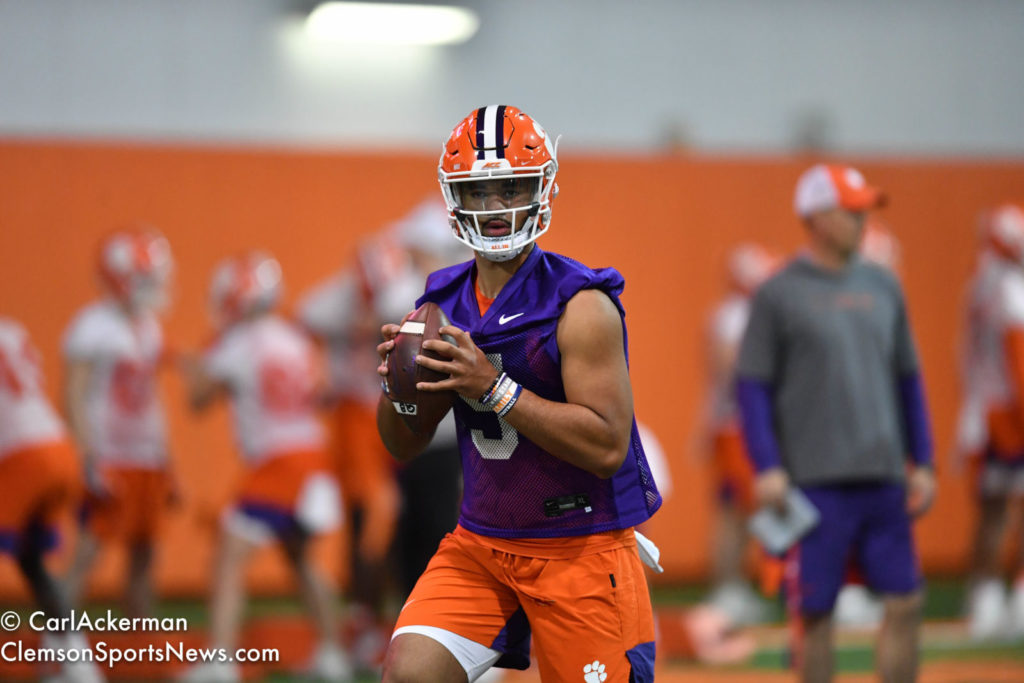 When DJ Uiagalelei snapped his helmet up at Truist Field in Winston-Salem for his first ever collegiate appearance, he was officially marked as QB2 for the Tigers. The top-rated quarterback in last year's recruiting class officially joined the ranks of having played quarterback for Clemson Tigers. 
The California native had very high hopes from Tigers fans everywhere. Coming into his freshman year, Uiagalelie had drawn comparisons to both Deshaun Watson and Trevor Lawrence due to his large 6'5 two hundred and fifty pound frame and elite arm strength.
Uiagalelei told the story of how he found out from Quarterbacks Coach Tyler Streeter that he had won the second string job.
"Coach Streeter told me before we got on the plane." Said Uiagalelei. "I was very honored to be able to earn the second string job.
Uiagalelei reflected today in his first appearance to the media since joining the Tigers football team. The true freshman told via zoom the first time he remembers watching Clemson growing up.
"I remember watching Tajh Boyd just throw bombs. I remember thinking, "oh shoot this the school I wanna be at where I can throw the ball deep."
QB2 also had some high praise for the guy starting in front of him. Earlier during his availability Uiagalelei said that Trevor Lawrence was definitely the best quarterback in the country. When asked why he didn't commit to a school where he could start right away instead of wait a year behind Lawrence, Uiagalelei stated:
"For me coming here and being able to learn from under him, I feel that that's a bigger accomplishment than going into a place and starting day one. I'm right behind the best quarterback and player in the country. I get to pick his brain."
The California native then compared sitting behind Trevor for a year to a situation in the NFL:
"It's like when Aaron Rodgers, he went behind Brett Farve and got to pick his brain and sit behind him and see how he sees the game."
Well, Rodgers sat behind Farve and when it was his turn to lead the Green Bay Packers, he led them to a Championship. Hopefully DJ5 can do the same for the Clemson Tigers.
Make sure to stay up-to-date on all things Clemson Sports at Clemsonsportsnews.com and follow our twitter for daily coverage of Tiger sports and Tigers in the pros.