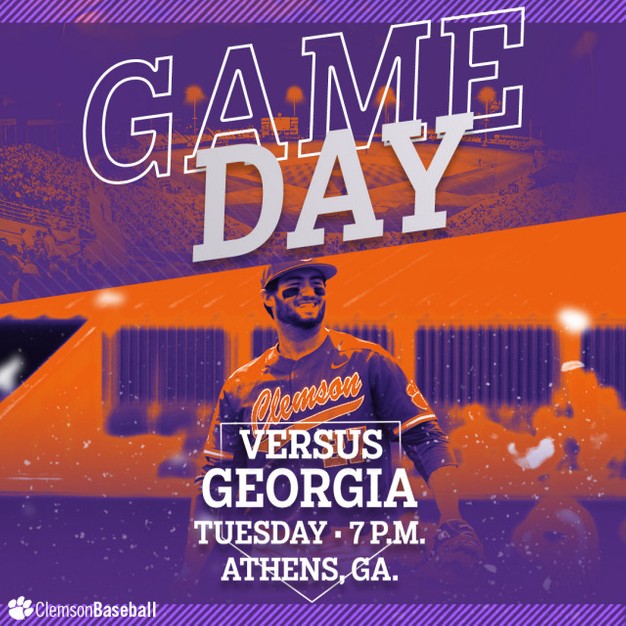 GAME SETUP
• Who – Clemson (26-10) vs. Georgia (25-11)
• Best Rankings – CU – No. 12 Perfect Game; UGA – No. 12 Collegiate Baseball
• When – Tuesday (7 p.m.)
• Where – Athens, Ga. (Foley Field)
• Watch – SEC Network
• Video Announcers – Tom Hart, Todd Walker
• Listen (Radio) – WCCP (105.5 FM), ESPN Upstate
• Listen (Internet) – ClemsonTigers.com, TuneIn
• Live Stats – ClemsonTigers.com
• Social Media – ClemsonBaseball
SERIES HISTORY
• Overall Record – Georgia leads 123-108-2 (1900-2018)
• Record at Georgia – Georgia leads 69-48 (1900-2017)
STARTING PITCHERS
• RHP Travis Marr (CU) vs. RHP Will Proctor (UGA)
CLEMSON OVERVIEW
• Miami (Fla.) defeated Clemson twice in three games at Doug Kingsmore Stadium last weekend.
• The Tigers are averaging 5.9 runs per game and hitting .245 with a .367 on-base percentage and 24 steals.
• The pitching staff has a 3.34 ERA, .242 opponents' batting average and 2.25 strikeout-to-walk ratio and Clemson is fielding .975.
GEORGIA OVERVIEW
• Georgia is led by fifth-year head coach Scott Stricklin.
• The Bulldogs won one of three games against Kentucky last weekend. They are hitting .282 and have a 3.57 ERA and .978 fielding percentage.
• Keegan McGovern is hitting .344 with 12 homers, while Michael Curry is batting .317 with seven homers.
QUICK HITS
• No. 10 Georgia rallied from a 3-0 deficit to defeat No. 3 Clemson 6-3 at SRP Park in North Augusta, S.C., on April 10.
• Clemson is 16-for-50 (.320) with three grand slams, three doubles and 46 RBIs with the bases loaded.
• The Tiger bullpen has a 2.90 ERA and .241 opponents' batting average.
PRO INFLUENCE
• Clemson has several current and former players on its roster who have MLB ties.
• Both Tiger student assistant coaches, Mark Davidson and Ben Paulsen, were former Tigers who went on to play in the majors.
• Davidson, father of Tiger shortstop Logan Davidson, played at Clemson in 1982 and played six MLB years (1986-91) with the Twins and Astros.
• Paulsen, Clemson's first-base coach, played at Clemson from 2007-09 and played three years (2014-16) with the Rockies.
• Grayson Byrd is the son of righthander Paul Byrd, who played 14 years with the Mets, Braves, Phillies, Royals, Angels, Indians and Red Sox.
• Carson Spiers is the nephew of former Tiger infielder Bill Spiers, who played 13 MLB seasons and is currently a Tiger football staff member.
• Bo Majkowski is the son of Don Majkowski, who played 10 years as a quaterback in the NFL with the Packers, Colts and Lions.