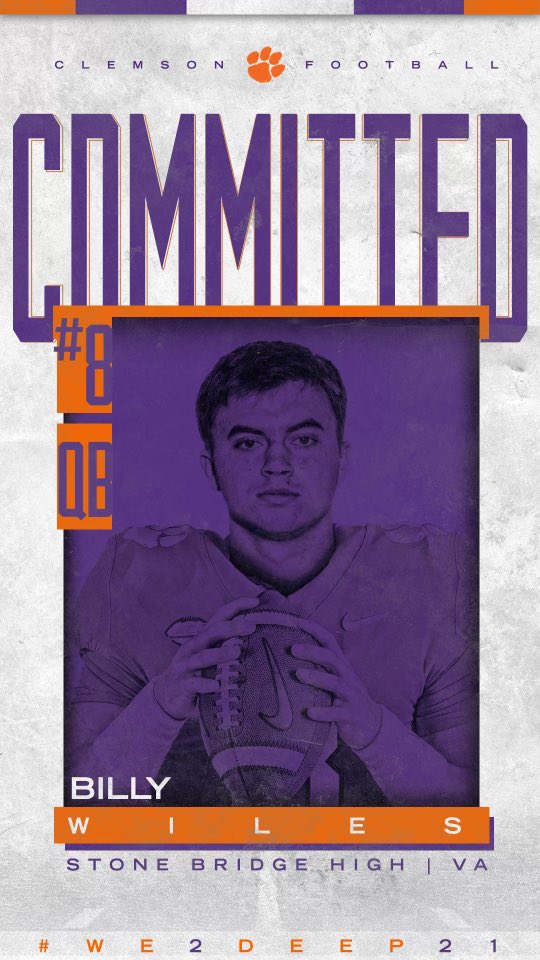 The Clemson Tigers are currently sitting in 5th place in the current college football recruiting rankings. With Coach Dabo Swinney, sometimes, it's not the 4 and 5 stars that make the biggest impact on a team. It's the Hunter Renfro's and the Darien Renchers, and the Billy Wiles of the class.
Billy WIles is a 6-3 200lb quarterback out of Ashburn, Virginia, and he has accepted a Preferred Walk On offer to Clemson. As a senior for Stone Bridge High School, he passed for 2300+ yards, 22 touchdowns, with a completion percentage of 63%.
In April, Wiles committed to Tulane University. In December, he backed off that commitment.
"The situation at Tulane wasn't great for me. Coach Hall, the offensive coordinator left and he was my guy. But also, Clemson has my dream for a long time, so being able to play there is a dream come true."
Virginia is a bit of a jaunt for his family to see Wiles play but that doesn't seem to matter. "My parents are super excited for me heading to play for Coach Swinney."
Billy Wiles will not be enrolling early at Clemson but once he does get there, he will be joining a deep quarterback room that includes D.J. Uiagalelei, Hunter Helms, Bubba Chandler and Will Taylor. A lot of competition there.