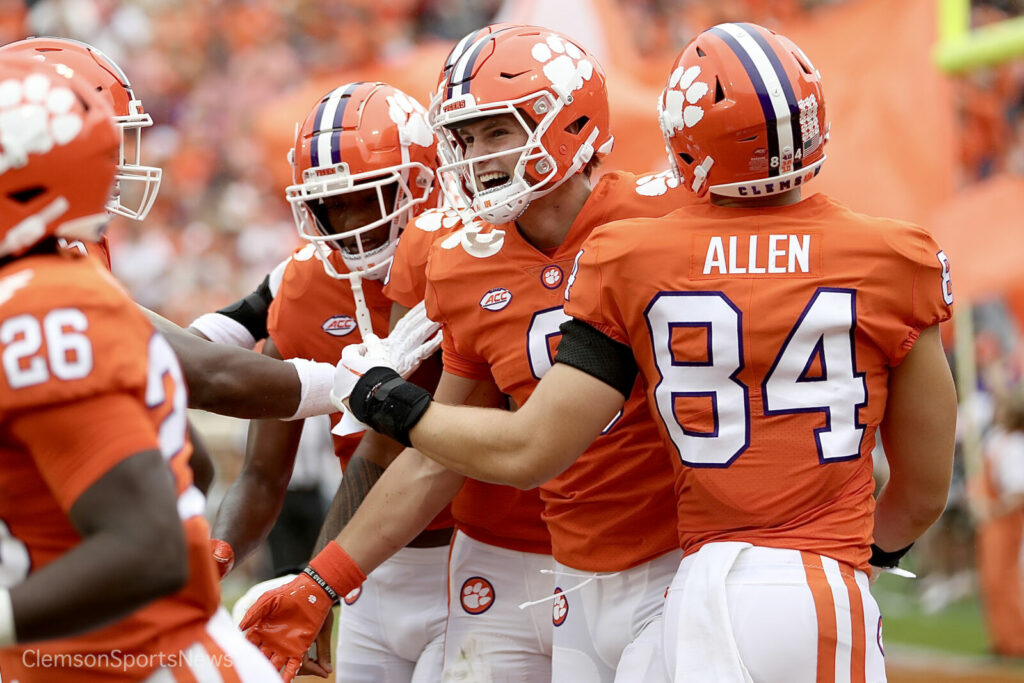 By: Neil Burnett
#9 Clemson plays host to the Miami Hurricanes Saturday, and they aren't planning to be cordial. The Tigers are still feeling the pain of their first loss two weeks ago, and will look to put Miami away before playing their rival.
Several starters for the Tigers were on the sidelines against Louisville, but Coach Dabo Swinney hopes to get most of them back. CB Malcolm Green is lost for the season after having surgery on his groin. OL Walker Parks should be back after being in concussion protocol, and starting LB Trenton Simpson turned an ankle and should be back on the field against Miami. WR Beaux Collins is still a game day decision.
A lot would think the Tigers might overlook this Hurricane team with South Carolina coming in the following week. Not likely.
There should be a big emphasis on the run game for the Tigers this week. Will Shipley leads the Tigers with 899 yards (5.8 YPC) and 12 touchdowns, and is a threat out of the backfield, hauling in 25 passes. Part II RB Phil Mafah has 400 yards (5.3 YPC) and five touchdowns. He led the Tigers in rushing last week against Louisville, picking up 106 yards on 10 carries. This 1-2 punch will give Miami fits. Enter Kobe Pace who hasn't seen the field in the last five games due to injury. He is due.
QB DJ Uiagalelei opened the season throwing for 200+ yards in seven straight games. He hasn't broken the 200 mark in the last three games and looks to get back on track. Freshman Antonio Williams had his breakout game last week against Louisville with 10 receptions for 83 yards and a touchdown. The Tigers have spread the wealth this year in regards to the passing game with five players having 20+ receptions, led by Williams's 43.
Miami comes into the game fresh off a victory over Georgia Tech, but, it was Georgia Tech. Freshman QB Jacurri Brown got the start for the injured Tyler Van Dyke. Brown is more of a dual threat type vice TVD who loves to sling it all over the field. The Tigers would much rather see Brown.
The Miami defense is very talented but sporadic. They yielded 234 yards passing to two backup GT quarterbacks and led the Yellow Jackets 14-7 after 3 quarters. It took a big 4th quarter for the Hurricanes to seal the victory. The previous game, they gave up 500+ yards to Florida State, including 279 on the ground in a 45-3 loss. This could be one of those types of games.
Clemson 41 Miami 10
Grayson Mann: Analyst/Writer/Contributor CSN
This is a game where the Tigers have an opportunity to put up some style points. Miami is currently a program going through some intense growing pains under Cristoball. Look for the offense to put together a good effort through all four quarters and the defense to create some turnovers as Clemson takes down Miami on a cold Saturday afternoon.
Clemson 38 Miami 10
Gary McDaniel: Publisher/Analyst CSN
Dabo Swinney and his Tigers go for their 12th season in a row with 10 or more wins today as they welcome the Hurricanes from Miami into Death Valley. Clemson needs to win and win BIG with "style points" and for the remainder of the season and into the ACC Championship game if they want to entertain the idea of the CFB Playoffs in 2022. With that said the Clemson team that showed up last week for 3/4th's of the game is back and read to pounce on an injured and fragmented Miami team from what took the field at the beginning of the season with top 10 rankings and ideas of an ACC title appearance. Clemson puts it all together for their best game of the season on both sides of the ball.
Clemson 41 Miami 10