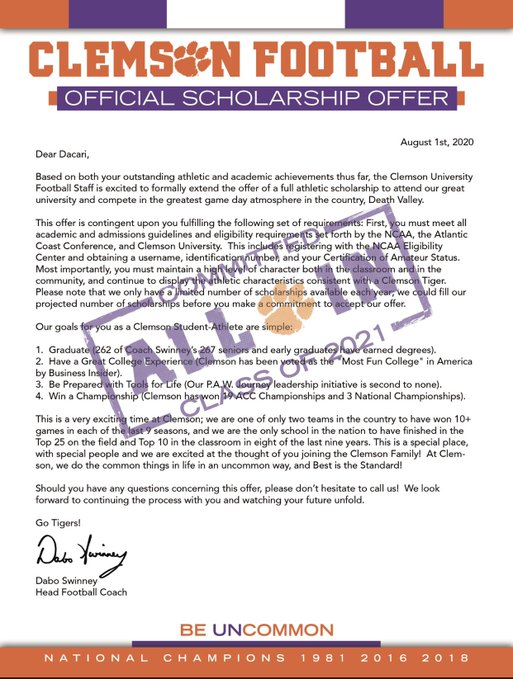 By: Neil Burnett
Official offer to play football at Clemson. On the first of August, Dabo Swinney and the football program sent out official offers for the 2021 football season. To date, Clemson has received 15 commitments for next year, and the tigers aren't done. It's a day high school kids all over the country wait for every August.
"August 1 was a day of happiness for a lot of young men across this country (Official offer letter). Free education and no student loans!!!! For those who didn't receive one don't give up KEEP PLUGGING AWAY! Things may not happen when you want it, but when it happens IT'S RIGHT ON TIME!" — Tony Ballard, Founder & CEO of Hustle Inc Football; School of Quarterbacks-Head Coach.

At Clemson, it's more than a free education or about student loans. It's about an opportunity to get entrenched in the Clemson culture, the football program, the university. "Free education" really means "tuition free" education. These young men are getting the opportunity to apply themselves on and off the field. Hard work in the classroom and on the field are the keys to their success. There is a saying "A Clemson man needs no introduction." Dabo and the entire administration have an agenda when they bring in a student athlete to Clemson university. They come in raw and in 4 years, leave a better person through training, coaching and hard work on and off the field.
Yesterday was a big day for a lot of young men who choose to play football at the next level and are given the opportunity to make Clemson university their home for the next 4 years. In reality, it's more than four years. It's more like a 40-year commitment because once they become a Clemson tiger, they are a tiger for life.
Congrats to all the prospects and commitments that received that letter yesterday. It's a decision of a lifetime..