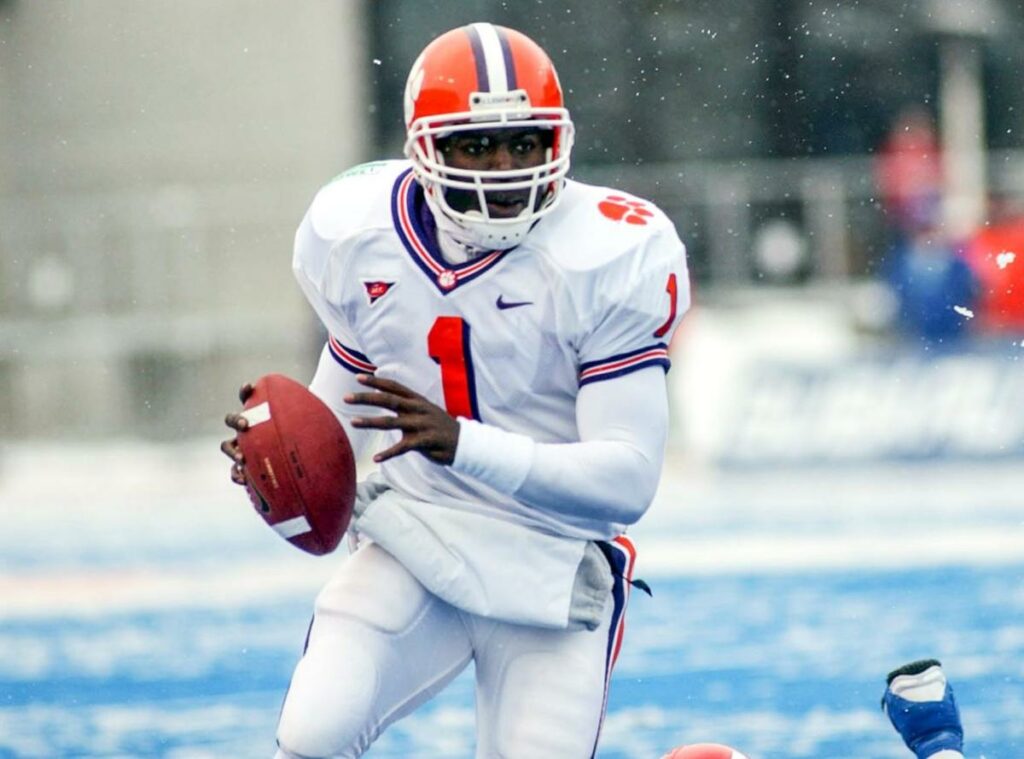 COLUMBIA, S.C. (January 30, 2023) – University of South Carolina wide receiver Robert Brooks, Clemson University quarterback Woody Dantzler and late Negro League baseball legend Chino Smith highlight the eight-member South Carolina Athletic Hall of Fame's (SCAHOF) induction class of 2023. Also being enshrined are University of South Carolina soccer coach Mark Berson and Track & Field star Dawn Ellerbe, Georgia Tech and Macedonia High School quarterback Joe Hamilton, Columbia native and NBA standout Jermaine O'Neal and Clemson University men's golf coach Larry Penley.
Woody Dantzler (Football; Clemson University, Orangeburg, SC)
Woody Dantzler was a first-team All-ACC quarterback as a senior in 2001 and was the first quarterback in NCAA history to throw for over 2,000 yards and rush for over 1,000 in the same season. He finished his Clemson career as the school's all-time leader in total offense (8,798 yards) and passing yardage (6,037 yards). He ranked 21st in passing efficiency in 2000, and ranked eighth in total offense in 2001. He also holds the Clemson career rushing mark by a quarterback with 2,761 yards, and the single-game rushing mark with 220 yards at Virginia in 2000. For his career he has 11 games of at least 100-yards rushing and at least 300-yards of total offense.

Dantzler was named the State of South Carolina College Football Player of the Year in 2001 and was the National-Back-of-the-Week in consecutive games in 2001, only Clemson player to be National-Player-of-the-Week in consecutive games.
Dantzler was a two-time Clemson team MVP (2000 & '01), Humanitarian Bowl MVP in his final game (2001), the 2001 McFadden Award as top college player in South Carolina, and a two-time semifinalist for the O'Brien Award (nation's top quarterback). Dantzler played in the NFL for two years with the Dallas Cowboys. He helped Clemson to three bowl games at the end of 1999, 2000 and 2001 seasons. The 2000 season finished with a number-14 national ranking, Clemson's highest final ranking between 1991 and 2012.
Larry Penley (Golf; Clemson)
Larry Penley, who served as Clemson men's golf head coach for 38 years, retired at the end of the 2020-21 season. In 2002-03, he became the first coach in the college golf history to lead a Division I program to a conference title, NCAA Regional title and NCAA National Championship in the same year.
He guided Clemson to 10 ACC Championships, including an 11-stroke win in 2016 and the 2021 crown – in his final season – through match play. His teams won an ACC-record 83 tournaments and he also holds the record for NCAA Regional Championships with seven, His team's had pair of Regional Championship "Three-Peats." Penley led the Tigers to a top-10 national finish seven consecutive years (1997-03). He led Clemson to 25 Top 20 seasons, and 29 trips to the NCAA National Tournament, more than any coach in any sport in Clemson history.
Penley, who earned ACC Coach of the Year honors nine times, was named the National Coach of the Year in 2003 after leading the Tigers to the National Championship. Additional highlights include enshrinement in the Collegiate Golf Hall of Fame in 2003 and the South Carolina Golf Hall of Fame in 2009. He coached two Ben Hogan Award winners (D.J. Trahan and Kyle Stanley), three US Public Links Champions (Kevin Johnson, DJ Trahan, and Corbin Mills) and two US Amateur Champions (Chris Patton in 1989 and Doc Redman in 2017).