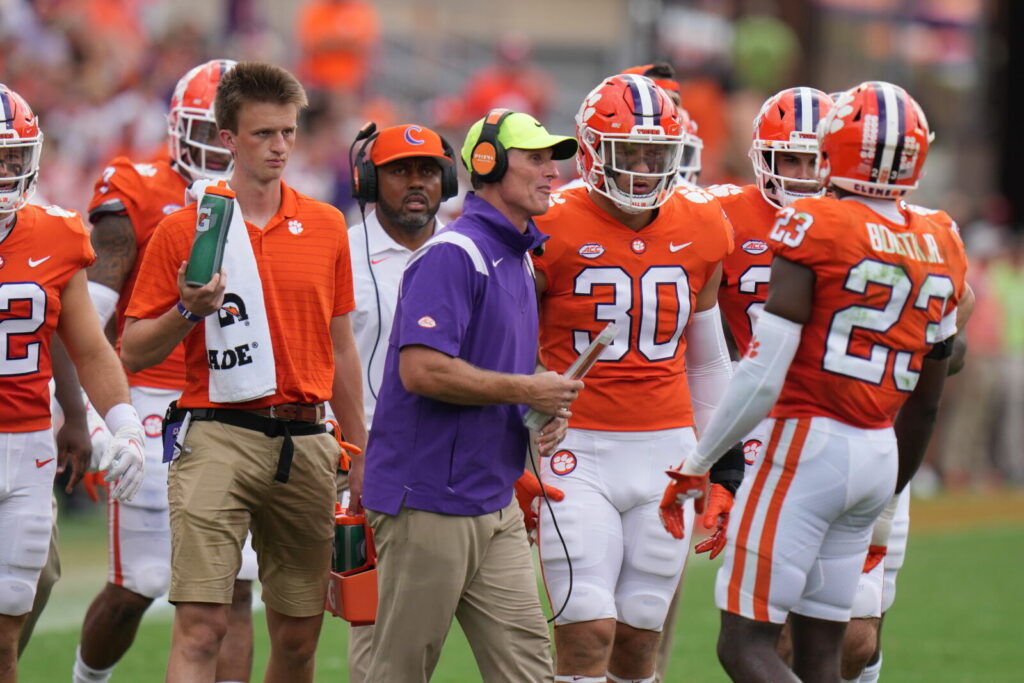 The Brent Venables era is over at Clemson. Regardless of what you read or hear, the Clemson era is not over. Coach Dabo Swinney is still the head coach, Coaches Todd Bates and Mike Reed are still there to coach the defensive line and secondary, and you can bet Dabo has a plan. He always does.
What rubs people the wrong way is seeing photos of Coach Venables on the road recruiting with Dabo days before he decided to take the job. My guess is he had already decided and was going through the motions. Do I think he was secretly recruiting for Oklahoma? No, I think BV is more of an honorable man than that. Then again, he is going to Oklahoma and the SEC. Nah, that sounds like sour grapes.
What direction will Dabo go? No idea. There is so much going on behind the scenes, information is locked up tighter than Fort Knox. There are several DC's out there that Dabo could be contacting but we won't know until he starts interviewing.
How will this affect current commitments? No one knows. One thing of note, recruits go to Alabama to play for Nick Saban, not a particular coordinator. Players go to play for Ryan Day at Ohio State, not a particular coordinator. Recruits come to Clemson because of Dabo Swinney and his family atmosphere and culture. Will they NOT come now because a coordinator has moved on? Signing day is right around the corner. We will find out.
Dabo knows he needs to hire someone quickly but he isn't going to just hire a "name" coach if he doesn't fit this team. Here are some of the coordinators that could be available.
David Reeves is the DC for University of Alabama-Birmingham (UAB). Reeves is a two-time Broyles Award nominee, and in 5th year as DC. Reeve's unit has been one of the most disruptive defenses in the country over the past three years, finishing top 10 nationally in total defense in 2018, 2019, and 2020, and finishing 15th in 2021.
Cincinnati Bearcats DC Mike Tressel could be a possibility. Yes, Cincy is in the college football playoffs for the first time ever but taking over a defense like Clemson's could be enticing to him. Once again, no one knows who is on Dabo's list.
Chad Staggs is the defensive coordinator for Coastal Carolina. In two years as DC for the Chanticleers, Staggs has helped lead this team to a 21-3 record. He works with the linebackers and safeties as well as the defensive coordinator. Sound familiar? He is not the "name" coordinator like a Tressel or a Mike Elko at Texas A&M but he appears to be a solid DC candidate.
It appears that Miami is now looking to not only hire Dan Radikovich away from Clemson, but they are also looking to bring in a new coach, Mario Cristobal, currently coaching at Oregon. Where does this leave Manny Diaz? Diaz is known to be an excellent defensive coach, and at Miami, he tried to be both head coach and defensive coordinator. Could he be a possibility if Cristobal is hired? Just a thought.
Dabo has led this Clemson program to 10 straight 10+ win seasons. He is on the verge of making it 11 straight. I'm pretty sure the Clemson head coach will wish BV luck and bring in the next great DC for the Clemson Tigers.