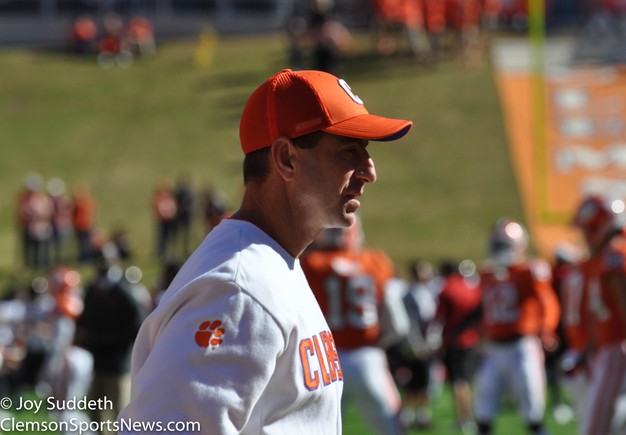 Dabo Tuesday Press Conference: South Carolina Game:
Clemson, SC
Dabo Swinney held his last regular season press conference of the year today. And this time its the game of the year in the state of South Carolina he is discussing with the gathered media. Swinney brings his Clemson team into this contest with an 11-0 record, and only the Gamecocks stand in the way of the Tigers and their goal of another State Championship and an undefeated 2018 regular season.
Swinney started this one out by bringing in cupcakes to serve to the media. This day was Dabo's 49th Birthday and he was in rare form as he entered the press conference cupcakes in hand. After the discussion about the cupcakes, Swinney then opened up his presser as usual with some prepared remarks.
And here is just what the Clemson head coach had to say… on Rivalry week and what it's like to be involved with one so long going back to his days at Alabama "something that has been woven into my life…always a special week… all over the country …Exciting time for everybody" Moving on to this week's game he said "SC they are 6-4 and had two really close losses…Had some injuries …A team you can definitely see has grown in their confidence …It is a good football team"
On the South Carolina Defense "They have had some guys injured…#8 he's as good as there is out there". On South Carolina Qb Jake Bentley "Bentley has a great arm is accurate"
And on other players on the Gamecocks squad that stood out to the Clemson head coach, "Zack Bailey is an excellent player..# 1 is as good as it gets …#34 is a sledgehammer for them…Everything is gonna goes through this QB and the Offensive line" And finally on an area, he expects to play a huge role in this game " Special teams is something that could be. Huge factor on Saturday night with their returners and how effective they are"
On the Rivalry and if it affects or changes the way the Tigers prepare Swinney said this " A little more personal you live with it in your community… Our preparation doesn't change…
Emotion don't win execution wins.. the most fired up team ain't gonna win" Finally Swinney said "Won't see many doing any five bombs or any of that if we win"
See the Entire DaboSwinney Press Conference here: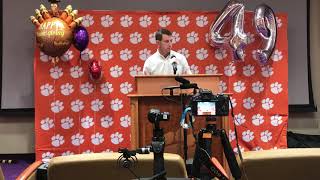 Brought to you by our Sponsor: