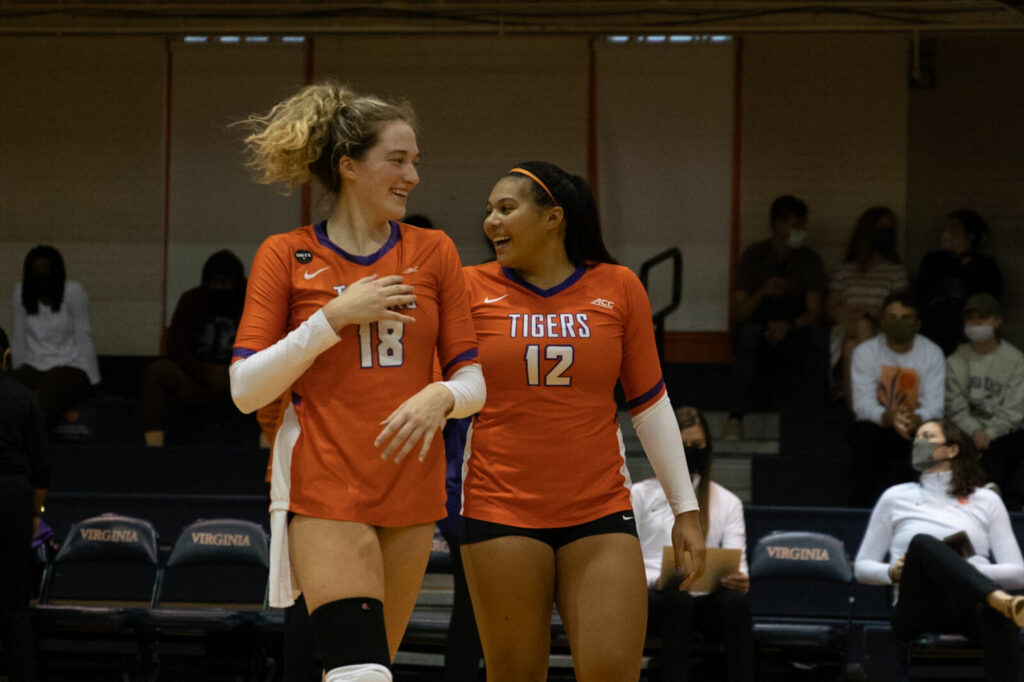 CHARLOTTESVILLE, VA. – Senior captain Crystal Childs came off the bench to tally three kills in the fifth set, including the match-clincher, as the Clemson Volleyball team held on to defeat Virginia, 3-2, in Memorial Gym on Sunday. The Tigers improved to 3-1 in ACC play on the road this season, and improved to 11-6 overall and 3-3 in ACC play.
Graduate Kaylee Martin led all players with 17 kills and surpassed 1,900 career points, while sophomore Camryn Hannah notched 16 kills and a season-high 16 digs to lead Clemson offensively. Clemson's 11.0 blocks defensively were its second-best total of the season, and Ani Clark was in on a career-best nine of them. Clark also added seven kills on the night, and Colleen Finney had a season-high nine.
Defensively, the Tigers held the Cavaliers (8-8, 1-4 ACC) below .150 hitting in all five sets, and just a .101 mark overall. But it was Virginia's 18.0 blocks that kept them in the match. The Tigers finished with 89 digs in the match, led by 24 from freshman libero Devan Taylor and 17 from sophomore Cate Long.
Clemson took the first set 25-22 and the second 25-19 to go into intermission with a 2-0 match lead. Mckenna Slavik, who dished out 48 assists to go with nine digs, spread the ball around as four attackers had three or more kills in the first set. In the second, Clemson hit .409 with 12 kills against only three errors.
The Cavaliers used 14.0 blocks over the next two sets to climb back into it, edging the Tigers 25-22 and 28-26 to force a decisive fifth set.
In the fifth, the Tigers trailed 5-3 before going on a 7-2 run behind three kills from Martin to take a 10-7 advantage and force a timeout. Virginia would close to one at 11-10, but three straight blocks from Clark and Hannah forced match point. Childs put away the final point to give the Tigers a 15-12 win in the fifth set.
Up Next
Clemson plays a pair of home matches this week – first against a ranked Georgia Tech club on Wednesday night at 7 p.m. and then against Duke on Friday at 7 p.m.