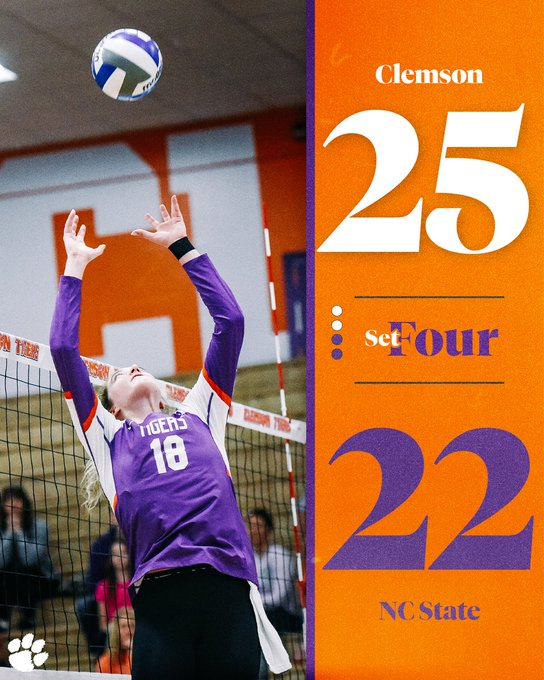 CLEMSON, S.C. – The Clemson volleyball team (13-15, 4-12 ACC) battled for four sets (25-23, 25-17, 17-25, 25-22) to defeat the NC State Wolfpack (13-13, 7-8 ACC) on Sunday afternoon in Jervey Gym. The victory snapped a five-game losing streak against the Wolfpack dating back to Oct. 2018.
Junior Cate Long led the charge for the Tigers with 13 kills and 14 digs, and freshman Mia McGrath followed with 10 kills of her own. Senior Mckenna Slavik posted her 10th double-double of the year with 44 assists and a team-high 15 digs, while sophomore Devan Taylor added 13 digs.
The two teams were extremely evenly matched in the first set, with neither team scoring more than three-straight points at a time. Clemson was able to hit .312 in the first, and with the score tied at 22, the Tigers used three of Camryn Hannah's seven first-set-kills to take a 1-0 lead. In the second set, a Hannah kill propelled the Tigers on an 8-2 run for a 19-13 advantage. Clemson dug in with kills from Cate Long and Ani Clark, and a service ace from freshman Becca Micelle to go on a 6-3 scoring run to secure the second set win.
Behind a .355 hitting percentage in the third, the Wolfpack was able to take the set win, 25-17, to force a fourth set. Clemson opened the fourth on a four-point scoring run that included Micelle's third aces of the match. NC State evened things at 10-all and took a 15-14 advantage into the media break. Both sides traded points for the remainder of the match, but it was Colleen Finney and Mckenna Slavik that came up with two big blocks for the Tigers that resulted in the set and match victory.
Up Next
The Tigers return to Jervey Gym next Friday, Nov. 18 at 4 p.m. Clemson will host Georgia Tech on Senior Day. The match can be streamed on ACCNX.