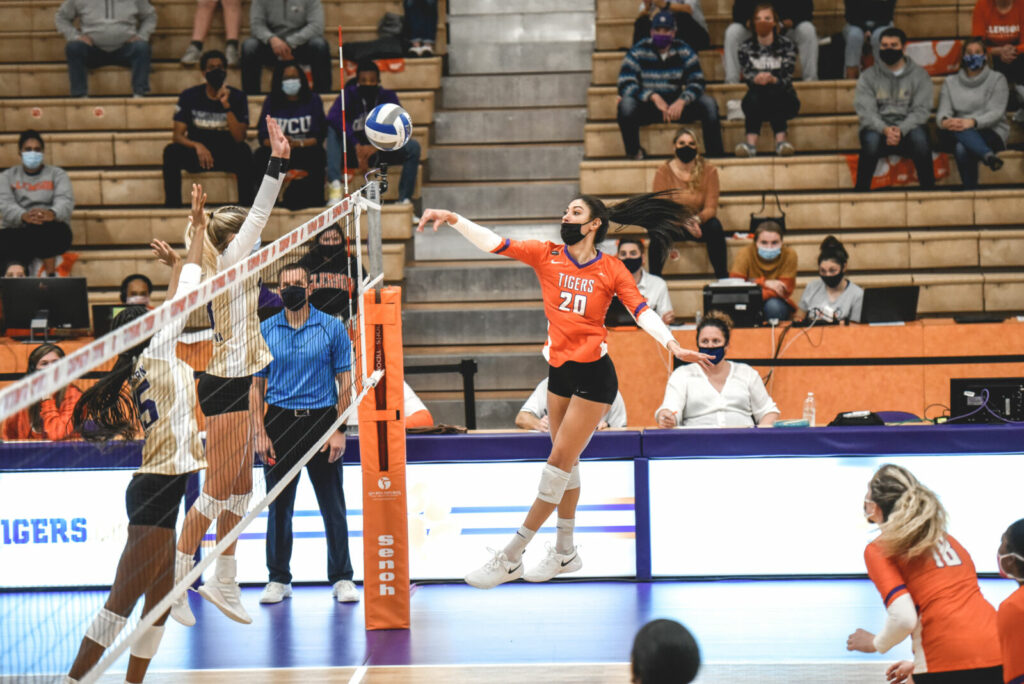 Middles Clark, Pritchard Guide Tigers in Sweep Over WCU
CLEMSON, S.C. – Clemson middle blockers Ani Clark (9-1-14) and Ava Pritchard (11-2-16) both registered career highs in hitting percentage to help the Tigers to victory over Western Carolina in three sets (28-26, 25-16, 25-20) on Saturday. Clark hit .571, while Pritchard hit .562, and both posted four blocks each. Clemson and WCU are slated to return to action at 6 p.m. in Jervey Gym for match No. 2 of Saturday's doubleheader.
Saturday's win extended the Tigers' lead to 26-10 in the all-time series. It also marked the ninth consecutive sweep over the Catamounts, dating back to 1992.
Caitlyn Meeks, a transfer from Georgia Southern, earned her first start at the libero position in a Clemson uniform. Meeks finished Saturday's opening contest with a career-high 17 digs. Sophomore setter Mckenna Slaik posted a match-high 38 assists as all six of Clemson's hitters that entered the match tallied at least five kills. Freshman outside hitter Cate Long registered nine kills on 18 swings to hit .389 and added seven digs, two aces and two blocks.
Western Carolina dug its heels in early and held a 23-20 lead towards the end of the first. WCU had set point on three occasions deep into the frame, but the Tigers received a nice boost from Clark and Pritchard, who then combined to register four Clemson points, including a block solo from Clark. Pritchard connected on the final play of game No. 1, which the Tigers won, 28-26.
Clemson sustained its momentum for the rest of the match, winning sets two and three, 25-16 and 25-20, respectively.
For the match, Clemson hit. 349 and sided out on 66 percent of Catamount serves.
For complete coverage of the Clemson Volleyball team, follow @ClemsonVB on Twitter and Instagram, and @ClemsonVolleyball on Facebook.