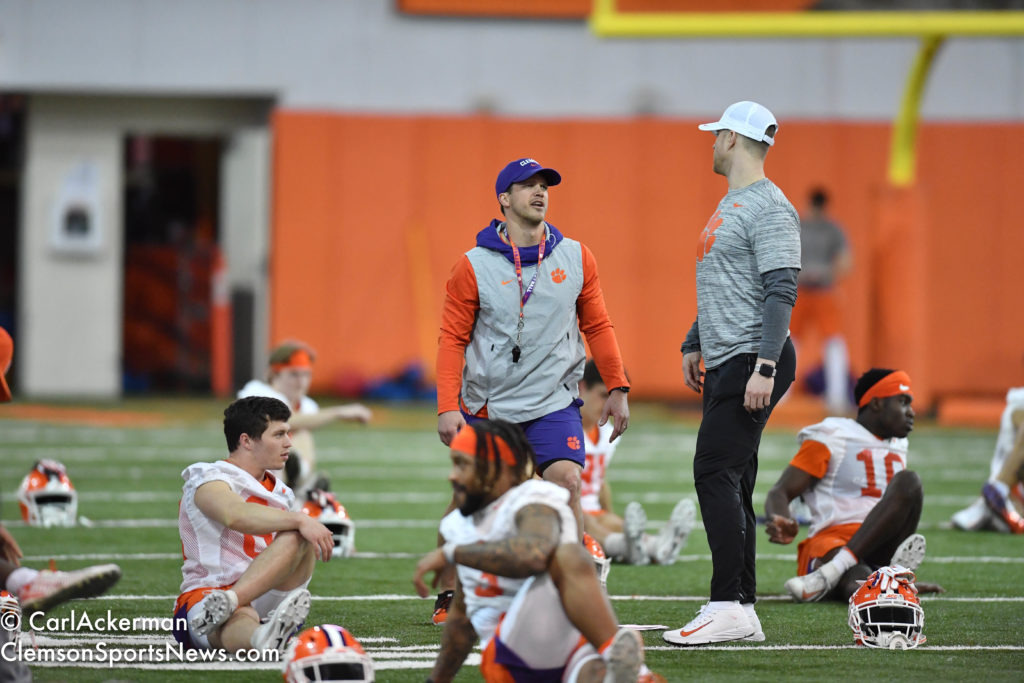 by: Zachary Wagner
With the departure of Jeff Scott to take control of the USF program in December last year, Tony Elliott was then named the full time offensive coordinator. This left a void for a wide receivers coach for the Clemson Tigers. Who better for Coach Swinney to promote from within to the position then someone who played for the Tigers and was part of WRU? Tyler Grisham.
Coach Swinney formally announced on February 6th that Grisham would be promoted from his role of offensive analyst. Grisham has been with the team for six years, two years as a graduate assistant and four as an offensive analyst.
"After our ACC Championship Game win, I was getting ready for our playoff game against Ohio State when Coach Swinney came up to me." Said Grisham. "He approached me and told me the news about Coach Jeff Scott taking the job at South Florida, and asked if I was ready." Grisham has been apart of the Clemson staff since 2014, serving a variety of roles on the offensive side of the ball for the Tigers. "Coach Swinney told me that I've been loyal and he believes I'm ready for this next step." After finding out the news, Grisham was able to celebrate with his players during the Tigers pizza party as they watched ESPN's announcement of the College Football Playoff and Clemson's fifth consecutive bearth to the playoffs. "It was a great day all around. I got to interact with our guys and see how happy they were for me. Coach Scott was there too and we all got to celebrate that next step in life for him as well."
Grisham was recruited to play for the Tigers in 2005 by then wide receiver coach, Dabo Swinney. Grisham spent four seasons playing wide-out for Clemson, finishing his career with 132 receptions for 1,390 yards. Grisham described Coach Swinney as: "Not only one of the best Head Coaches I have ever had the pleasure of being around, but he was the best position coach during my playing time as a Tiger" Grisham graduated from Clemson in 2009 earning a bachelor's degree in business administration, and later earning a Masters degree in Human Resource Development in 2016. After a bright career in the Purple and Orange, Grisham signed with the Pittsburgh Steelers as a free agent in 2009 and appeared in four games with the Steelers that year. Grisham stayed with the Steelers for three years serving on their practice squad for two of the seasons, before moving to Denver, Colorado to serve one year on the Broncos practice squad before an injury abruptly ended his playing career.
A year later, Grisham saw himself working through management training for a lumber company in Atlanta, Ga. when Coach Swinney's name came across Grisham's phone. After a few weeks, "and a lot of praying and hoping", Grisham was approved to become a graduate assistant for the Tigers and began his coaching career.
During his time on Clemson's support staff, Grisham has served as an added resource for wide receivers. In his six years, he has helped five Tiger receivers earn 10 All-ACC selections (Artavis Scott (x3), Mike Williams (x2), Deon Cain (x1), Hunter Renfrow (x2), Tee Higgins (x2)). Clemson has produced an incredible 79-8 record with Grisham on the staff, including six of Clemson's top ten passing yardage seasons.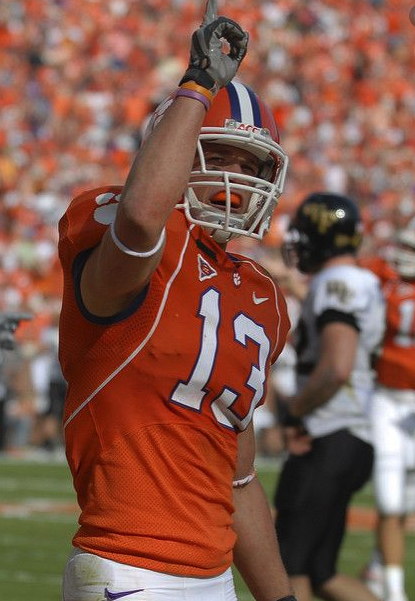 "Fans and players will get everything out of me." Said Grisham. "Coaching my former position at my alma-mater is surreal." Grisham has also impressed Coach Swinney on the recruiting trail this year, "It's been fun for me the last couple weeks being on the road recruiting with him and watching him in that role. He's going to be special." Swinney explained.
Grisham has always had a close bond with Coach Swinney, explaining in an interview, "I grew up attending camps with Coach Swinney, and then eventually him reaching out and offering me a scholarship, it was pretty cool to have him be the one to tell me that I was going to be the next receivers coach." Grisham described. "Clemson was the only big school to take a chance on me, so to now be a position coach here and be able to give other guys a chance is a surreal feeling".
"To Tiger Nation, I look forward to continuing to put everything I have into this." Said Grisham when asked if he had anything to say to the Clemson fans. "Clemson fans can expect to see a polished and continued lineage of Wide Receiver U here inside Death Valley, and as always, Go Tigers."