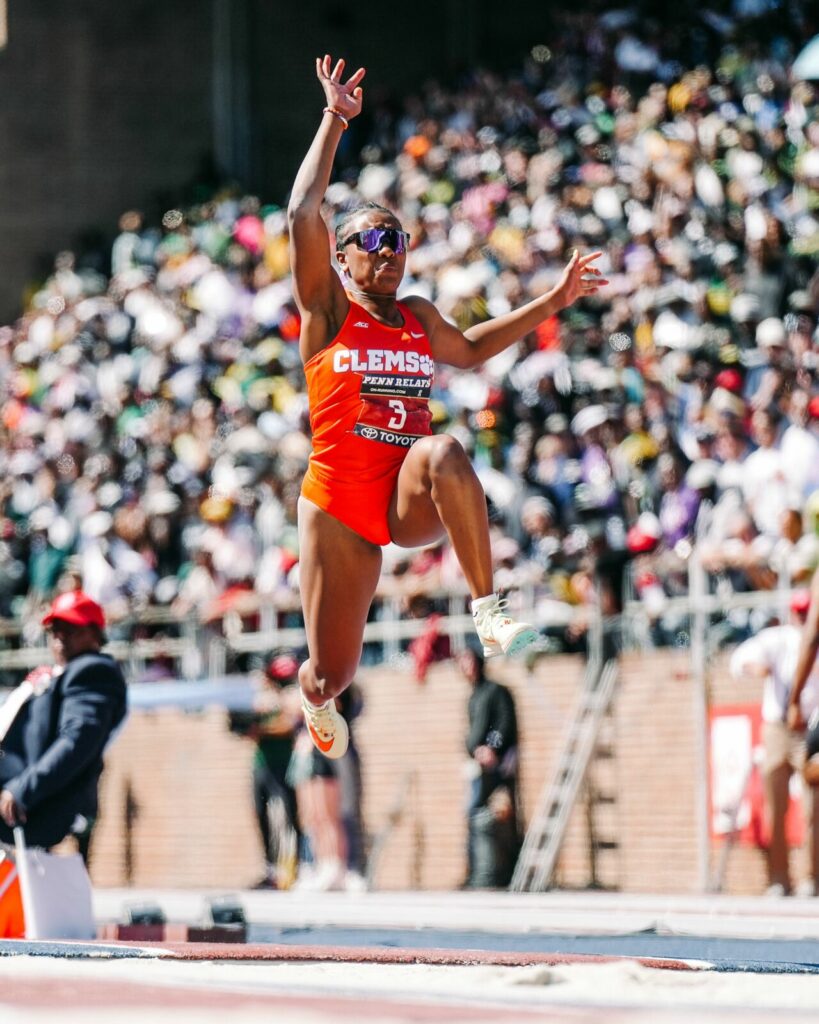 CLEMSON, S.C. — The Clemson Track and Field program will have 34 entrees in the NCAA East Regional Prelims, the NCAA Division I Men's and Women's Track and Field and Cross Country Committee on Thursday afternoon. The group consists of 18 men's entrees and 16 women's entrees, including four total relay teams.
There will be a Tiger in 10 events on the men's side, with Daniel Cope and Guinove Joanus serving as the lone Tigers competing in multiple individual events. The Clemson women's team will have participants in 11 events, with Serena Clark contesting both the 100 and 200 meter dashes. Marie Forbes will compete in the discus throw and the hammer throw.
The Tigers will compete in the East Preliminary competition from May 25-28 on the campus of Indiana University in Bloomington, Ind. The qualifiers out of the East and West regions will compete in the NCAA Division I Men's and Women's Outdoor Track and Field Championships held June 8-11 in Eugene, Oregon.
The complete list of qualifying participants is available here. For all of the most up-to-date information regarding Clemson's Track & Field program, be sure to reference ClemsonTigers.com and follow @ClemsonTrackXC on Twitter and Instagram.
100m
26. Guinove Joanus – 10.16
200m
12. Guinove Joanus – 20.37
23. Cameron Rose – 20.50
24. Wanya McCoy – 20.50
800m
7. Tarees Rhoden -1:47.43
11. Aman Thornton – 1:47.78
110-Meter Hurdles
5. Giano Roberts – 13.43
12. Devon Brooks – 13.57
19. Lafranz Campbell – 13.71
400-Meter Hurdles
19. Jevon Williams – 50.96
38. Alocius Kipngetich – 51.68
4x100m Relay
10. 39.19 seconds
4x400m Relay
12. 3:05.15
Triple Jump
13. Andre Wright – 15.91m
20. DJ Ledell – 15.72m
Discus Throw
2. Roje Stona – 65.11m
43. Daniel Cope – 54.44m
Hammer Throw
35. Daniel Cope -61.73m
100m
17. Kiara Grant – 11.28
26. Serena Clark – 11.40
200m
15. Kiara Grant – 23.05
40. Serena Clark – 23.48
800m
34. Courtney Williams – 53.36
43. Kenya Thompson – 53.63
100-Meter Hurdles
8. Trishauna Hemmings – 13.00
23. Antoinette Van der Merwe – 13.36
46. Favor Ezewuzie – 13.58
4x100m Relay
5. 43.34
4x400m Relay
13. 3:35.68
Pole Vault
43. Alison D'Alessandro – 4.07m
Triple Jump
16. Harleigh White – 13.12m
Shot Put