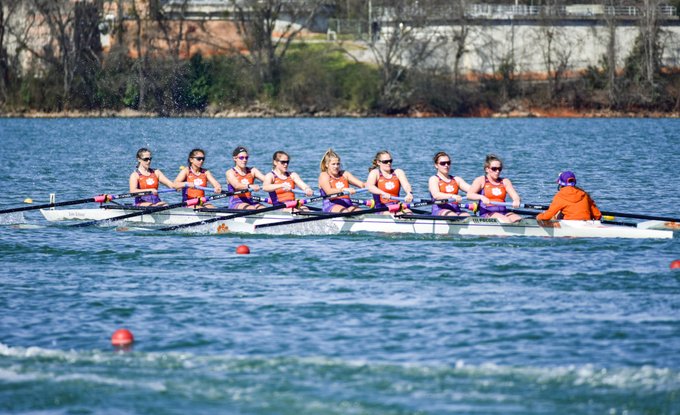 Tigers Win Both 3V8+ Races on Opening Day of Cardinal Invite
OAK RIDGE, Tenn. — Taking part in its second regatta of the season, Clemson took to the water at Melton Lake for the opening day of racing at the Cardinal Invite. Hosted by the Louisville Cardinals, day one of the two-day event featured morning and afternoon sessions. Clemson competed against No. 3 Michigan, No. 11 Indiana, No. 12 Wisconsin and Notre Dame in morning action and Tennessee and Tulsa in the afternoon slate.
The Tigers returned to the 12-team regatta for the first time since 2019, as the 2020 Cardinal Invite was canceled due to the COVID-19 pandemic. This time around, Clemson fared especially well in the 3V8+ races, winning the morning and afternoon installments. Clemson's 3V8+ boat, which was coxed by Christina Minyo, defeated the 11th-ranked Hoosiers in the morning with a time of 7:03.653. Later in the day, the Tigers clocked in at 6:56.436 in the 3V8+ race, besting the Volunteers.
Other highlights of Saturday's competition for Clemson were the comebacks pulled off by the 1V4+ and 2V8+ boats in the afternoon to take second place. Both boats caught up with Tulsa down the stretch and crossed the finish line as the runner-up. The 1V4+ squad edged out the Golden Hurricane with a time of 7:17.120, and the 2V8+ boat came in second with a time of 6:31.531. On a mild, overcast Saturday in Oak Ridge, conditions on Lake Melton were fair. Calm waters, light crosswinds and a tail current that diminished as the racing progressed made for a pleasant opening day of the Cardinal Invite.
The regatta will continue tomorrow with a morning session. Clemson will once again field all five of its boats, squaring off against No. 7 Virginia and Minnesota. The Tigers' opening race will be the 1V8+ event, which is scheduled for 9:56 a.m. The regatta will conclude around midday.
For complete coverage of the Clemson rowing team, follow @ClemsonRowing on Facebook, Instagram and Twitter.
Results:
Morning Session
1V8+
1. Indiana 6:19.019
2. Michigan 6:22.203
3. Clemson 6:27.402
2V8+
1. Indiana 6:25.892
2. Michigan 6:28.554
3. Clemson 6:36.276
1V4+
1. Michigan 7:05.265
2. Wisconsin 7:05.780
3. Clemson 7:27.771
2V4+
1. Notre Dame 7:28.796
2. Clemson 7:38.959
3V8+
1. Clemson 7:03.653
2. Indiana 7:09.598
Afternoon Session
1V8+
1. Tennessee 6:18.436
2. Tulsa 6:22.423
3. Clemson 6:29.052
2V8+
1. Tennessee 6:27.980
2. Clemson 6:31.531
3. Tulsa 6:34.128
1V4+
1. Tennessee 7:06.384
2. Clemson 7:17.120
3. Tulsa 7:17.678
2V4+
1. Tennessee 7:24.400
2. Tulsa 7:32.5333. Clemson 7:32.922
3V8+
1. Clemson 6:56.436
2. Tennessee 7:05.044
Clemson Lineups:
1v8+
Kate Hadley (Cox), Rachel Twitty (Stroke), Cate Schrieber, Lori Belanger, Isabel Velazquez, Kaley Wojciechowski, Elise Sum, Claudia Scherbin, Maura Chozick
2v8+
Katie Herbolsheimer (Cox), Bridget Kane (Stroke), Jaysen Hall, Meghan McLean, Ikelle Iturbe, Karli Robinson, Emily Ash, Cate Smith, Alex Thull
3v8+
Christina Minyo (Cox), Isabella Dudley (Stroke), Isabel Strinsky, Summer Ratley, Amelia Anglin, Gracie Collins, Alexis Holliday, Katie Mirabella, Emma Randolph
1v4+
Pepper Kolman (Stroke), Abby Dutton, Amelia Rinehart, Caroline Emerson, Julia Suplick (Cox)
2v4+
Avery Howard (Stroke), Lauren Johnson, Alex Dow, Kaila Wallace, Sarah Adams (Cox)