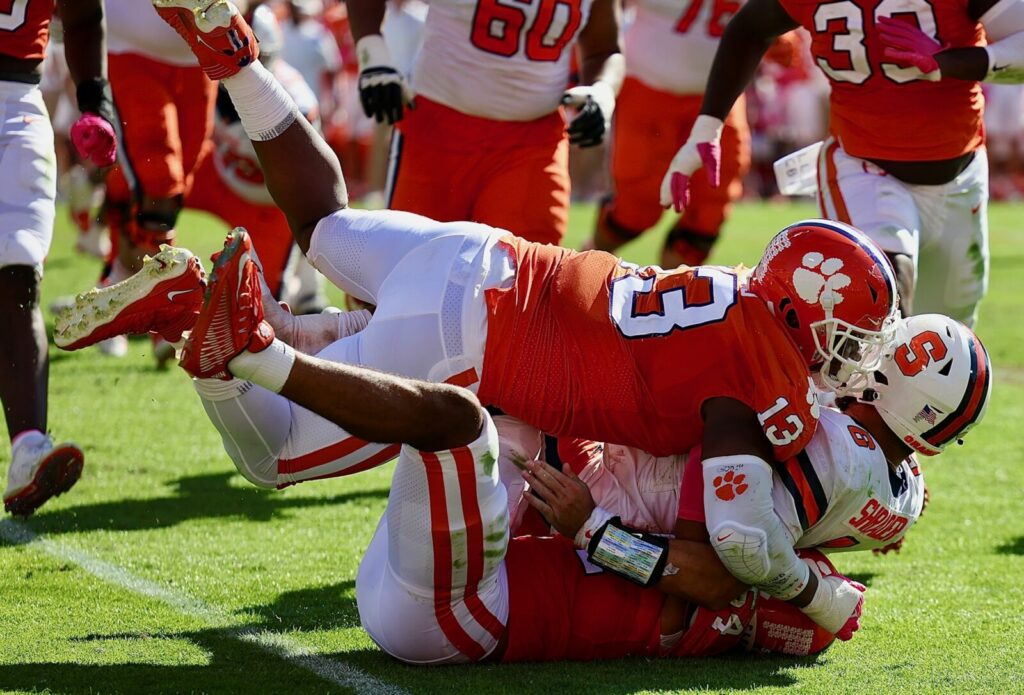 By : Neil Burnett
It's time to put Syracuse in the dust. Clemson gained a come-from-behind victory with timely offense and a vicious 2nd half defensive effort. Syracuse fans (not limited to) are reporting on twitter that the officials got their marching orders during halftime and several players believe that they "really won that game and everybody knows it." Before all these comments, pretty sure the majority of the Clemson fan base was hoping that Syracuse would beat Notre Dame next weekend. Not so sure that's the case today. The game was definitely not without highlighted moments.
Syracuse is tied for 127th in college football for most penalties with 67 penalties in seven games and 510 yards penalized. Saturday's game was no exception to the rule. EXcuse fans are focusing on the out-of-bounds hit on QB Cade Klubnik being called on 3rd and long, yet no call on Shrader getting pushed out of bounds. Now, according to them, Clemson wins every game with the help of the officials.
Anyone wondering more on why WR Joe Ngata got called for a penalty after a play in which QB DJ Uiagalelei was tackled? He saw a Syracuse player stomp on DJ's non-throwing hand and he reacted. Untimely penalty for sure, but this was just one that "got away" from the Clemson-favored officiating crew.
Did EXcuse fans get mad when their defensive player grabbed Klubnik's facemask when he was on the ground and put his fingers through the mask? Nope, didn't see anyone posting that (cue 5-year old Christian Wilkins picture). Howeve, Clemson fans caught it and Klubnik was visibly upset about it.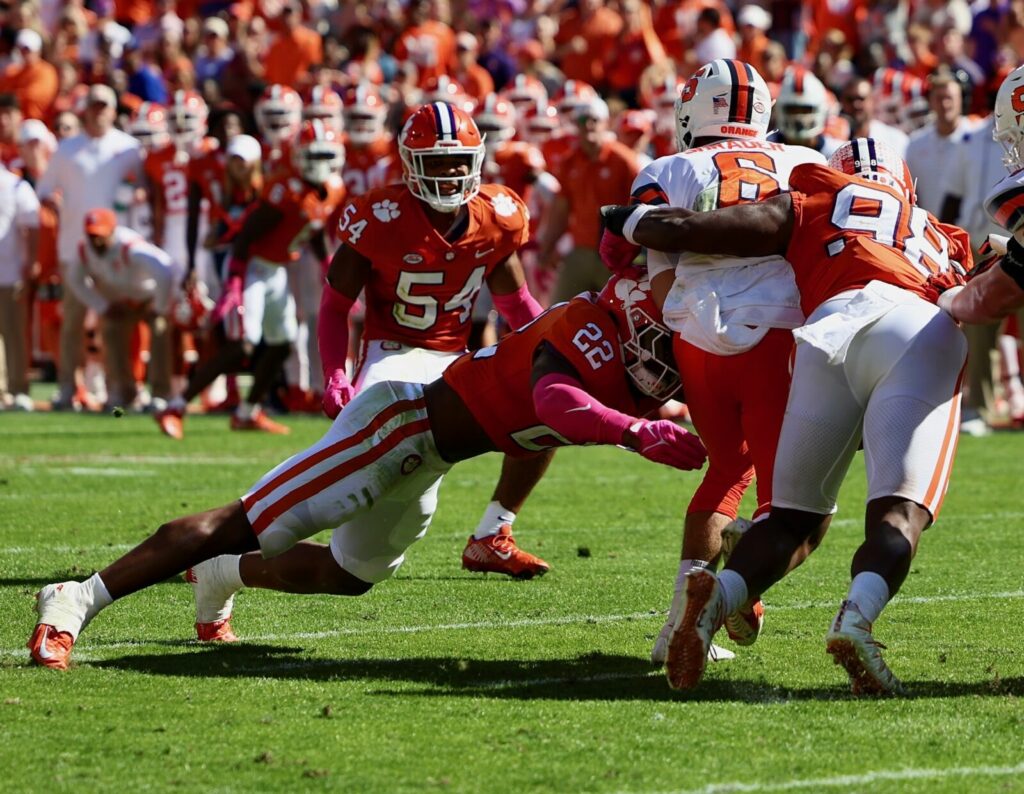 The Tigers did everything in their power to help Syracuse snap Clemson's two winning streaks, but like the old man in the State Farm Commercials, dangled the game like a carrot on a fishing pole. Teams with four turnovers, this year, are a combined 1-17, with Clemson being the one. The Tigers have not had 4 turnovers in a game since October 15, 2016, a game Clemson also won against NC State in overtime.
Clemson clawed their way back into the game after falling behind in the first half 21-10. The 1st half came to a close with a DJ Uiagalelei-led drive, ending up with a BT Potter field goal. After the first Clemson drive of the game ended in a touchdown, the tiger offense was plagued by turnovers until 1:53 left in the half. Even so, the Tigers went into the dressing trailing for the first time this season. Clemson fans everywhere were shocked and too-many-to-count other fan bases were ecstatic!!!!! Sorry.
Coach Dabo Swinney is paid $10mill a year to make the hard decisions. Pulling Uiagalelei for Klubnik in the 4th quarter was one of those hard decisions. "Steph Curry goes 2-for-25 sometimes." Well, last year, Curry did have a 4-21 night, hitting on 3 of 14 from 3 points. So while it does happen, this was DJ's "off game", his only one of the season. "DJ is still our starting quarterback. Period." – Dabo. After Clemson's 3rd drive of the 2nd half ended in Clemson's 4th turnover and DJ's 2nd interception of the game, he turned to Cade and said "warm up." The rest is game history. Klubnik came in, settled down the offense and looked at Syracuse's defense through different eyes. No one can argue with Dabo's decision, making it at the right time.
Yes, it's time to put Syracuse in the rear view mirror. 8 games in a row without a break was a tough road to go, and this included four conference road games. Time to take advantage of the break, rest and heal up the little nicks and bruises. In 13 days, the Tigers take on Notre Dame in their last road game of 2022. What should be fun to watch is how Syracuse fairs against the Irish next weekend at home in the Carrier Dome. It's a tough place to play and the Irish, who lost their starting quarterback after two games, is now led by sophomore Drew Pyne. He has stepped in and led ND to a 4-1 record, including wins over UNC and BYU. It will be another noon game. Good luck Notre Dame, see you in two weeks.
Enjoy the break!!!! Team and fans.