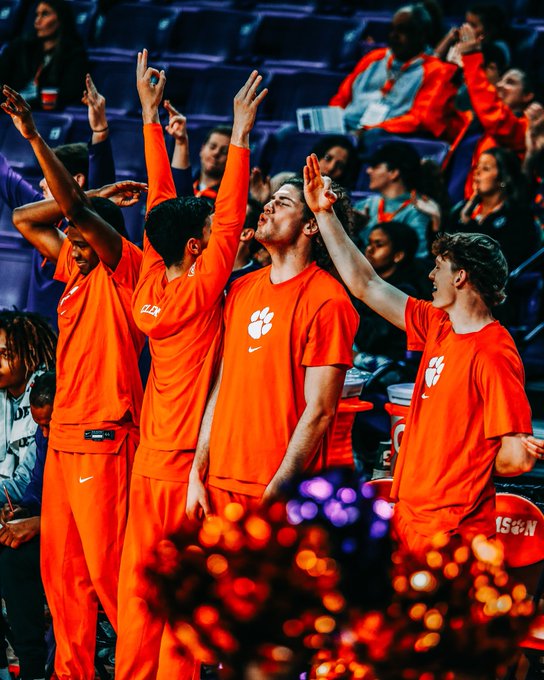 Tigers Trounce USC Upstate 81-70 on Tuesday Night
Four Tigers score in double figures in the victory

CLEMSON, S.C. — Clemson University men's basketball improved to 2-1 on Tuesday night after a 81-70 win over in-state foe USC Upstate.
The Tigers (2-1) were paced by a 20-point effort from junior Chase Hunter (Atlanta, Ga./Westlake). Hunter finished with a career-high four 3-point field goals, while also tallying three assists. Senior Alex Hemenway (Newburgh, Indiana/Castle) netted a career-high 18 points on an efficient 7-of-9 from the field and connected on 4-of-6 3-point field goal attempts.
Graduate Brevin Galloway (Anderson, S.C./Seneca) had his best showing in a Clemson uniform thus far as he scored 15 points and also grabbed five boards. Junior PJ Hall (Spartanburg, S.C./Dorman) also scored in double-figures with 13 points. Graduate Hunter Tyson (Monroe, N.C./Piedmont) totaled his fourth double-figure rebounding effort with 12 rebounds, including five on the offensive glass.
The Clemson offense got off to a hot start, shooting 53.8 percent in the first half and scoring 41 points in the opening stanza. The Tiger defense limited USC Upstate to 41.7 percent from the field and forced six turnovers. In the second half the Tiger offense shot 58.6 percent from the field and knocked down four 3-point field goals to keep USC Upstate at bay. The Tigers never trailed in the contest.
The Tigers will return to action on Friday to take on Bellarmine. The game is slated to tipoff at 7 p.m. on ACCNX.