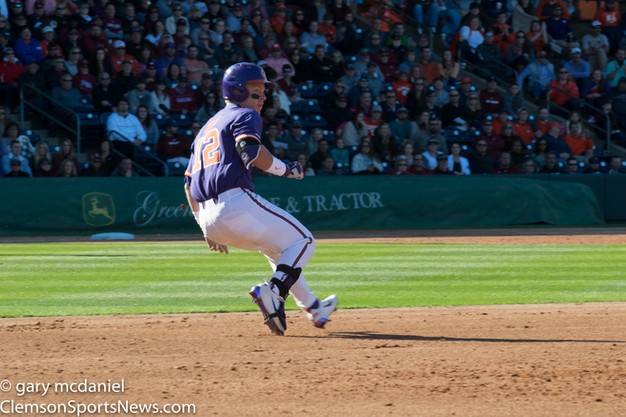 SERIES SETUP
• Who – Florida State (31-14, 13-10 ACC) vs. Clemson (34-11, 17-7 ACC)
• Best Rankings – FSU – No. 15 NCBWA, USA Today; CU – No. 6 Perfect Game
• When – Saturday (6:30 p.m.), Sunday (4 p.m.), Monday (7 p.m.)
• Where – Clemson, S.C. (Doug Kingsmore Stadium)
• Watch – ACC Network Extra (Saturday, Sunday), ESPN2 (Monday)
• Video Announcers – Dari Nowkhah (Monday), Kyle Parker (Saturday, Sunday), Kyle Peterson (Monday), Pete Yanity (Saturday, Sunday)
• Listen (Radio) – WCCP (105.5 FM), ESPN Upstate
• Listen (Internet) – ClemsonTigers.com, TuneIn
• Live Stats – ClemsonTigers.com
• Social Media – ClemsonBaseball
• Tickets – ClemsonTigers.com, 1-800-CLEMSON
• Promotion (Saturday) – Young fans can run the bases after the game
SERIES HISTORY
• Overall Record – Florida State leads 74-67-1 (1958-17)
• Record at Clemson – Clemson leads 33-22 (1962-16)
STARTING PITCHERS
• Saturday – LHP Drew Parrish (FSU – 3-0, 2.63 ERA) vs. LHP Jacob Hennessy (CU – 4-2, 3.28)
• Sunday – RHP Andrew Karp (FSU – 7-3, 2.83) vs. RHP Brooks Crawford (CU – 5-2, 3.54)
• Monday – RHP Cole Sands (FSU – 6-2, 4.80) vs. LHP Jake Higginbotham (CU – 6-1, 3.70)
CLEMSON OVERVIEW
• Clemson, who has won eight games in a row, swept Virginia on the road in three one-run games.
• The Tigers are averaging 6.1 runs per game and hitting .253 with a .373 on-base percentage and 38 steals.
• The pitching staff has a 3.46 ERA, .235 opponents' batting average and 2.27 strikeout-to-walk ratio and Clemson is fielding .976.
FLORIDA STATE OVERVIEW
• Florida State is led by 39th-year head coach Mike Martin.
• The Seminoles won two home games against Miami (Fla.) last weekend. They are hitting .259 and have a 4.14 ERA and .968 fielding percentage.
• Drew Mendoza is hitting .317 with 31 RBIs, Cal Raleigh has seven homers and 36 RBIs and Jackson Lueck has 10 homers and 35 RBIs.
QUICK HITS
• Clemson is hitting .301 with 60 runs, 17 doubles, 18 homers, a .416 on-base percentage and 14 steals during its eight-game winning streak.
• Tiger starters have pitched 209.2 innings in 2018, while Clemson relievers have pitched 196.0 innings in 2018 (196.1 in 2017).
• Thirteen different Tigers have hit at least one home run in 2018.
DAVIDSON A COMPLETE PLAYER
• Sophomore shortstop Logan Davidson has been steady both at the plate and in the field in 2018.
• He was named to the Brooks Wallace Award Watch List in April.
• He is hitting .280 with 12 doubles, seven homers, 33 RBIs, 41 runs, 34 walks, a .418 on-base percentage and eight steals in 45 games.
• He has hit four of his eight home runs during the first inning.
• He has committed only five errors in 200 chances at shortstop, good for a .975 fielding percentage.
• He won the Bob Bradley Award as MVP of the South Carolina series. He was 3-for-6 with a homer and .786 on-base percentage in three games.
• He was named ACC Player-of-the-Week on April 30, as he was 11-for-22 with four doubles, two homers, seven RBIs and nine runs in five games.
• In his career, he is hitting .284 with 21 doubles, 20 homers, 66 RBIs, 97 runs, a .401 on-base percentage and 18 steals in 108 games.