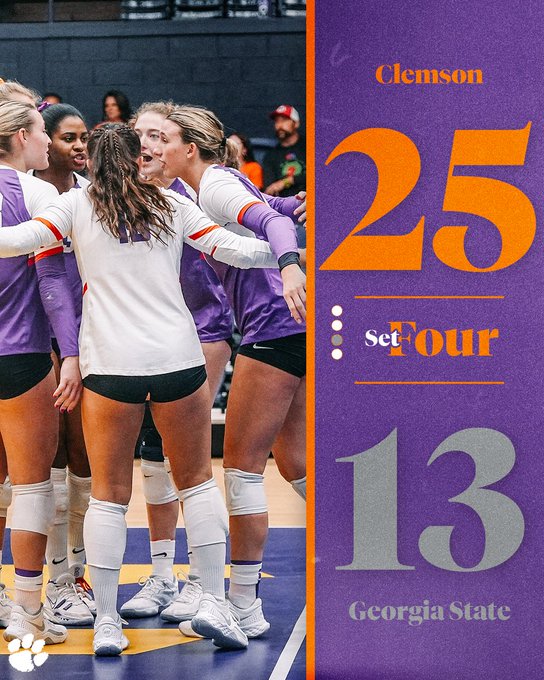 JOHNSON CITY, Tenn. – Behind a 23-kill performance from Camryn Hannah and nine aces as a team, Clemson volleyball (7-3) took down Georgia State (3-6) on Saturday afternoon in Brooks Gym with a final score of 3-1 (25-15, 25-19, 21-25, 25-13).
The first set started with Clemson and Georgia State trading points until sophomore Devan Taylor opened it up at the service line. The Tigers combined to hit .226 and record three aces from Taylor, Sophie Catalano and Mia McGrath. The Tigers were able to tally 14 kills while limiting the Panthers to a .000 hitting percentage with six kills to win the set, 25-15.
The Tigers jumped out with a lead in set two following Catalano and Taylor picking up another ace, while Colleen Finney and Jacyn Bamis combined for a block. The Panthers fought back and tied things, 12-12, and the two teams would match each other point-for-point until Clemson was able to string together a 7-1 scoring run to capture the set, 25-19.
Georgia State controlled the majority of the third set. The Tigers made a strong push to inch within two points after Mckenna Slavik served an ace, but it wasn't enough as Georgia State took the set, 25-21. The Tigers came back in the fourth set with a 5-0 scoring run after freshman Brooklyn Conner and Bamis recorded solo blocks. Clemson finished the match going on a 12-4 run that included multiple kills from Hannah and Cate Long, an ace from Mckenna Slavik and another solo block from Bamis.
Following the conclusion of Saturday's match, Taylor was named to the All-Tournament team after finishing with five aces, nine assists and 49 digs.
Up Next
The Tigers return to the court next Friday, September 16 at the Samford Invitational in Birmingham, Alabama.