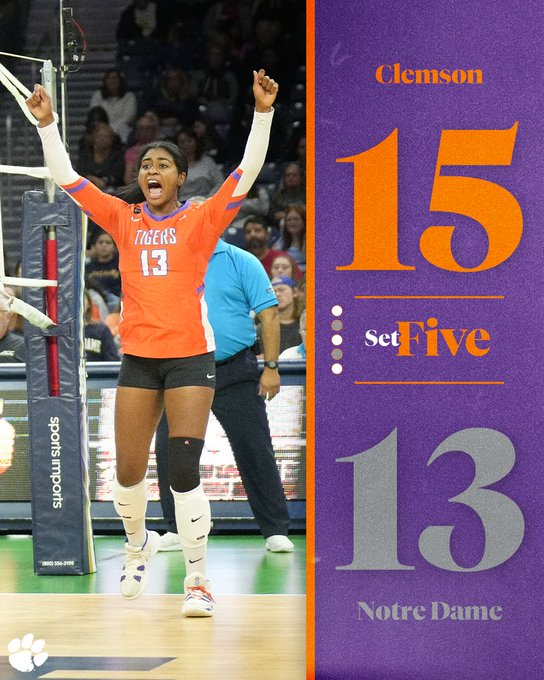 NOTRE DAME, Ind. – In an epic five-set match, the Clemson volleyball team (10-6, 1-3 ACC) defeated Notre Dame (5-9, 0-4 ACC) on Sunday afternoon in the Purcell Pavilion at the Joyce Center. The 3-2 victory marked the first win for the Tigers over the Fighting Irish since Oct. 17, 2014.
Clemson and Notre Dame traded the first two sets with Clemson taking set one, 25-17, after sophomore Devan Taylor tabbed three aces. The Fighting Irish responded winning the second set, 25-19, despite Mia McGrath having two aces of her own, and Clemson beginning the set on a 12-3 run. Notre Dame clawed its way back to make it 18-all before taking the set.
With the teams tied at a set a piece, the third set had both teams trading points with one another. The Tigers and Fighting Irish tied eight times throughout the set with four lead changes before Clemson won the set, 25-20, behind kill performances from McGrath and Mia Moore.
Moore and McGrath continued to apply the pressure in the fourth set. After coming out of a timeout, Clemson went on a 6-0 run with three kills coming from McGrath as she hit double-digit kills for the third time this season. Both sides strung together long scoring runs, but it was Notre Dame that took the set, 25-21, to force a fifth set.
Camryn Hannah came alive with a big fifth set to push the Tigers to their first ACC victory this season, tallying back-to-back kills at the midway point. McGrath picked up four kills after the two teams switched sides to bring her to a team-high 15 on the match before Hannah closed the door with one final kill to give Clemson the 15-13 victory.
Match Notes:
McGrath's 15 kills were a new career high
McGrath (15 kills, 13 digs), Cate Long (11 kills, 14 digs) and Mckenna Slavik (43 assists, 17 digs) all finished with double-doubles
Taylor led the team with 21 digs, and Ani Clark had a team-high six blocks (two solo, four assisted)
Today's victory snaps an eight-game losing streak against the Fighting Irish and marks the second time Clemson has won at Notre Dame
Today's match was only the second five-set match the two programs have had between each other, and the first that Clemson has won.
Up Next
The Tigers return home next week for a match against No. 10 Pittsburgh on Friday, Oct. 7 at 7 p.m. in Jervey Gym, before playing host to Virginia on Sunday, Oct. 9 at 1 p.m. Both matches are available to watch on ACCNX.