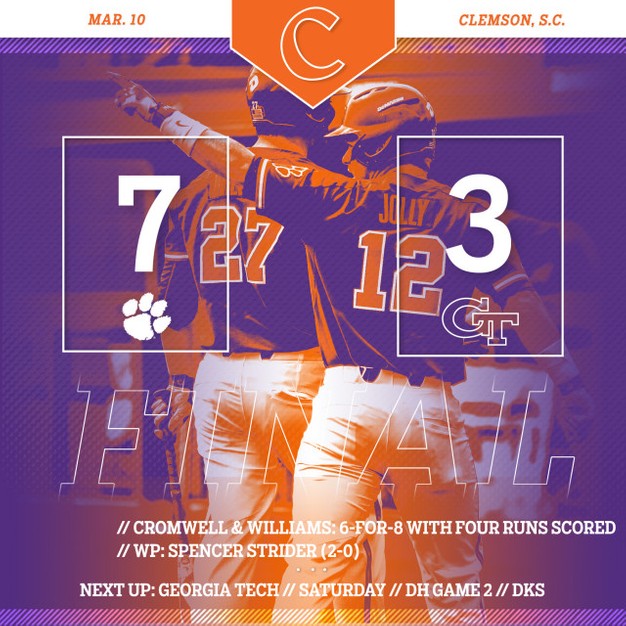 CLEMSON, S.C. – The No. 6 Clemson Tigers scored four runs in the fourth inning to defeat Georgia Tech 7-3 in the first game of a doubleheader at Doug Kingsmore Stadium on Saturday afternoon. The Tigers, who took a 2-0 lead in the series, improved to 14-1 overall, their best 15-game start since starting 26-1 in 2002, and 2-0 in the ACC. The Yellow Jackets dropped to 9-5 overall and 0-2 in ACC play.
The win marked Monte Lee's 100th victory of his tenure as Clemson's head coach dating to the start of the 2016 season.
Trailing 1-0 in the fourth inning, Clemson took advantage of a costly Yellow Jacket error and scored four runs, highlighted by Drew Wharton's two-run double and Kyle Wilkie's sacrifice fly. Seth Beer added a solo homer in the eighth inning, his fifth of the season, then the Tigers scored two more runs in the frame.
Spencer Strider (2-0) earned the win, as he allowed four hits, no runs and one walk with five strikeouts in 2.1 innings pitched in relief. Carson Spierspitched the final 2.2 innings to record his third save of the year. Yellow Jacket starter Connor Thomas (2-1) suffered the loss, as he yielded seven hits, five runs (three earned) and no walks with a career-high nine strikeouts in a career-long 7.0 innings pitched.
The series concludes with the second game of the doubleheader at 4:15 p.m., weather permitting, on ACC Network Extra.