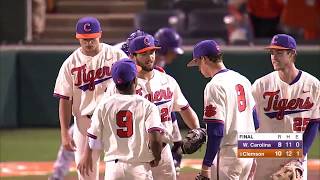 CLEMSON, S.C. – No. 5 Clemson scored three two-out runs in the sixth inning to break a 7-7 tie in its 10-8 victory over Western Carolina at Doug Kingsmore Stadium on Wednesday night.
The Catamounts (6-40) jumped out to a 2-0 lead in the first inning, then Clemson (37-12) responded with five runs in the second inning on Sam Hall's run-scoring single, Jordan Greene's two-run double and Logan Davidson's two-run homer, his 10th of the season, that extended his hitting streak to 10 games. Two innings later, Seth Beer hit a 424-foot, two-run homer to center field, his 15th long ball of the season, before Western Carolina answered with three runs in the fifth inning and an unearned run in the top of the sixth inning to tie the score 7-7.
In the bottom of the sixth inning, Sam Hall scored on a two-out infield single by Kyle Wilkie, who earlier extended his hitting streak to 15 games, to give Clemson the lead, then Chris Williams laced a two-run double.
Travis Marr (5-1) earned the win in 3.1 innings pitched in relief, while Owen Griffith pitched the ninth inning to record his first career save. Blake Therrian (0-4) suffered the loss.
Clemson hosts Austin Peay in a three-game series starting Friday at 6:30 p.m., on ACC Network Extra. The first 1,000 fans receive trading cards of Tiger players and coaches.