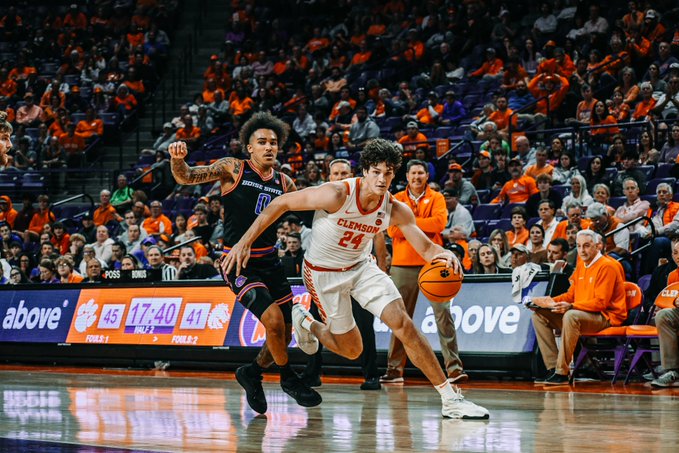 Tigers Tame Broncos in 85-68 Win
Joseph Girard III leads all scorers with 23; RJ Godfrey adds career high four blocks
CLEMSON, S.C. – Clemson University men's basketball pummeled Boise State on Sunday afternoon, 85-68, inside Littlejohn Coliseum to move to 4-0 this season.
The Tigers (4-0) were led offensively by Joseph Girard III (Glens Falls, N.Y./Glens Falls) who finished with a game-high and season-high 23 points. Girard added four rebounds and three assists, while connecting on nine field goals, including three 3-pointers. Seventeen of Girard's 23 points came in the second half.
Chase Hunter (Atlanta, Ga./Westlake) and PJ Hall (Spartanburg, S.C./Dorman) combined for 28 points in addition to Girard's output, scoring 14 points each. Hunter added six rebounds, four assists and an emphatic blocked shot, while Hall had four rebounds, a block, and an assist. Twelve of Hall's 14 points came in the second half.
The home team raced out to a 7-2 lead before the Broncos (2-1) evened things up midway through the opening stanza. Up 15-14, the Tigers went on a 9-1 run to open a 24-15 advantage, but the Broncos closed the gap quickly back to a two-point lead. The first half finished very back-and-forth, and Clemson took a 41-38 lead into halftime.
Clemson opened a 10-point lead almost midway through the second half and then stretched it to a game-high 22 points with 5:19 left to keep the Broncos at bay.
Clemson's bench outscored Boise State's 27-17 in the contest, finishing 10-for-15 from the field and 3-for-4 from three. RJ Godfrey(Suwanee, Ga./North Gwinnett) contributed six points, seven rebounds and a career-best four blocked shots. Of Godfrey's seven boards, four came on the offensive glass. Chauncey Wiggins (Grayson, Ga./Grayson) tallied nine points on 3-for-4 shooting.
Clemson returns to action on Friday, Nov. 24 when it hosts Alcorn State at 8 p.m. on ACCN.