CHARLOTTESVILLE, VA. – Patrick Cromwell, Sam Hall and Chris Williams all belted home runs in No. 8 Clemson's 9-8 victory over Virginia at Disharoon Park on Sunday afternoon. The Tigers, who swept the series 3-0 and won their eighth game in a row, improved to 34-11 overall and 17-7 in the ACC. The Cavaliers dropped to 24-20 overall and 9-15 in ACC play.
The Cavaliers scored single runs in the first and second inning, then Clemson, who swept Virginia for the first time since 2002, responded with five runs in the third inning. Cromwell led off with his fifth home run of the season, then Williams and Kyle Wilkie, who extended his hitting streak to 11 games, hit back-to-back two-run singles.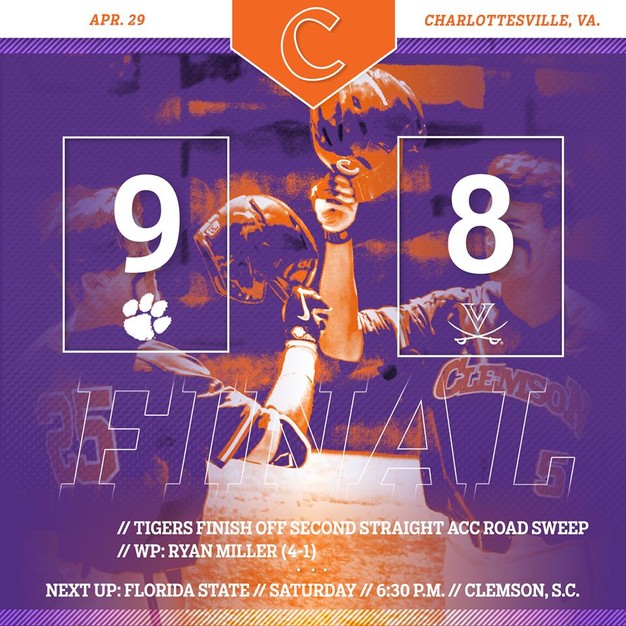 Hall led off the top of the fourth inning with his first career homer, then Seth Beer grounded a run-scoring single before Virginia answered with two runs in the bottom of the fourth inning. Williams, who had four RBIs, crushed a two-run home run, his 13th of the year, in the sixth inning. The Cavaliers rallied for four runs in the eighth inning, but Clemson kept the lead when an errant pitch was retrieved by Wilkie, who tagged the runner at the plate to end the inning.
Ryan Miller (4-1) earned the win in relief, as he allowed three hits, four runs and three walks with three strikeouts in 3.1 innings pitched. Ryley Gilliam pitched the final 1.2 innings to record his third save of the series and 10th of the year. Virginia starter Noah Murdock (1-1) suffered the loss, as he yielded six hits, five runs and one walk with three strikeouts in 2.1 innings pitched.
The Tigers take five days off for final exams before hosting Florida State in a three-game series beginning Saturday at 6:30 p.m., on ACC Network Extra. Kids can stand on the field with the team for the national anthem and run the bases postgame.