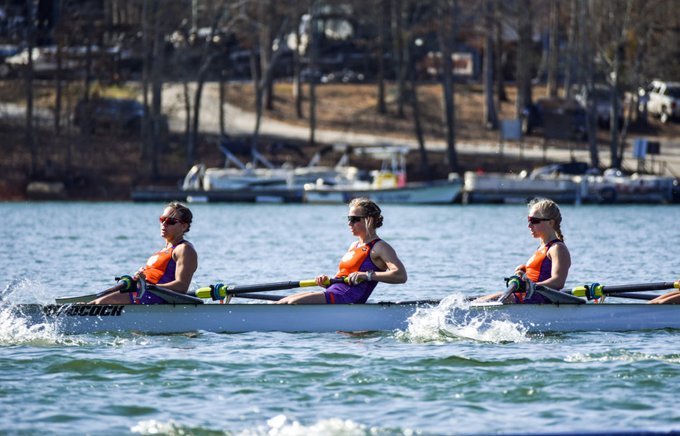 Tigers Host Oklahoma and North Carolina
Clemson, S.C. — The Tigers make their return to Lake Hartwell on Saturday when they host Oklahoma and North Carolina for a home race. Clemson enters the competition coming off a successful trip to Sarasota, Fla. two weeks ago where the 2v8 earned gold, winning both of its events at the Sunshine State Invitational. Additionally, the 1V8, 2V8, 1V4 and 2V4 each took silver in their events.
Racing on Saturday is set to begin at 10 a.m. with the 3V8 event.
Clemson Athletics is committed to providing a safe and inclusive environment for all, regardless of race, gender identity, sexual orientation or any other defining characteristic. This game is designated as Clemson's Pride Game, celebrating the LGBTQ community, in conjunction with Athlete Ally and the Harvey and Lucinda Gantt Multicultural Center. To learn more about how Clemson University supports the LGBTQ community, visit the Gantt Center here.
For complete coverage of the Clemson rowing team, follow @ClemsonRowing on Twitter, Facebook and Instagram.
Clemson Lineups
1V8
Kate Hadley (Cox), Rachel Twitty (Stroke), Anna Luttrell, Lori Belanger, Cate Schrieber, Elise Sum, Isabel Velazquez, Claudia Scherbin, Maura Chozick
2V8
Katie Herbolsheimer (Cox), Bridget Kane (Stroke), Jaysen Hall, Meghan McLean, Ikelle Iturbe, Karli Robinson, Auburn Dantice, Kaley Wojciechowski, Emily Ash
3V8
Christina Minyo (Cox), Charlotte Taylor (Stroke), Abby Dutton, Isabella Dudley Amelia Rinehart, Gracie Collins, Kaila Wallace, Summer Ratley, Alexis Holliday
1V4
Jasmine Lewis (Stroke), Ellie Loehrer, Alex Thull, Care Smith, Julia Suplcik (Cox)
2V4
Avery Howard (Stroke), Caroline Emerson, Emerey Sampson, Pepper Kolman, Sarah Adams (Cox)
3V4
Lauren Johnson (Stroke), Anna Warwick, Alexis Colwell, Katie Mirabella, Katie Holmes (Cox)
4V4
Avery Savoie, Emalie Houk, Ellen Harcum, Eleonor Wright, Julia Walsh (Cox)
Race Schedule
9:50 a.m. National Anthem
10:00 a.m. 3V8
10:12 a.m. 2V4/3V4
10:24 a.m. 1V4
10:36 a.m. 2V8
10:48 a.m. 1V8