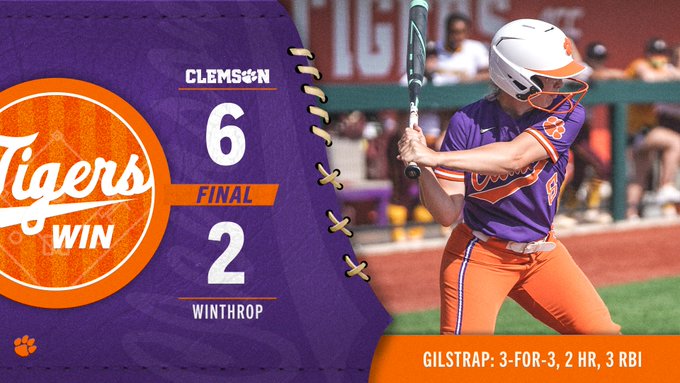 Tigers Homer Four Times in 6-2 Win Over Winthrop
CLEMSON, S.C. — The Clemson Softball (28-4, 18-4 ACC) team tied its program record of four home runs in a single game in Tuesday's nightcap against Winthrop, a 6-2 victory at McWhorter Stadium. For the first time in her career, Ansley Gilstrap recorded two home runs in a single game, while McKenzie Clark and Valerie Cagle also chipped in one home run each to combine for the most homers by the program since launching four over the outfield fence in its 21-2 win over Maryland last season at McWhorter Stadium. Cagle, who earned her first career complete-game no-hitter in game No. 1 of Tuesday's doubleheader, tied teammate Marissa Guimbarda's team-leading mark of eight home runs on the season.
In the circle, freshman lefty Millie Thompson (5-1) earned the win after pitching 4.0 innings and registering seven strikeouts against 13 batters faced. Regan Spencer and Emma Whitifield entered in relief, respectively. Between both games of Tuesday's doubleheader, the Clemson pitching staff recorded at least one strikeout in all 12.0 innings pitched. The Tigers also combined for 21 strikeouts on Tuesday.
Clemson is now 36-0 all-time, and 19-0 in 2021, when scoring five runs or more. Additionally, the Tigers are now 23-0 on the season when hitting at least one home run and 39-2 all-time when doing so.
The Tigers struck first with an RBI-single shot up the middle from Cagle, set up by a single from Clark, the Tigers' leadoff hitter. Gilstrap and Cagle recorded back-to-back home runs, respectively, to left field in the bottom of the third to extend the Tigers' lead to 4-0. Then in the fifth, it was Clark followed by Gilstrap who once again ripped back-to-back homers to put the Tigers up 6-0.
Clark now has five home runs on the season, while Gilstrap's pair of homers gives her four.
Winthrop registered their only two runs on the day with a two-run homer in the top of the seventh. With the loss, the Eagles fell to 20-21 overall on the season. Winthrop's Aisha Weixlmann (7-7) suffered the loss after giving up four runs in 3.0 innings pitched.
Up next, Clemson takes on Boston College (8-21, 4-13 ACC) at McWhorter Stadium on Friday for game No. 1 of this weekend's four-game series. Friday's nightcap is set for 5 p.m. on ACCNX.
For complete coverage of the Tiger softball team, follow @ClemsonSoftball on Twitter and Instagram and Facebook.