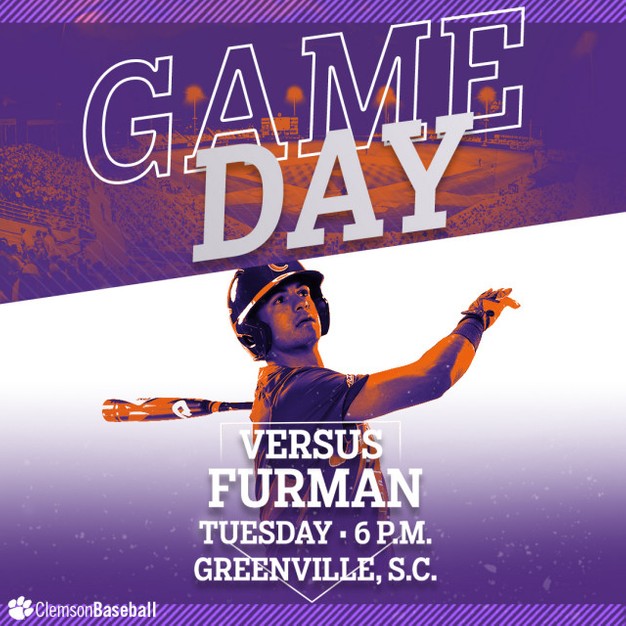 The Tigers return to Fluor Field for the third and final time in 2018 when they play Furman on Tuesday night.
GAME SETUP
• Who – Clemson (18-6) vs. Furman (13-11)
• Best Rankings – CU – No. 8 CB; FUR – NR
• When – Tuesday (6 p.m.)
• Where – Greenville, S.C. (Fluor Field)
• Listen – TigerCast, Clemson Tigers Network
• Live Stats – ClemsonTigers.com
• Social Media – ClemsonBaseball
SERIES HISTORY
• Overall Record – Clemson leads 151-57-4 (1896-2018)
• Record at Furman – Clemson leads 61-28-2 (1896-2017)
STARTING PITCHERS
• LHP Sam Weatherly (CU) vs. RHP Trent Alley (FUR)
CLEMSON OVERVIEW
• Clemson won two games at No. 11 Louisville.
• The Tigers are averaging 5.6 runs per game and hitting .243 with a .363 on-base percentage and 14 steals.
• The pitching staff has a 3.26 ERA, .242 opponents' batting average and 2.36 strikeout-to-walk ratio and Clemson is fielding .977.
FURMAN OVERVIEW
• Furman is led by second-year head coach Brett Harker.
• The Paladins were swept at Wichita State last weekend. They are hitting .269 and have a 6.20 ERA and .967 fielding percentage.
• Ben Anderson is hitting .376 with three homers and 21 RBIs, while Jason Costa is batting .333 with three homers and 16 RBIs.
QUICK HITS
• Chris Williams went 2-for-4 with a homer, double and career-high six RBIs in Clemson's 12-4 home win over Furman on Feb. 20.
• Twelve of Clemson's 24 games have been against top-25 ranked teams and nine of the 24 games have been against top-11 ranked teams.
• Taylor Harbin, an assistant coach at Furman, played three seasons (2005-07) at Clemson.
TIGERS AT FLUOR FIELD
• Clemson has a 24-6 all-time record at Fluor Field in Greenville, S.C.
• The Tigers have outscored the opposition 244-125 at Fluor Field, an average score of 8.1-4.2.
• The only teams to defeat Clemson at Fluor Field are South Carolina (2010,11,14,15), Presbyterian College (2011) and Michigan State (2015).
• Clemson is 11-0 against Furman at Fluor Field. The Tigers have outscored Furman 123-50 in their 11 meetings at Fluor Field.
MILLER FILLING KEY RELIEF ROLE
• Senior righthander Ryan Miller has been one of Clemson's top relievers in 2018 and has filled an important role.
• He is 2-1 with two saves, a 2.05 ERA, .211 opponents' batting average and 15 strikeouts in 22.0 innings pitched over nine relief outings.
• He is holding opponents to an .043 batting average with two outs.
• He has 32 groundball outs compared to 14 flyball outs.
• He pitched 4.0 scoreless innings in relief to record the save in Clemson's win over No. 23 South Carolina at Greenville, S.C., on March 3.
• In his career, he is 3-1 with three saves, a 2.41 ERA and 26 strikeouts against eight walks in 33.2 innings pitched over 20 relief outings.