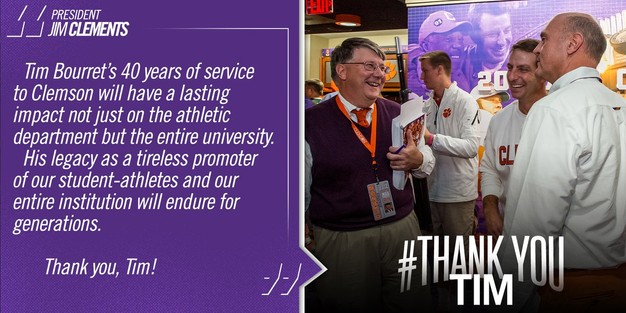 Clemson, S.C.— Longtime Clemson Football Communications Director Tim Bourret announced Friday that he will retire from the position on July 1, 2018. Bourret began his Clemson career as an assistant sports information director under Bob Bradley on September 1, 1978.
"It seems like yesterday that I was given the opportunity to travel with the Notre Dame football team for the 1977 game at Clemson," said Bourret. "It was a free trip to experience the pageantry of a Clemson football game. Little did I know that I would start a 40-year career here the following year.
"Obviously this has been a special place, but more importantly it has consistently been an institution with special people. That list for me starts with Bob Bradley, who taught me so much about Clemson, its history and its people. I have worked with six football coaches and six basketball coaches very closely and have great respect for all of them today.
"For the last 10 years I couldn't have had a better head coach to work with than Dabo Swinney. His strength of character carries to everyone else on his staff and the student-athletes.
"The same goes for head Golf coach Larry Penley and the 35 years I have worked with him. He has always had a program that is close to my heart."
A native of West Hartford, Conn, Bourret was inducted into the CoSIDA Hall of Fame last summer. Under his direction the Clemson Sports Information Department has been honored with a "Super Eleven" Award by the Football Writers Association of America four times in the last eight years.
Bourret, who will continue to live in the area, will be involved with the athletic department in a part time capacity in terms of writing and broadcast assignments, and other special projects