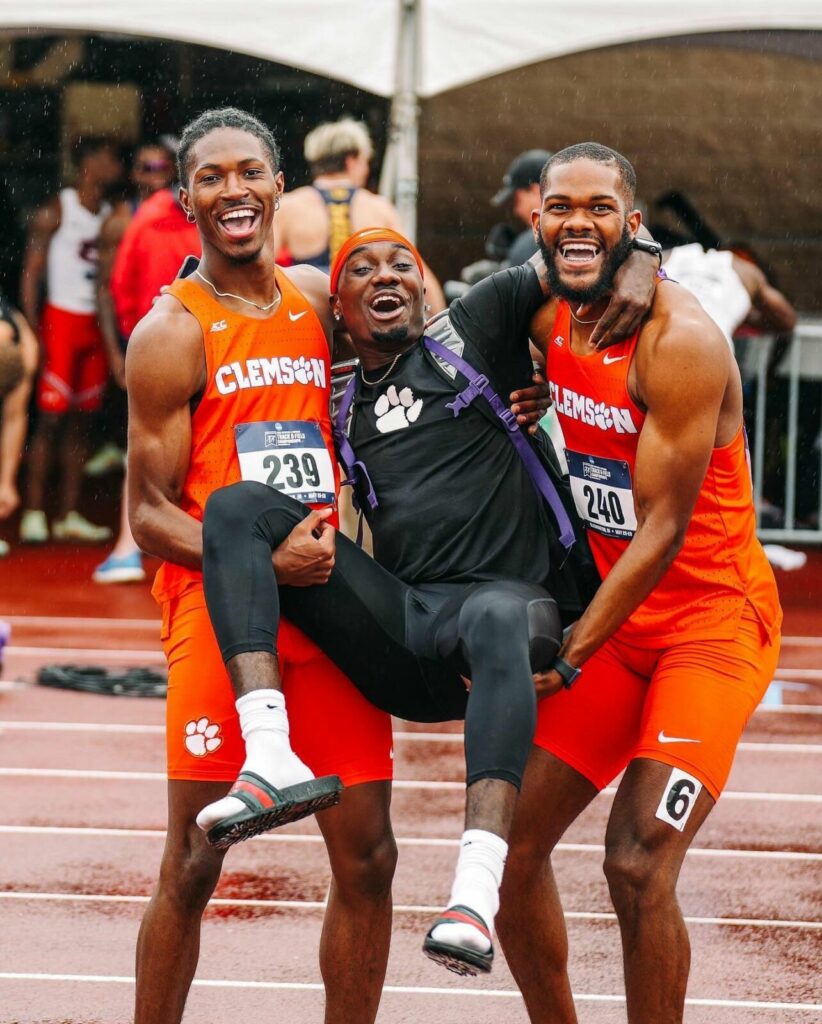 BLOOMINGTON, Ind. — The Clemson men's track and field team had an extraordinary day at NCAA East Region Prelims on Friday, sending eight entrees and 10 total athletes on to the NCAA National Championship Meet in Eugene Ore. The hurdling trio of Giano Roberts, Devon Brooks and Lafranz Campbell each earned a ticket to nationals for the second time in as many years. They are the only school to have three 110 meter hurdlers qualify for national and the only school in the East region to do it in the last two seasons.
"We can say without reservations that this was a great day for the men's program," stated a beaming Program Director Mark Elliott. "We had a lot of athletes exceed expectations and punch their tickets to the NCAA finals. Both relays got in, and the 4×400 finished very strong with a school record. We had a couple people miss by just one spot, so I think overall it was a great day for the men and hopefully tomorrow we follow it up with the women and bring a big contingent to Eugene for the finals."
Roberts, Brooks and Campbell put on a show in the 110 meter hurdles quarterfinals. Roberts improved his No. 3 time in school history to 13.41 seconds, while Brooks 's personal best 13.53 second time moved him into a tie for sixth on Clemson's all-time list. Campbell finished just behind Brooks in 13.63 seconds as all three Tigers earned a spot in Eugene for the second consecutive season.
Rojé Stona was the first Tiger to punch his ticket to Eugene with a day's best 63.28 meter discus throw. He'll head to Nationals as the reigning national runner-up in the event.
The men's 4×100 meter relay of Roberts, Cameron Rose, Guinove Joanus and Fabian Hewitt set another season best of 39.16 seconds to earn the right to compete for a national title in Eugene.
Wanya McCoy's 20.48 second 200 meter dash ran into a 2.5 mile per hour head wind was a personal best and good for second in his heat. He'll compete at Nationals in the two events.
Aman Thornton completed the 800 meter dash in 1:48.35, fifth fastest of any competitor and third-best in his heat. He will get the chance to compete at nationals as well, joining Roberts, Brooks and Campbell, as the four Tigers to qualify for both indoor and outdoor nationals this season.
To close the night, the ACC Champion 4×400 meter relay team of McCoy, Rose, Tarees Rhoden and Thornton ran a school-record 3:03.65 to qualify for Nationals.
On Saturday, seven Clemson women's entrees will compete for the right to travel to Eugene. Competition will start at 1 p.m. with Marie Forbes in the women's discus.
For all the most up-to-date information regarding Clemson track and field, visit ClemsonTigers.com and follow @ClemsonTrackXC on Twitter and Instagram.