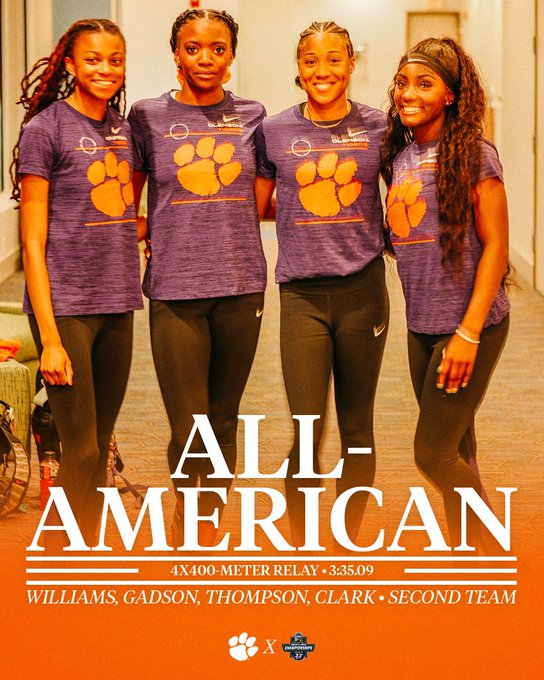 EUGENE, Ore. — Senior Trishauna Hemmings led the Clemson women's track team on Thursday evening at Hayward Field by becoming a Second Team All-American. Both the women's 4×100 and 4×400 meter relay teams also competed on the second day of the 2022 NCAA Outdoor Track and Field Championships.
Program Director Mark Elliott spoke on the team's performance, stating, "We were hoping we could get our 4x1oo relay into the final, but unfortunate injuries happen. You don't want to end the season that way but we are very proud of them. Trish ran one of her best times this season, and at this level just little bit here or there will get you in or keep you out. Our 4×400 ended with a season best, and that is a good way to end. Hopefully we can build on that and be stronger for next season."
Hemmings shined in the 100-meter hurdles clocking in with a final time of 13.04 to finish third in her heat. She finished 11th overall in a competitive semifinals to garner second team honors, the first of her outdoor career.
The 4×100 relay consisting of Serena Clark, Kiara Grant, Ockera Myrie and Hemmings began the evening for the Tigers. Clemson hit a snag in the final handoff that resulted in a dropped baton and the quartet not finishing the race, but they were named All-American honorable mentions.
The 4×400 relay of Kenya Thompson, Ken'naria Gadson, Clark and Courtney Williams took to the track for the final event of the evening as the rain began to come down in Eugene. The relay ran a season-best 3:35.09 to finish 15 and garner second team honors to conclude the Clemson women's 2022 season.
The Clemson men return to the track on Friday evening with four entries set to compete to become NCAA National Champions. Rojé Stona will contest the shot put at 8:32 p.m. ET. The men's 4×100 meter relay team will take the track for Clemson tomorrow at roughly 9:02 p.m. ET. Lafranz Campbell and Giano Roberts will follow that in the 110-meter hurdles at 9:42 p.m. ET. Clemson is the only men's program to qualify two athletes to the finals of the 110-meter hurdles. All of Friday's action can be watched on ESPN2.
For all the most up-to-date information regarding Clemson track and field, visit ClemsonTigers.com and follow @ClemsonTrackXC on Twitter and Instagram.