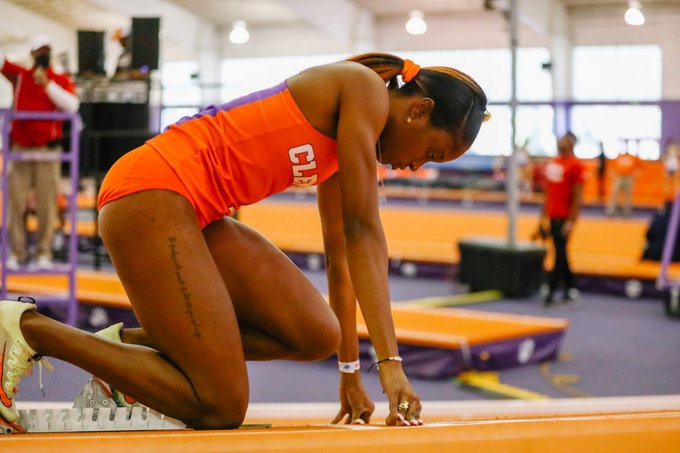 CLEMSON, S.C. — The Tiger Paw Invitational was the stage for an enthralling weekend of track and field action. The two-day meet saw NCAA records break and eight Clemson top-10 all-time marks set. The weekend was highlighted by Devon Brooks breaking the school record in the 60 meter hurdle with his time of 7.56. Daniel Cope also set a school record in the weight throw, breaking his previous mark and launching a herculean 20.43m toss.
"To me this was the biggest and best meet in the country this weekend" said Program Director Mark Elliott. "For our team to perform at that level at this meet shows that we are definitely coming together for the ACC Championships. I am proud of everyone. Of course, coaches are going to look for something to be better but this is our best weekend yet."
The meet featured many of the best teams in the country notching impressive times on Clemson's noteworthy track. The Tigers end their home-stretch on the Clemson track & field complex optimistic and focused as they have a little over a week for final preparations heading into ACC Championships at Virginia Tech from February 24-26.
FRIDAY HIGHLIGHTS
Shantae Foreman jumped an impressive 6.34m long jump, bumping her up to fifth on Clemson's all-time top-10 list. Her previous season best was 6.24m.
Daniel Cope again broke his own school-record in the weight throw (21.43m)
Courtney Williams set a PR in the women's 400 meter (54.62).
Three hurdlers qualified for the finals, including Lafranz Campbell who set a personal best with a time of 7.70 seconds.
Devon Brooks broke the school record in the 60 Meter Hurdles (7.56)
SATURDAY HIGHLIGHTS
The men's 800 Meter saw two top 3 marks set, with Aman Thornton becoming just the second Tiger to break 1:48.00 in the event (1:47.29). Tarees Rhoden was close behind, setting the third best mark in school history with his 1:48.05 time. Entering the weekend. These are the fourth and fifth best times in the NCAA this season.
Andrea Foster also saw success in the 800 meter, winning the event with her time of 2:04.17. Her time was best out of 36 competitors.
Cameron Rose notches a top-10 mark in the 200 meter dash with his 20.94 time. He now holds the 9th position on the list.
FRIDAY EVENT BY EVENT BREAKDOWN
Running Events
Women's 60 Meter Hurdles Prelims

Antoinette Van der Merwe (Fr.) | 8.44q
Trishauna Hemmings (Sr.) | 8.46q
Nicolee Foster (Sr.) | 8.88
Anna Brewer (Sr.) 9.79

Women's 60 Meter Hurdles Semifinals

Trishauna Hemmings (Sr.) | 8.46
Antoinette Van der Merwe (Fr.) | 8.48

Men's 60 Meter Hurdles Prelims

Lafranz Campbell (Sr.) | 7.93Q
Giano Roberts (So.) | 7.84Q
Devon Brooks (Sr.) | 7.82Q

Men's 60 Meter Hurdles Semifinals

Lafranz Campbell (Sr.) | 7.70Q PR
Giano Roberts (So.) | 7.81Q
Devon Brooks (Sr.) | 7.70Q

Women's 60 Meter Dash Prelims

Areya Campbell (Fr.) | 7.58Q
Antoinette Van der Merwe (Fr.) | 7.53
Ockera Myrie (So.) | 7.53

Women's 60 Meter Dash Semifinals

Areya Campbell (Fr.) | 7.49 PR

Men's 60 Meter Dash Prelims

Dashinelle Dyer (So.) | 6.71Q
Cameron Rose (Fr.) | 6.78q
Fabian Hewitt (Sr.) | 6.82q
Ethan Binnix (Sr.) | 7.35

Men's 60 Meter Dash Semifinals

Dashinelle Dyer (So.) | 6.66Q
Fabian Hewitt (Sr.) | 6.78
Cameron Rose (Fr.) | 6.86

Women's Mile

Josie Wirtz (Jr.) | 4:54.71
Meredith Finley (Fr.) | 5:04.53
Grace Hanratty (Fr.) | 5:12.45
Courtney Farishian (Fr.) | 5:18.66

Men's Mile

Michael Smith (Jr.) | 4:11.26
Marlin Young (Jr.) | 4:15.77
Cal Finley (Fr.) | 4:19.71
Devin Johnson (Fr.) | 4:31.81

Women's 400 Meter

Andrea Foster (Sr.) | 54.45
Courtney Williams (Fr.) | 54.62
Ken'naria Gadson (Fr.) | 55.33
Mackenzie Osher (Fr.) | 56.27
Kenya Thompson (Fr.) | 56.55
Ariana Daley (Fr.) | 57.10
Nicolee Foster (Sr.) | 57.45
Brynne Sumner (So.) | 57.90
Leah Disher (So.) | 58.37
Olivia Cooney (So.) | 58.45
Kori Carter (So.) | 58.70

Men's 400 Meter

Jevon Williams (Fr.) | 48.77
Karim Murray (Fr.) | 49.70
Darryl Burton (Fr.) | 50.35
Ethan Binnix (Sr.) | 51.04
Patrick Driscoll (Fr.) | 55.72

Men's 60 Meter Hurdles Finals

Devan Brooks (Sr.) | 7.56
Giano Roberts (So.) | 7.81

Men's 60 Meter Dash Finals

Dashinelle Dyer (So.) | 6.65
Jumping Events
Women's Long Jump

Shante Foreman (Fr.) | 6.43m
Caroline Johnston (Jr.) | 5.78m
Au'Yana Carson (So.) | 5.32m

Men's Long Jump

Andre Wright (Sr.) | 7.17m
DJ Ledell (Sr.) | 6.92m

Women Pole Vault

Alison D'Alessandro (Sr.) | 4.04m
Throwing Events
Men's Weight Throw

Daniel Cope (Fr.) | 21.43m PR (All-time school record)

Women's Weight Throw

Marie Forbes (Jr.) | 20.69m
SATURDAY EVENT BY EVENT BREAKDOWN
Running Events
Men's 5000 Meter

Samuel Garringer (Fr.) | 15:11.78
Michael Fabiano (So.) | 15:31.27

Women's 800 Meter

Andrea Foster (Sr.) | 2:04.17
Brynne Sumner (So.) | 2:08.75
Leah Disher (So.) | 2:12.41
Josie Wirtz (Jr.) | 2:15.31
Anna Brewer (Sr.) | 2:16.88
Grace Hanratty (Fr.) | 2:23.85
Meredith Finley (Fr.) | 2:23.87

Men's 800 Meter

Aman Thornton (Jr.) | 1:47.29
Tarees Rhoden (So.) | 1:48.05
Cole Myers (Fr.) | 1:52.62
Colby Caviness (Fr.) | 2:01.19
Devin Johnson (Fr.) | 2:02.42
Patrick Driscoll (Fr.) | 2:04.64

Women's 200 Meter Dash

Ockera Myrie (Jr.) | 23.66
Trishauna Hemmings (Sr.) | 23.82
Areya Campbell (Fr.) | 24.39
Mackenzie Osher (Fr.) | 24.77
Antoinette Van der Merwe (Sr.) | 24.83
Kori Carter (So.) | 25.10
Kenya Thompson (Fr.) | 25.29
Olivia Cooney (So.) | 26.47

Men's 200 Meter Dash

Cameron Rose (Fr.) | 20.94
Guinove Joanus (Jr.) | 21.21
Jevon Williams (Fr.) | 21.38
Fabian Hewitt (Sr.) | 21.92
Darryl Burton (Fr.) | 22.77
Ethan Binnix (Sr.) | 23.27

Women's 3000 Meter Run

Mackenzie Steele (Fr.) | 10:13.24
Courtney Farishian (Fr.) | 10:20.82

Men's 3000 Meter Run

Michael Smith (Jr.) | 8:23.09
Marlin Young (Jr.) | 8.28.31
Jack McManus (Fr.) | 8:44.99
Stanley Finley (Fr.) | 8:52.44

Women's 4×400 Meter Relay

ClemsonA | 3:37:57
ClemsonB | 3:47.39

Men's 4×400 Meter Relay

ClemsonA | 3:07.33
ClemsonB | 3:18.23
Jumping Events
Women's High Jump

Shantae Foreman (Fr.) | 1.72m
Kenya Livingston (Sr.) | 1.72m
Sofia de Coteau (So.) | 1.62m
Nia Christie (Fr.) | 1.62m

Men's Triple Jump

Andre Wright (Sr.) | 15.57m
DJ Ledell (Sr.) | 15.08m

Women's Triple Jump

Harleigh White (Sr.) | 13.11m (7th)
Caroline Johnston (Jr.) | 11.69m
Nia Christie (Fr.) | 11.52m

Men's High Jump
Throwing Events
Men's Shot Put

Rojé Stona (Jr.) | 18.36m
Zico Campbell (Jr.) | 17.20m