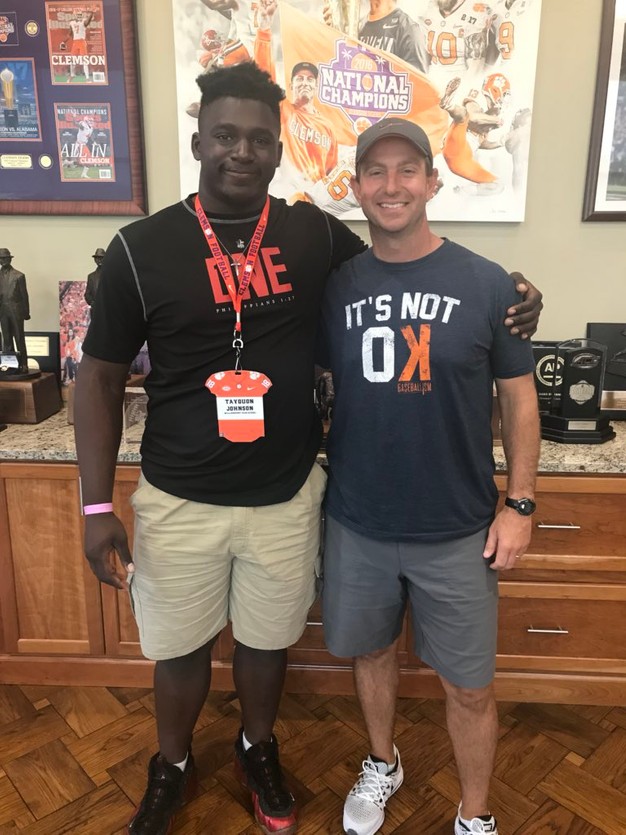 Tayquon Talks Tiger
Recently had the time to reach out to recent 2019 Clemson defensive lineman signee Tayquon Johnson out of Maryland. The newly signed 2019 Clemson football player has been very outspoken on his Clemson commit and the love he has for the Tigers. Tayquon took the time to answer a few of our questions in regard to his recruitment and why he eventually picked the Tigers. The Maryland product is enrolling in the summer and will join the 16 other Clemson commits already on campus in January and the remaining class of 2019 set to join Tayquon on campus in June.
Q: Take us back to the "All In" cookout back in July. Tell us who was there and what kind of stuff you guys did, what the recruits said.
A: "I will say we had a great time we did a lot we played a lot of games we got to meet some of the guys that I would play with we got a couple kids that I had some decisions to make about Clemson and did they want to be serious about Clemson some of them were in some of them weren't so we left it at that we had a nice photo shoot going on with us some of the defense of guys some of the offense of guys as well we really had a blast and enjoyed our time #ALLIN2019" 


Q: What is it like to be a Tiger?

A: It's great it's nice to be home and being able to be a part of something special
Q: what set Clemson aside from all the other offers and suitors you had in the recruiting process?

A: It's was the atmosphere and the culture every person cares for each other and pushes each other the be the best because he beat is the standard
Q: What are some to the personal goals you have for the 2019 Season as you start your Clemson Career?
A::" Some of my goals for the team is to work hard and push my teammates to unknown limits and become part of a new tradition

Q: What are some of your goals Off the football field as you arrive in Clemson? ""Personally … I will have my head in my books and drive for my degree in animal science and minor in sociology"
Brought to you by our Sponsor: