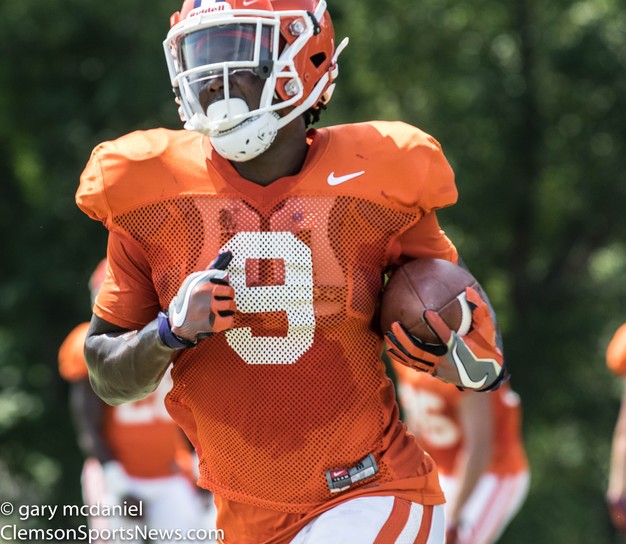 Travis Etienne
Running Backs: Our Take and breakdown the Clemson RB's :
As Clemson enters this opening game of the 2018 campaign, the Tigers find themselves yet again looking at a loaded running backfield rotation.
With the likes of 2018 ACC freshman phenom Travis Etienne, Adam Choice , Tavien Feaster and new comer Lynn J Dixon. How this staff plans to disburse the snaps equally. . . if that is indeed the plan, has yet to be seen.
Coach Dabo Swinney has told us on more than one occasion this summer . . . as we spoke with him after practices and scrimmages , that the Tigers running backs are a group to be watched this year.
Take a look here as we describe what we saw during our access to fall camp and what have heard from the staff and players after practices and scrimmages.
Depth Chart:
Travis Etienne
Adam Choice
Tavien Feaster
Lynn J Dixon
Travis Etienne: In his second season at Clemson, Etienne has entrenched himself as the starter for the upcoming 2018 Season. Now up to 202 pounds , we asked coach Tony Elliot at media availability earlier this week to expand on Travis' development. Elliot also cited the gains in strength and conditioning, along with a real effort to work on his "pass pro" and the small things the Louisiana native did not see or was expect to do in his high school offense.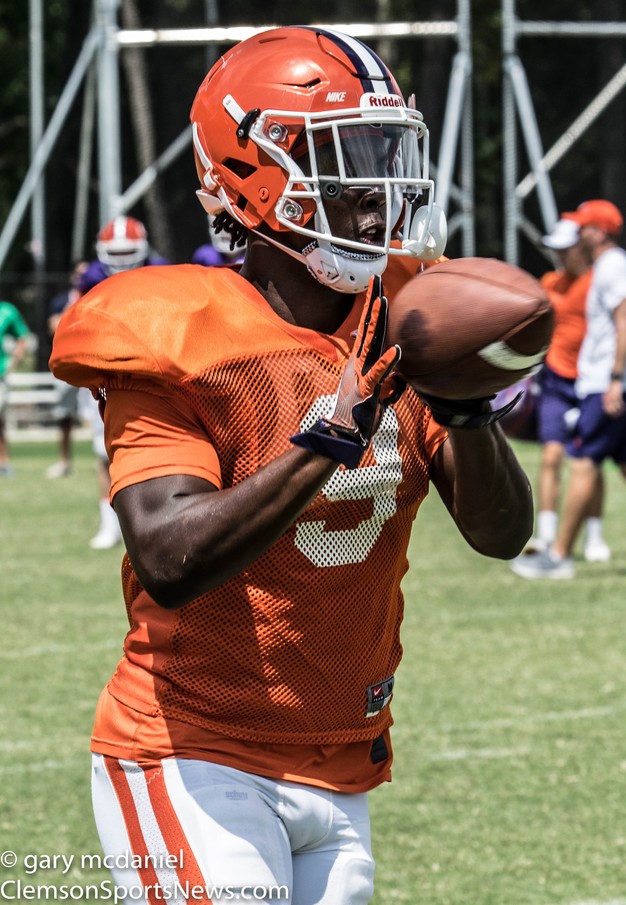 Coming off a team high 766 yards and 13 Touchdown's (freshman record) on 107 carries, with 5 receptions for 57 yards in 244 snaps and a 7.2 YPC average over his initial season as a Tiger. Look for Travis' work in the passing game to increase exponentially over the course of the 2018 season. With expectations fairly high that the true sophomore will exceed the 1,000 yard mark in rushing, the staff now looks to Etienne to be the go-to and primary ball carrier.
Adam Choice: Choice in his senior season, is a player that has had to over come past injuries, like the significant knee injury suffered at Boston College in late 2016. Last season relegated to third on the depth chart, Choice battled all season for playing time. And when given the opportunity proved he was the most consistent of the running backs in the pass protection schemes.
The Thomasville, GA native had 326 yards on 67 carries and scored six touchdowns over the course of the 2017 season. Add eight receptions for 48 yards and the rising senior was a solid back up and reliable in all areas.
A leader in the running back room to quote the staff and players we speak with on a weekly basis with our access. Choice coming into his senior season has moved up the depth chart to second right behind the starter Etienne. And coaches cite his leadership and advanced physical prowess as an attribute to this team .
Look for Choice in short yardage and heavy packages in the passing game, as he will be depended on to fight off blitzing line backers and defensive backs.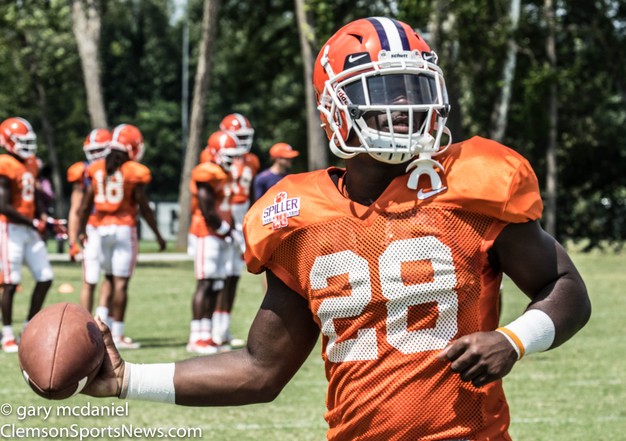 Tavien Feaster
Tavien Feaster: Coming out of Spartanburg High School inside the 2016 recruiting class, a lot potential was foreseen prior to Feaster's arrival at Clemson . And he has shown flashes of that potential in the limited snaps he has had over the past 2 seasons. Last year Tavien amassed 669 yards on 107 touches and 12 receptions for 112 yards for 6.3 yards a carry.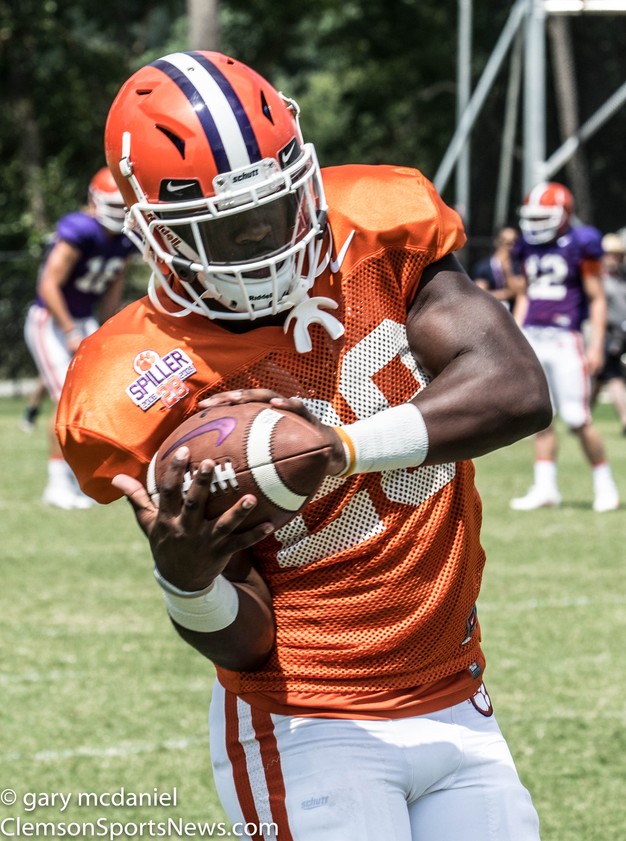 Look for his numbers to be around the same if the depth chart holds true through the end of the season. But like Swinney noted in his press conference this week, Feaster started the fall camp recuperating from minor knee surgery and it put him behind the others in the running back room.
Swinney then expanded on his comments to say that he finished the camp very strong and impressed the staff with his effort . T. But look for Feaster to again improve his production from the previous seasons. The former 5 star knows it is time to take advantage of every opportunity afforded him this upcoming season.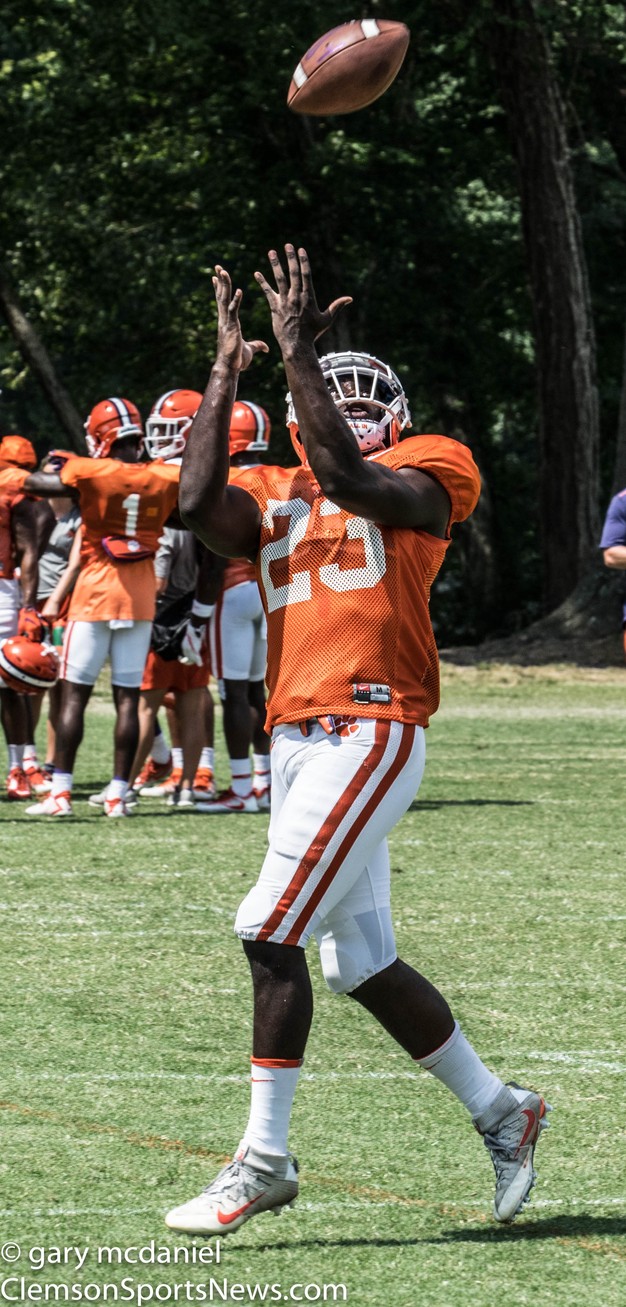 Lynn J Dixon
Lynn J Dixon: Newcomer Dixon was a surprise to all of the media when after the first scrimmage of fall camp, it was Dixon who was touted by the staff after having a break out performance.
A true freshman that reported for summer camp much more advanced physically than he finished his senior gridiron campaign . It was not expected that he would avoid a red shirt. Then came that scrimmage inside of Death Valley and he has been mentioned by coaches and players alike since as being a player to watch.
Swinney has already said expect to see Lynn J play this fall. A combo of shifty-ness and surprising strength in his lower body, Dixon has shown the affinity for the inside run game and hits the hole very quick and with a force. We were able to see him in the Paw Drills per our access one day . . . and it was impressive to see a young Freshman that engaged and welcoming the contact as he showed he was not shy about getting in the mix.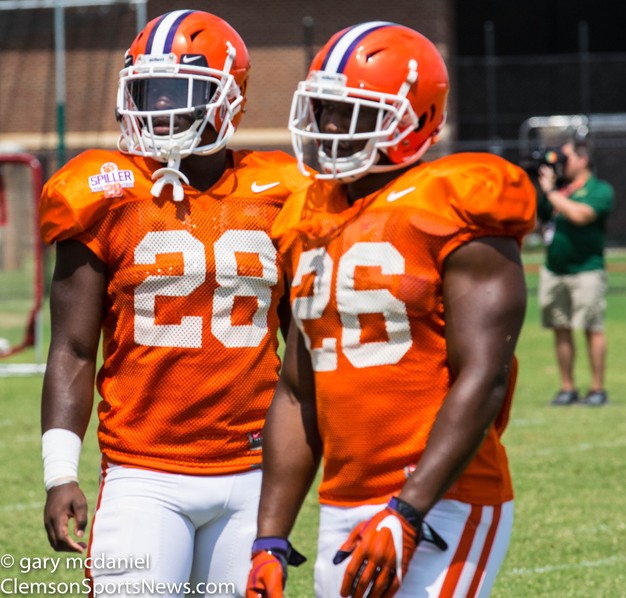 Feaster and Choice
This feature story brought to you by our Sponsor: