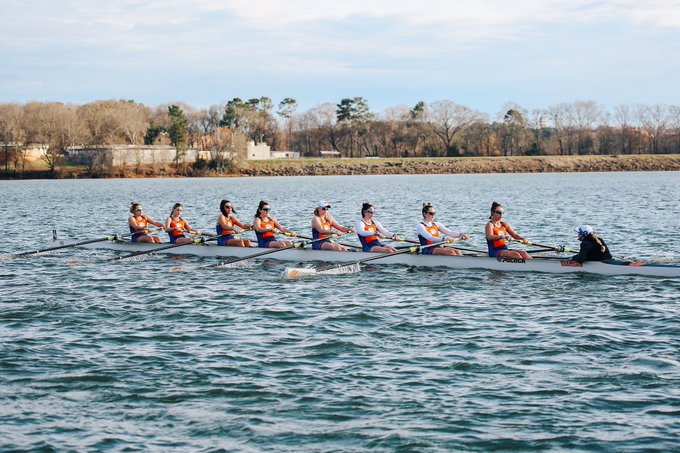 CLEMSON, S.C. — Clemson battled No. 14 Duke on Lake Hartwell on Saturday morning, but the Blue Devils were too tough to overtake.
On a cool, overcast morning with flat to 1.8 mph winds on Lake Wheeler, the Tigers competed in the 1V8+, 2V8+, 3V8+, 1V4+ and 2V4+ heats, but the Blue Devils took the victory in each heat.
The Tigers kicked off the morning in the 3V8+ race which clocked in at 7:16.2 with the 2V4 and 1V4 boats coming in at 7:44.9 and 7:39.3, respectively. The 2V8 boat saw massive improvement, coxed by Julia Walsh, with a solid time of 6:48.6. To finish the race, senior Kate Hadley coxed the 1V8 crew to a 6:45.3 time.
"I thought this early season race gave us a great opportunity to go out there and put a race plan together when it counted," said Head Coach Stephen Frazier Wong. "Scrimmages are great, but being able to have another team line up against us, execute and see what we'll be able to use later this season is great. Duke is a solid team, and we are looking forward to closing some margins. Congratulations to them on winning the Carolina Cup this year."
Up next, Clemson will travel to Oak Ridge, Tenn. for the Cardinal Invite on March 19-20.
For complete coverage of the Clemson Rowing team, follow @ClemsonRowing on Twitter, Instagram and Facebook.
Results:
1V8+
Duke 6:34.4
Clemson 6:45.3
2V8+
Duke 6:41.5
Clemson 6:48.6
3V8+
Duke 6:48.7
Clemson 7:16.2
1V4+
Duke 7:25.7
Clemson 7:39.3
2V4+
Duke 7:27.7
Duke 7:41.3
Clemson 7:44.9
Clemson Lineups:
1V8+
Kate Hadley (Cox), Rachel Twitty (Stroke), Anna Luttrell, Claudia Scherbin, Isabel Velasquez, Pepper Kolman, Lori Belanger, Ellie Loehrer, Meghan McLean
2V8+
Julia Walsh (Cox), Lucia Coutant (Stroke), Summer Ratley, Chloe O'Brien, Hannah Hayes, Amelia Rinehart, Abby Dutton, Caroline Emerson, Emerey Sampson
3V8+
Kristen Dutkin (Cox), Josie Bonamy (Stroke), Alexis Holliday, Deanna Caceres, Emma Frohnapfel, Shannon Hanlon, Ivey May, Ellen Harcum, Maylin Lindsey
1V4+
Christina Minyo (Cox), Maddie O'Neill (Stroke), Jasmine Lewis, Gabby Babin, Emma Randolph
2V4+
Salma Shalaan (Cox), Maddie Scarlett (Stroke), Elizabeth Murphy, Avery Howard, Amelia Anglin
#