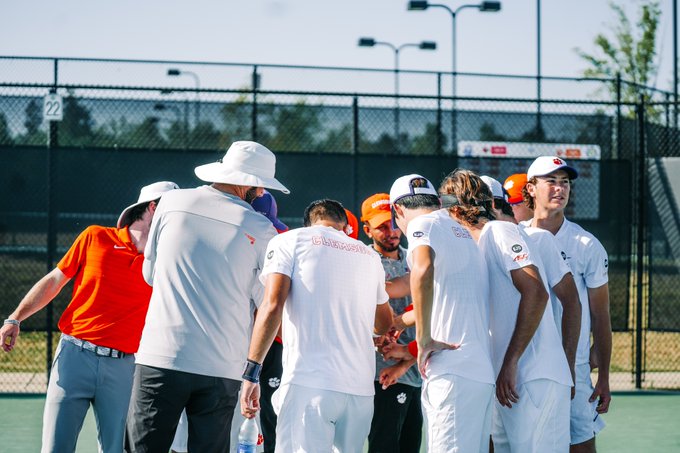 ROME, Ga. – The 12th-seeded and 62nd-ranked Clemson Tigers got off to a hot start, taking the doubles point in the ACC Quarterfinals, but ultimately came up short against 4th-seeded and 23rd-ranked Louisville (19-7, 9-3 ACC) by a score of 4-1 on Friday. The match was Clemson's third in as many days after defeating 13th-ranked Boston College on Wednesday and upsetting 5th-seeded Duke on Thursday.
Clemson's season comes to an end with a 13-14 overall record under third-year Head Coach Robbie Weiss, and the 13 wins are the most in a season since 2016.
In doubles, sophomores Ryuhei Azuma and Spencer Whitaker were firing on all cylinders on Court 1, defeating Louisville's Donnet and Mizrahi, 6-3 to get the Tigers out in front early. Shortly after, Daniel Labrador and Jorge Plans Gonzalez continued their amazing play as they clinched the doubles point for Clemson on Court 3, winning 6-4.
Singles were a battle from the first point as four of six courts went to a deciding third set, but Louisville was able to win on Courts 1, 4, 5 and 6 to take the match, 4-1 to advance to the ACC Semifinals. The Tigers were coming off a grueling 4-3 win over No. 22 Duke on Thursday, which also included four three-set matches.
For complete coverage of the Clemson men's tennis team, follow @ClemsonMTennis on Twitter and Instagram.