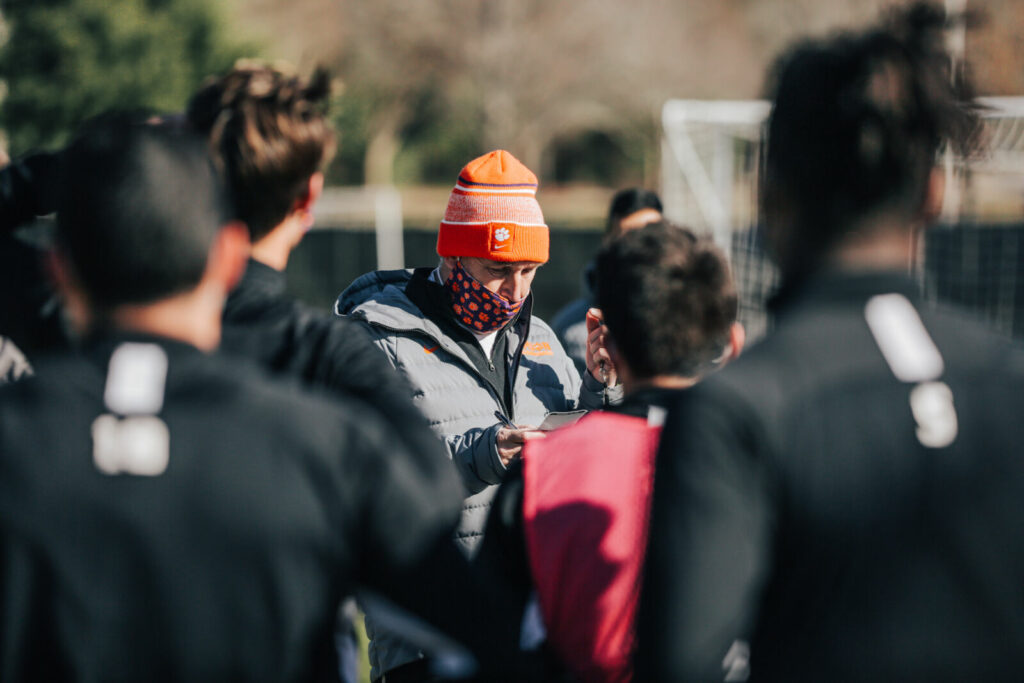 Clemson Opens Spring Season Ranked No. 1
United Soccer Coaches Release || Clemson Men's Soccer Media Resources
KANSAS CITY, Mo. – In the first 2021 NCAA Division I Men's Spring Rankings, United Soccer Coaches announced Tuesday that it has ranked the Clemson men's soccer program No. 1. Clemson garnered 16 of the 26 first-place votes in the poll. The Tigers receive the ranking ahead of their spring season opener against Syracuse on Sunday, March 7, at 5 p.m. at Historic Riggs Field.
Clemson returns to action after going 8-2-1 this past fall, winning its final three matches of the season en route to capturing the program's 15th ACC Championship. The Tigers were unanimously ranked No. 1 following their success in the 2020 ACC Tournament.
The 2021 spring season will continue Clemson's fall campaign, as the Tigers' record, statistics and disciplinary record will all carry over. Clemson men's soccer has an all-time record of 694-277-93 through 61 years of competition. Sunday's match against Syracuse will be the first time Clemson plays a competitive match in March.
Clemson was one of four ACC men's teams to be included in this week's poll, as Pittsburgh (No. 4), Wake Forest (No. 6) and Virginia Tech (No. 13) joined the Tigers. In the women's poll, Clemson ranks No. 9 with an 8-4-0 record following two wins over College of Charleston this past weekend.
Historic Riggs Field Social Distancing & Operations
The 2021 spring season will see Historic Riggs Field operate under the same guidelines enforced during the fall. We ask that all fans please adhere to the following safety protocols put in place to ensure the well-being of all fans and participants.
Please refrain from coming to any Clemson sporting event if you feel sick or are experiencing symptoms of the coronavirus.
A capacity of 1,000 spectators will be enforced at Historic Riggs Field. Patrons must wear a face covering at all times unless eating or drinking.
There will be no formal ticketing for the 2021 season. All seating is on a first-come, first-served basis. All points of entry to Historic Riggs Field will be available.
Seats will be available in pods of four with a six-foot radius around each pod. Please refrain from sitting in groups larger than four.
There will be no access to the field permitted prior to, during, or after any match.
Drinks and pre-packaged snacks will be available at the outdoor concession stand.
Restrooms will be available for all fans. Hand sanitizers will also be strategically placed around the facility.
###Photo courtesy of Clemson Athletics.