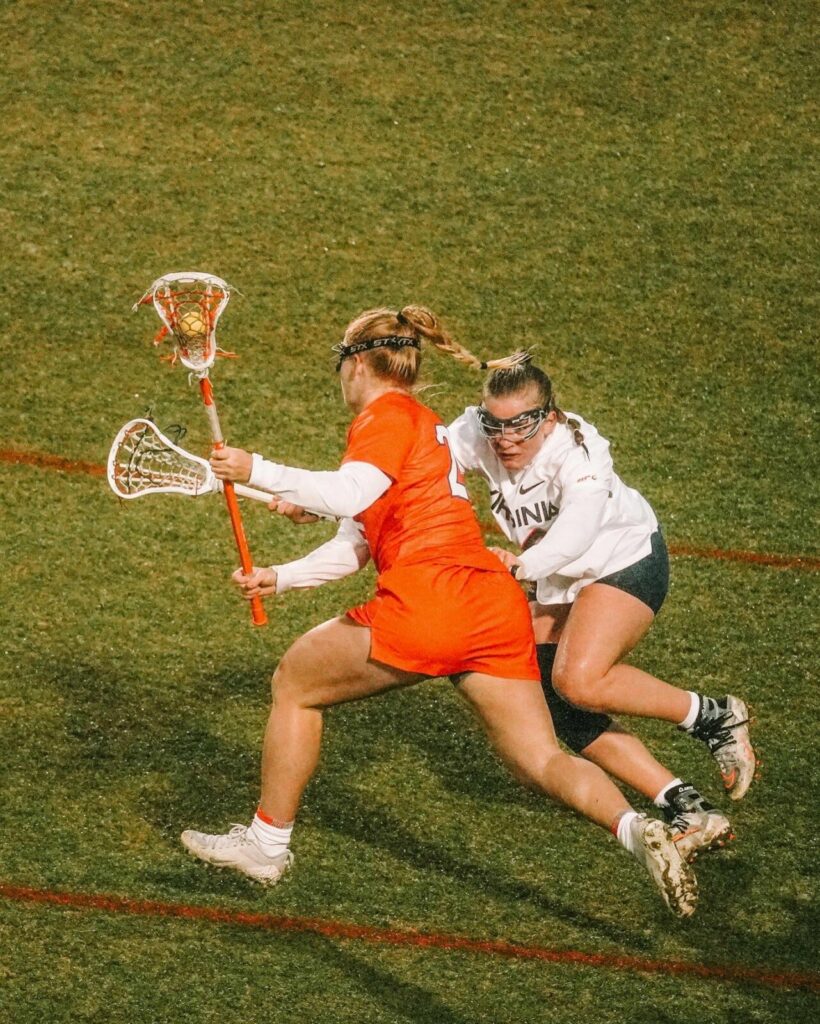 Charlottesville, Va. — Clemson Lacrosse (4-2, 0-2 ACC) lost 16-7 to the No. 10 Virginia Cavaliers (5-0, 2-0 ACC) on a rainy afternoon in Charlottesville, Va. Four different Tigers scored as goalkeeper, Emily Lamparter, faced 36 shots and saved 10.
"UVA is obviously an incredible team, with a high powered offense" said Head Coach Allison Kwolek. "We had our chances to score, but struggled to find the back of the net and had too many unforced turnovers. We were competitive on the draw and are looking forward to getting back out there Sunday."

The draw control battle between Clemson and Virginia was tight, as the Cavaliers totaled 15, and the Tigers were close behind with 12. The two teams both caused eight turnovers and were persistent on the ride.
Emma Tilson opened up scoring for the Tigers, recording two goals within two minutes to give Clemson an early 2-1 lead over Virginia. The Cavaliers would then go on to score six unanswered goals. Freshman Paris Masaracchia fired a shot back to close the gap and build momentum on offense.
Clemson closed out the first half with 13 shots, 10 on goal, and five saves. Virginia went into halftime ahead 9-3, totaling 18 shots through the first two quarters.
Freshman Sofia Chepenik scored back-to-back goals in the third quarter to pull Clemson within five of Virginia. The Cavaliers would put up another goal before the end of the third quarter to gain a 12-5 lead to enter the fourth quarter.
With twelve minutes left in the game, Ella Little scored first for the Tigers in the fourth quarter from a free position shot. Tilson scored again to record back-to-back goals for Clemson and secure her first hat trick of the season. The Cavaliers went on to score three more goals to make the final score 16-7.
Clemson will stay in Virginia to face the Longwood Lancers on Sunday, March 5. at 12:00 p.m.
For complete coverage of the Clemson women's lacrosse team, follow @ClemsonWlax on Instagram and Twitter and @ClemsonWLacrosse on