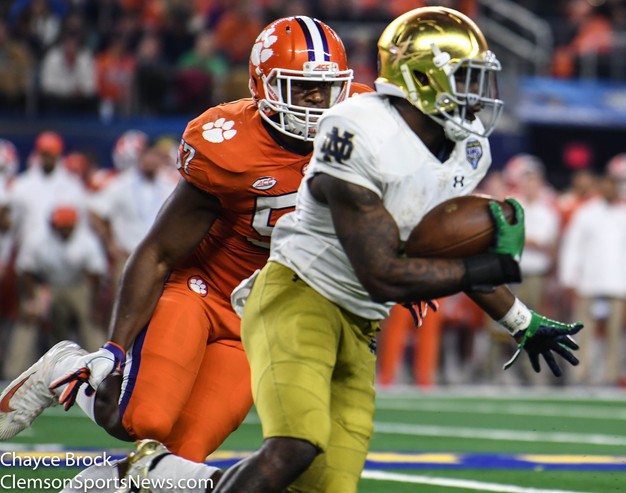 There is a LOT of hype and media attention being made about the 2020 recruiting class, and why not, it's currently ranked #1 in the nation and Clemson isn't done yet.
The ALL-IN Cookout later this month may add to that class. However, the 2019 class is not to be overlooked. Clemson's defense lost 7 starters to the NFL from last year.
Dabo and staff played a lot of backups last year to get them ready to step into those roles this year. Clemson is bringing in five(5) new linebackers in the 2019.
Keith Maguire 6-2 215
Bryton Constantine 6-2 220
Greg Williams 6-4 235
Kane Patterson 6-2 227
Lavonta Bentley 6-1 215
Constantine sustained an injury and will not be ready for the opening of the season, but there is a possibility he could get back late in the season and get 4 games to preserve his red shirt season. Lookout for this guy when he is healthy, wrecking ball all over the field.
Kane Patterson and Keith Maguire look like Ben Boulware clones, nose for the football and hard tacklers. Watch their videos, both of these guys play both ways, contributing on offense as well.
Lavonta Bentley is a tackling machine and is another one of those that's going to be around the ball. We all know mighty Alabama gets who they want out of the state of Alabama (Justyn Ross being an exception), but this is one that might have gotten away.
Greg Williams is probably the least heralded of the incoming linebackers. A Swansea, SC, native, he has the size to be a future middle linebacker in the mold of Tre Lamar. Enjoy the videos. This is a solid group of linebackers and with Brent Venables in their ear every day, the sky is the limit for these guys.
Brought to you by our Sponsor: