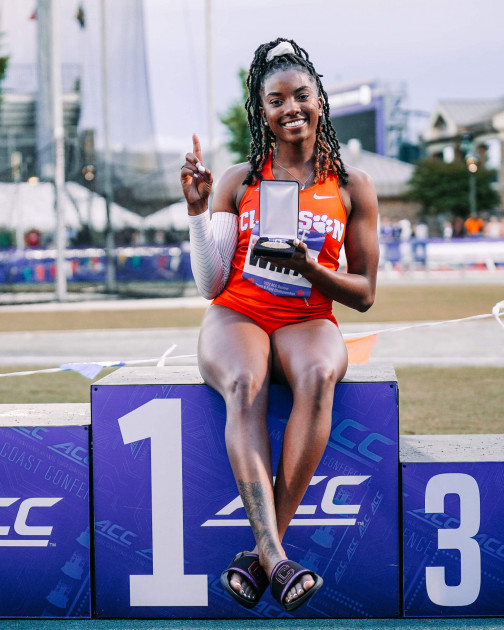 DURHAM, N.C. — The second day of competition at the 2022 ACC Outdoor Track and Field Championships was an historic one for Clemson. Senior Harleigh White earned the ACC crown in the women's triple jump with a 13.05 meter leap. On the track, several Tigers set personal bests, and, in doing so, qualified for Saturday's finals, setting the program up for an exciting final day of events.
"Today was the moving day," said Program Director Mark Elliott. "We had a lot of finalists, but like any championship, there were some mishaps. Both teams now have to be ready to be flawless tomorrow."
HIGHLIGHTS
Harleigh White won the ACC women's triple jump with her leap of 13.05 meters. That mark is a facility record.
Aman Thornton set a top-10 mark in the 800 meter, completing the race in a personal-best 1:47.76. He will join Tarees Rhoden in tomorrow's finals for the event. Rhoden ran a 1:48.77.
Three Tigers advanced to finals in the women's 100 meter hurdles. Trishauna Hemmings led the way with a 13.20 second time, while Antoinette Van der Merwe and Favor Ezewuzie each set personal bests of 13.36 and 13.58, respectively.
Lafranz Campbell and Giano Roberts each qualified for the 110 meter hurdles finals. Campbell notched a time of 13.76 while Roberts finished the race in 13.79 seconds.
The women's 400 meter dash finals tomorrow will consist of both Kenya Thompson and Courtney Williams. Thompson ran a personal best 53.63 and Williams notched a 54.05 time to earn her spot in the finals.
Serena Clark and Kiara Grant will compete for the women's 100 meter dash title, as Grant completed the race in 11.35 seconds and Clark qualified with a time of 11.44 seconds.
Going into Saturday, the men are in 12th place with 2 points, but will have plenty of opportunities to put themselves up near the top. The women are in 10th place with 13 points, with several events in which the team expects big points yet to be completed.
The Tigers will have at least one participant in the men's and women's 4×100 relay, women's 100 meter hurdles, men's 110 meter hurdles, women's 400 meter dash, women's 100 meter dash, men's 800 meter dash, men's and women's 400 meter hurdles, men's and women's 200 meter dash, and the men's and women's 4×400 meter relay. School record holder Rojé Stona is also set to compete in Saturday's discus throw finals. The day's action will begin with that competition at 11 a.m.