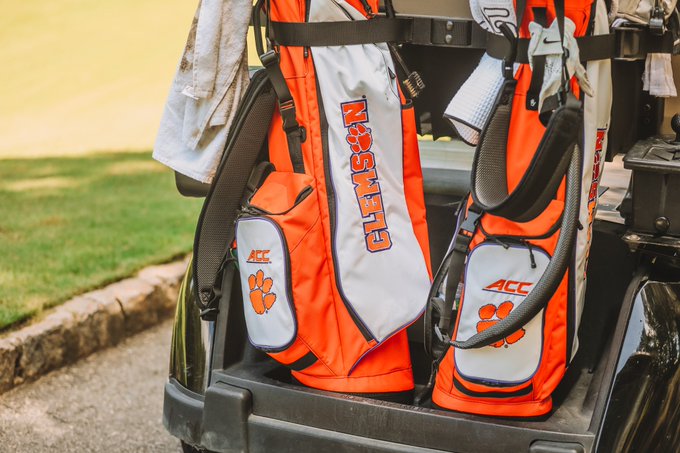 CLEMSON, S.C. — All-American Jacob Bridgeman tied the Clemson record with a 62 on Saturday to lead Clemson to a 16-under par team score of 264 and a second place standing after 36 holes at the Maui Jim Intercollegiate in Scottsdale, Arizona. The 15-team national tournament at Mirabel Golf Club that features five top 25 teams will conclude on Sunday.
Clemson has had team rounds of 266 and 264 over the first two days. Jordan Byrd's Tiger team is in second place behind Georgia Tech, who stands at 526, 34-under par. Clemson's 530 team score is the lowest in school history for the first 36 holes of a tournament, breaking the record of 533 that was set at the same tournament two years ago.
Bridgeman tied the Clemson record that is now also held by William Nottingham, who had a 62 in his second round at the Wolfpack Spring Invitational in Raleigh, N.C. on April 14, 2017. Bridgeman had nine-hole scores of 32-30. He had six birdies and a bogey to go with two pars on the back nine. His only blemish was a bogey on the 466-yard par four 13th hole.
Bridgeman had an opening round 68 and stands in a tie for fifth-place entering the final round with a 133 score.
Kyle Cottam had another outstanding round with a five-under-par 65 on Saturday. He had a career-best 64 in the opening round and his 11-under-par 129 is tied for second entering the final round. Christo Lamprecht of Georgia Tech has the lead at 128, 12-under par.
Zack Gordon shot a second round 67 to record the third-best Clemson score of the day. He stands at three-under-par 137 through 36 holes to rank 27th in the field of 90 players. He birdied the last two holes and had five birdies on the day.
Carter Pendley and Colby Patton both had rounds of even par 70 on. Patton had an eagle on the 17th hole, the only eagle of the day by a Clemson player. Pendley had four birdies in his round and stands in a tie for 22nd place entering the final round.
Live scoring will be available on Sunday at GolfStat.com.