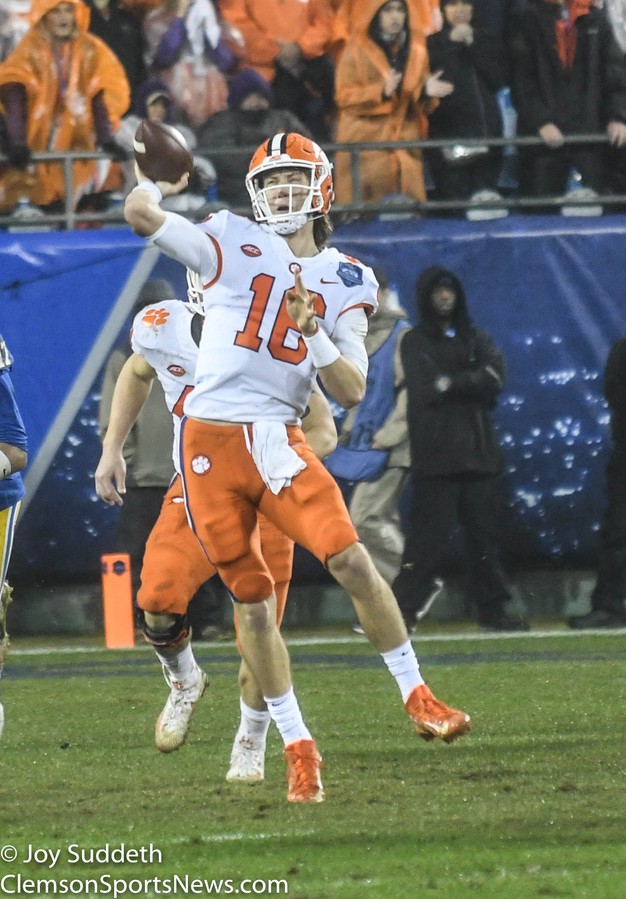 Clemson headed to Bank of America Stadium in search of their fourth straight ACC title and all that stood in their way were the Pittsburgh Panthers. The Panthers upset the Tigers in 2016 with a last-second field goal to win 43-42. However, the Tigers came out quick at the start of the game with a 75-yard touchdown run by Travis Etienne, which was the longest play from scrimmage in ACC Championship history. At the end of the half, the Tigers tied the ACC record of 28 points scored in the first half, they tie with Florida State in the 2014 ACC Championship.
Trevor Lawrence in the first half had two handoff touchdowns and two rushing touchdowns. The freshman quarterback was 7-14-0 with 52 yards and 2 touchdowns. The first play of the game, Lawrence would do a handoff to Travis Etienne and he would take it 75 yards for the fastest scoring drive in ACC Football Championship history of 13 seconds. Lawrence would handoff again to Etienne for a 3-yard touchdown. Lawrence would find Tee Higgins for 2 passing touchdowns in the second quarter. Clemson would tie the ACC record of 28 points scored in the first quarter with Florida State in 2014.
BT Potter would have a 65-yard kickoff that would result in a touchback, 58-yard kickoff, 60-yard kickoff and a 61-yard kickoff in the first half.
Justyn Ross would catch a 42-yard bomb from Trevor Lawrence in the first half.

First Half Stats
Clemson Pitt
Rushing yards 183 117
Passing yards 52 5
Total yards 235 122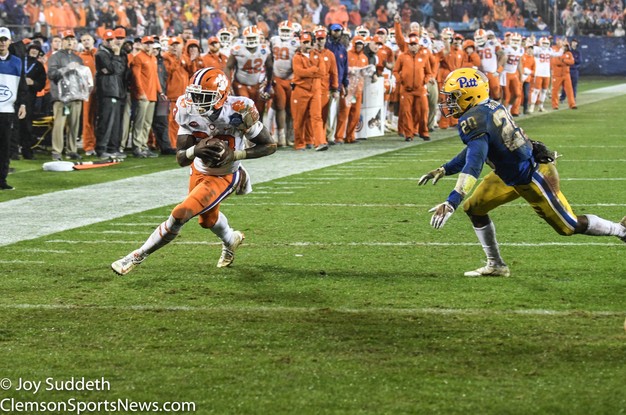 Second Half
Lawrence would think quick on his feet in the third quarter where he would scramble for a gain of 16 yards, find Tee Higgins for a pass completion of 21 yards and would find Justyn Ross for a pass completion of 39 yards on a flea flicker which would result in the longest pass play of the game and would handoff to Adam Choice for a one-yard touchdown.

BT Potter would have two 65-yard kickoffs that would result in touchbacks.
Xavier Thomas would cause a pass breakup.
Lyn-J Dixon would score on a handoff from Chase Brice at the end of the game.
Final Stats
Clemson Pitt
Rushing yards 301 192
Passing yards 118 8
Total yards 419 200
Brought to you by our Sponsor :