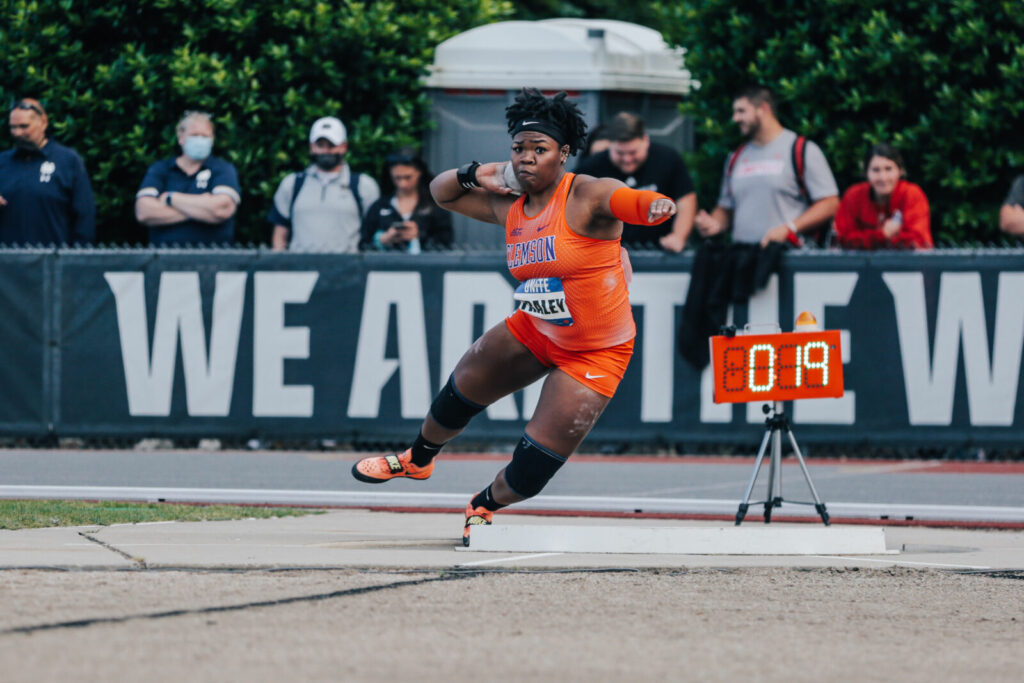 Fraley Earns First-Team All-ACC, Four Tigers Record Top 10 All-Time Marks
RALEIGH, N.C. — Areya Campbell (heptathlon), Harleigh White (triple jump), Veronica Fraley (shot put), and Leah Disher (800 meters) each registered top 10 all-time marks at Clemson during the second day of competition at the 2021 ACC Outdoor Track & Field Championships on Friday. The final day of competition will begin on Saturday at 2 p.m. as Roje Stona contests the men's discus.
Veronica Fraley placed third in the women's shot put competition after throwing 16.46 meters (54 feet, 0 inches) during the second round. Fraley's performance improved her mark as the program's No. 2 all-time performer. The third-place finish gave the Raleigh native the first first-team All-ACC honor of her career.
Campbell became No. 10 all-time as her heptathlon debut came to a close on Friday. During the two-day competition, Campbell contested four of the event's seven disciplines for the first time in her collegiate career. At the end of the event, Campbell had amassed 4,861 points and placed tenth overall.
White put together a historic series on the triple jump runway, as the native of Huntingtown, Md., eclipsed 13 meters on four of her six attempts. White finished fourth overall, securing a second-team All-ACC honor, after recording a mark of 13.37m (43-10.5) [+2.3 meters/second] on her final attempt. In the second round of competition, White recorded a wind-legal personal best of 13.28m (43-7) to become No. 5 all-time. Entering Friday's competition, White had only ever cleared 13 meters twice before in her career.
In the women's 800m, Disher crossed the line in 2:06.24 during the second heat of prelims to become No. 9 all-time at Clemson. The performance allowed Disher to advance to her first ACC 800m final after securing the final time qualifying position. Entering the weekend, Disher was locked in a tie for tenth all-time after running 2:06.98 during the UCF Knights Invite in April.
Ahead of Disher on the women's 800m qualifying list is Laurie Barton, a favorite to contest for tomorrow's 800m title. The Clemson native ran 2:05.64 to win the opening heat of Friday's prelims comfortably. Barton ran 400m splits of 1:03.15 and 1:02.47 to finish first by nearly a second. Following the women's heats, Kameron Jones started the men's 800m prelims with a dominant performance, winning in 1:49.35 to advance to Saturday's final as the second-fastest qualifier.
The first heat of the men's 110-meter hurdles featured three Tigers, and after the two qualifying heats had been contested, all three athletes advanced to Saturday's final within the event's top-5 qualifying positions. Devon Brooks (13.84) won the heat and was followed closely behind by Lafranz Campbell (13.93) in third and Giano Roberts (13.96) in fourth. With the opening heat being run with a legal wind of -1.2 m/s, Roberts' time served as a personal best. In the women's 100m hurdles, Trishauna Hemmings will be Clemson's lone finalist after running 13.36 to advance as the sixth-fastest qualifier.
Rebekah Smith ran 11.45 to advance to the women's 100m final as the third-fastest qualifier. In the men's edition of the event, Marcus Parker secured the final qualifying position after running 10.49 to finish second in the fourth heat of prelims.
Kamryn McIntosh produced a dominant final 100m in her 400m prelim to win the heat and advance to Saturday's final as the sixth-fastest qualifier. McIntosh crossed the line in 54.41 to set an outdoor personal best and run the second-fastest time of her career. During the 2021 ACC Indoor Championships, McIntosh placed third overall in the final of the 400m.
Michael Smith concluded Friday evening's action by running a personal best of 9:22.00 in the men's 3,000m steeplechase. Smith's time served as a five-second personal best and was one of 17 personal records recorded during the race.
For all of the most up-to-date information regarding Clemson's Track & Field program, be sure to reference clemsontigers.com and follow @ClemsonTrackXC on Twitter.
###
Photo courtesy of Clemson Athletics.