Going into the spring, the offensive line is one of those positions everyone takes notice of. Games are won and lost in the trenches, that's a well known fact. The Tigers are no exception. There will be no less than 16 players competing for that starting five, including three returning starters. OT Jackson Carmen and C Cade Stewart have moved on and there will be a battle to take their slots.
Three starters return on the line; G's Matt Bockhorst and Will Putnam, and T Jordan McFadden. Walker Parks came on strong at the end of the year and could very well move into a tackle spot. Look for Mitchell Mayes and Paul Tchio to step up and battle for early playing time. Tchio (6-5 300) and Mayes (6-3 300) played sparingly in 2020 getting 80 and 61 reps, but with experience, those numbers will go up. Tayquon Johnson moved over from the defensive line and was able to get on the field for 80 reps as well. Redshirt freshmen John Williams, and Bryn Tucker have put in the time in the weight room and look ready to make their presence known.
The center position was vacated by Cade Stewart, but the position is not with talent. Sophomores Mason Trotter and Hunter Rayburn will be going toe-to-toe for the starting position but will face stiff competition from true freshman Ryan Linthiculm. Trotter is the odds on favorite to exit the spring as the starter.
Speaking of freshmen, Clemson brings in another solid group in the 2021 class. The headliner is Tristan Leigh. Leigh comes in as the #1 player in the state of Virginia and the #4 OT in the country. He may not come in and start day 1 but this young man will be on the field early. Linthiculm, the #4 center in the 2021 class, will be in hunt for early playing time at center. Big Marcus Tate 6-5 300 (#8 OG) and Dietrick Pennington (6-5 325) brings instant size to an already big OL. The future is promising.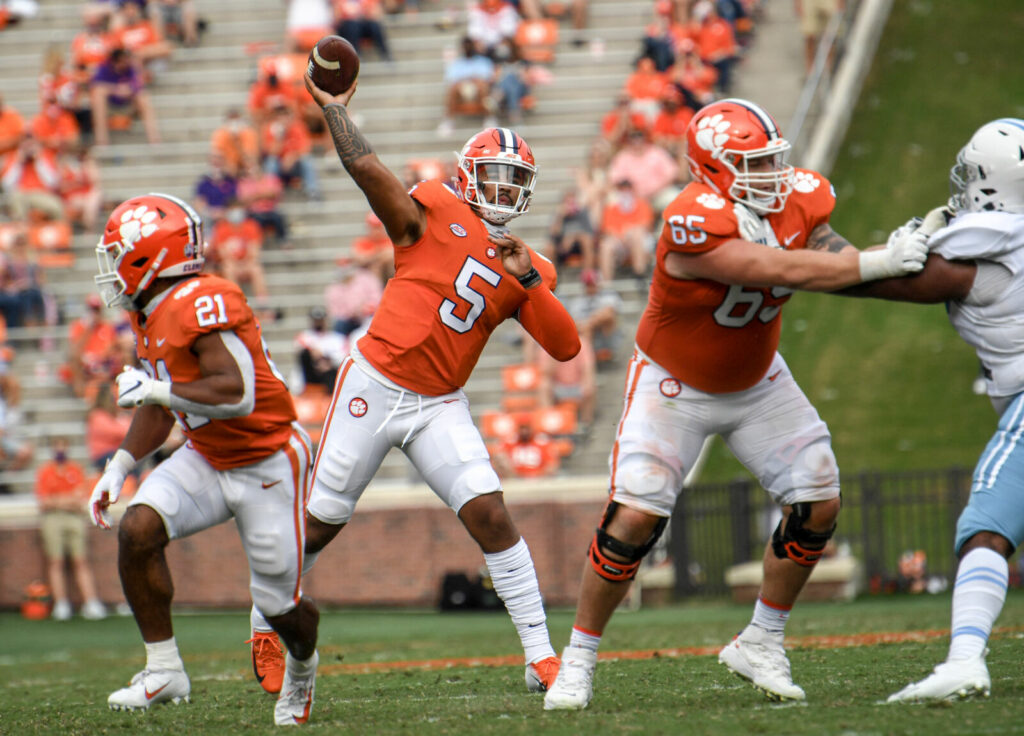 In the 2021 class, the Tigers offered a grand total of 10 offensive linemen, landing four. The six they didn't get went to Texas, Alabama, Georgia, Wisconsin, and Kentucky (teammate of Walker Parks). Dabo and staff are going head to head against Power 5 schools for these highly rated offensive linemen, and winning about half the battles. That's progress.
Yes, the future is promising. In the 2022 class, the Tigers already have commitments from two highly rated linemen. Homegrown Collin Sadler (6-5 295) out of Greenville, SC, and Blake Miller (6-6 315) out of Strongsville, Ohio, have given their verbals to the tigers. Clemson has only offered five offensive lineman so far in this class and have hit on two of them.
Offensive line at Clemson. Keep an eye on it in the spring and see who is ready and who isn't. One thing is for sure. The raw talent is there, there is no shortage of 4-star linemen on the offense side of the ball.