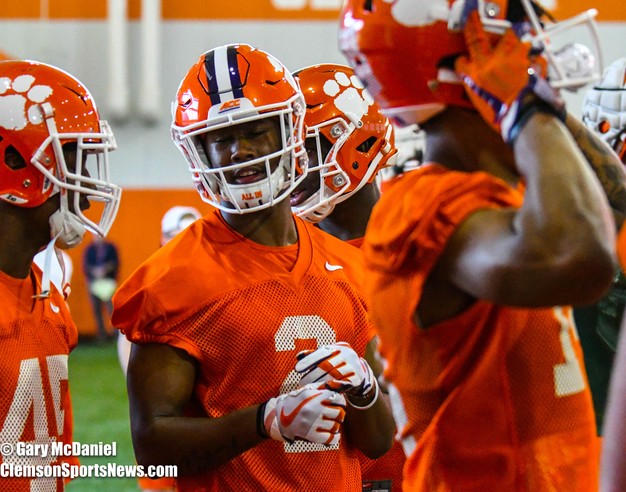 A look at 2019 Freshman Class: Frank Ladson
Frank Ladson had himself quite the debut during Clemson's spring game back in April. The freshman wide receiver accumulated 102 yards on five receptions. The 6'4 wide receiver from Miami, Florida was one of the most highly regarded high school receivers as a five-star player at South Dade High School.
Before Clemson, Ladson was ranked among the top 51 players in the nation by five different outlets. He was ranked 22nd overall in the 2019 recruiting class by Prepstar and the fifth best wide receiver with a five-star ranking making him Clemson's highest rated recruit. Ladson had a record-setting senior year when he had 50 catches for 1,113 yards averaging 27.7 yards a catch and accounted for 13 touchdowns. Ladson also set a school record for receiving yards and lead South Dade to a 10-3 season in 2018. Combining Ladson's last two seasons at South Dade, he had 79 receptions for 1,808 yards and 21 touchdowns averaging 22.9 yards a reception. Ladson played in the All American Bowl in San Antonio, Texas in January.
After showing off his speed and ability to handle the ball during the spring game, he along with roommate, Joseph Ngata, drew comparisons to former "WRU" stars now NFL greats DeAndre Hopkins and Mike Williams and seem to be hanging in there with teammates Tee Higgins and Justyn Ross. Sophomore quarterback Trevor Lawrence stated that the team is "going to have all kinds of depth" for the upcoming season. Ladson, Ngata, Higgins, Ross and Diondre Overton will give the Tigers 5 wide receivers who all check-in at over 6-foot.
Jeff Scott, Ladson's recruiter, touched on how well Ladson has been doing since his arrival at Clemson. "He's special" Scott said during the spring "His speed and quickness reminds me of another No. 2 we had from Florida." Scott was drawing reference from Sammy Watkins, Ladson wears the No.2 jersey just like Watkins, who now plays with the Kansas City Chiefs. During the spring Ladson had already put on 15 pounds to bump his weight up to 197.
Head Coach Dabo Swinney is pleased to see the process that Ladson, as well as Ngata are making stating that "they are as ready as anybody as we've ever had come in here."
Brought to you by our Sponsor: