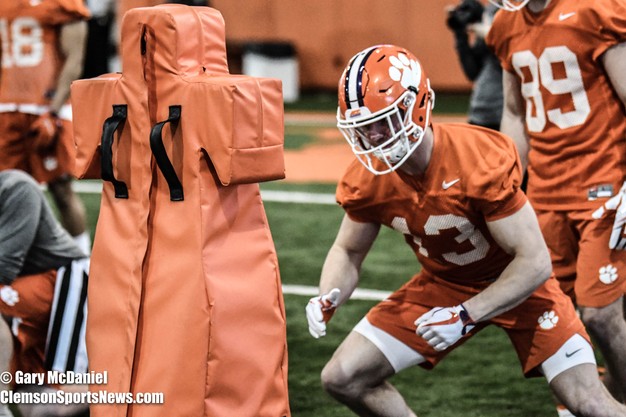 Brannon Spector
Brannon Spector rounds out the newest members of WRU. Spector is a second-generation Clemson football player who follows in the footsteps of his father, Robbie Spector who played wide receiver for the Tigers from 1988-1990. The Tigers won two ACC Championships while his father was on the team and his senior class held a 40-8 record with four straight 10-2 seasons. Spector joins his brother Baylon, a red-shirt sophomore linebacker on the team.
During high school, Brannon was both a wide receiver and a safety. During his senior year, Spector had 49 receptions for 719 yards and seven touchdowns. On defense, he had 47 tackles, five tackles for loss, and five interceptions on defense and one returned interception for a touchdown. Spector was the Region 6 AAA Athlete of the Year, first team all region, first team Chattanooga Times All-Area, County Player of the Year. Spector's high school team won the state championship finishing with a 14-1 record. His teammate, Davis Allen, also signed with the Tigers in 2019.
Spector also showed off his abilities at the Nike Opening in Atlanta where he finished 2nd to Nolan Smith, UGA commit, who is one of the top five players in the nation.
Spector's abilities have drawn in comparisons to a beloved former Tiger, Hunter Renfrow. There will never be another Hunter Renfrow, but the similarities between the two wide receivers is uncanny. Spector comes in a couple inches taller than Renfrow, but the two both share similarities in footwork and the two also have great hands. One could see Spector playing the spot just like Renfrow. Spector is vastly underrated as a player, coming in only with a three-star rating. Spector will provide the consistency that the Tigers need at the position after losing Renfrow to the NFL. Brannon will also dawn the beloved #13 as well, worn by Renfrow and Adam Humphries, both of which made a huge impact at Clemson and in the NFL.
Look for Spector to make some big plays on third downs this year.
Brought to you by our Sponsor: