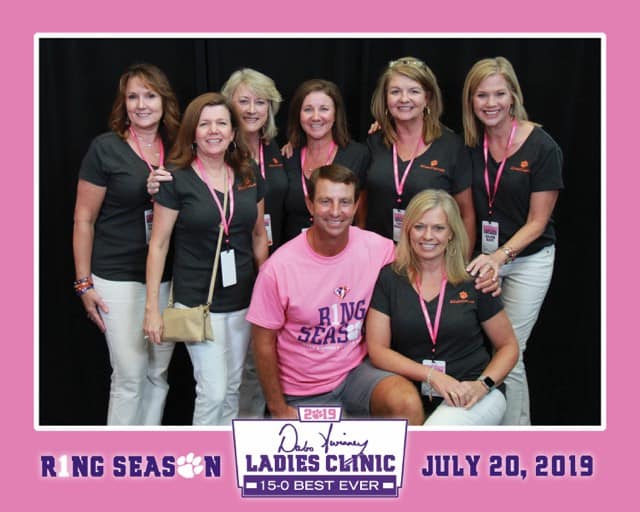 Recently Clemson held the Annual Dabo Swinney Ladies Clinic/Camp… an event hosted for now the ninth consecutive year. This annual clinic/camp has grown over the years exponentially, with this years attendance surpassing the 3500 attendees mark. A record number for the camp which also uses this weekend to promote Breast Cancer Awareness. Always using the generated funds from the camp to donate at the end of the event . This year another milestone was reached as Dabo and Kathleen Swinney wrote the check for this years donation from their "ALL IN Foundation" to the tune of $400,000 . Capping off an amazing late July weekend. One that saw Clemson" Lady Tigers" from all over the southeast and nation learn about Clemson football from a unique insider perspective. The ladies were treated to coaching clinics, tours of the facilities, and much much more.
This year Dabo and Kathleen brought in to co-host and Clemson Alum none other than Entertainment Tonight host Nancy O'Dell. Nancy herself a Clemson grad that proudly wears that paw whenever she gets the chance. Was there specifically to show her support for the Foundation and also enjoy the events and bonding that is this camp. Add to that… a unique speed artist that put together an amazing display as the 3500 in attendance gazed in amazement as she created a Clemson themed masterpiece in literally moments. Comradery was blossoming all over the attendees as the got to share these memorable snapshots all weekend. "Group Selfies" galore filled social media during and after. Dabo's Ladies Clinic has become an "Go To" event and now a tradition for the many Clemson Ladies that are able to attend each year.
Shortly after the clinic, I was on social media just seeing what was out there… when I came across a post from a high school classmate that got my immediate attention. The post was documenting a group of our friends as they attended this years camp/clinic. These ladies as a combined group all have their hometown of Greenwood,SC as their common denominator. Add to this a lifetime of memories, as this special flock of "Golden Eagles" are not just from the Emerald City. Each grew up and went through 12 years of school around each other and graduated together. Forming lifelong bonds, connections they have continued to care and cultivate over the many years since High School and College. I can recall this "flock" of ladies always together as an adolescent high school boy. Where you would see one, soon you would see two and so on… and so on.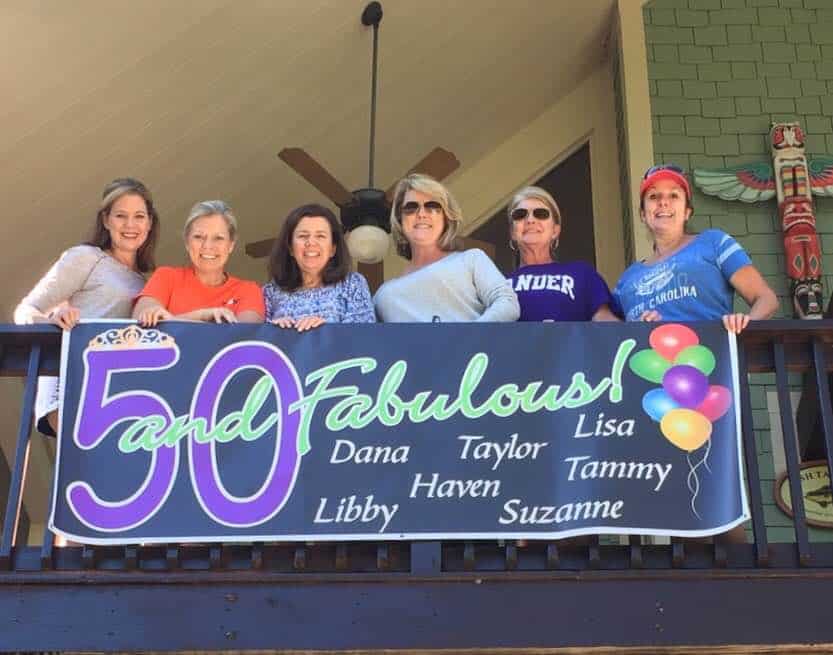 But to see these Ladies with each of their lives spanning both large distances and time continue to communicate with such regularity is rare even is this modern age of tap the app and wa-la that we are now living in. Each lady individually dealing with the realities of their own ever expanding families… the fact they have managed staying in touch over the years is a tribute in itself. Be it over the phone, or as technology changes in front of us, now its IM's, text, and or social media. This bunch of friends has continued to find time and managed to come together for the past 23 straight years to catch up and reminisce and enjoy each others company. They spend time together share their lives and loves with each other having the proverbial "Girls Weekend". A time when they can leave family and work or their day to day. Then get with the ones that bring them back to years ago, when on a Friday in the fall as School started all they worried about was what to wear and where to go.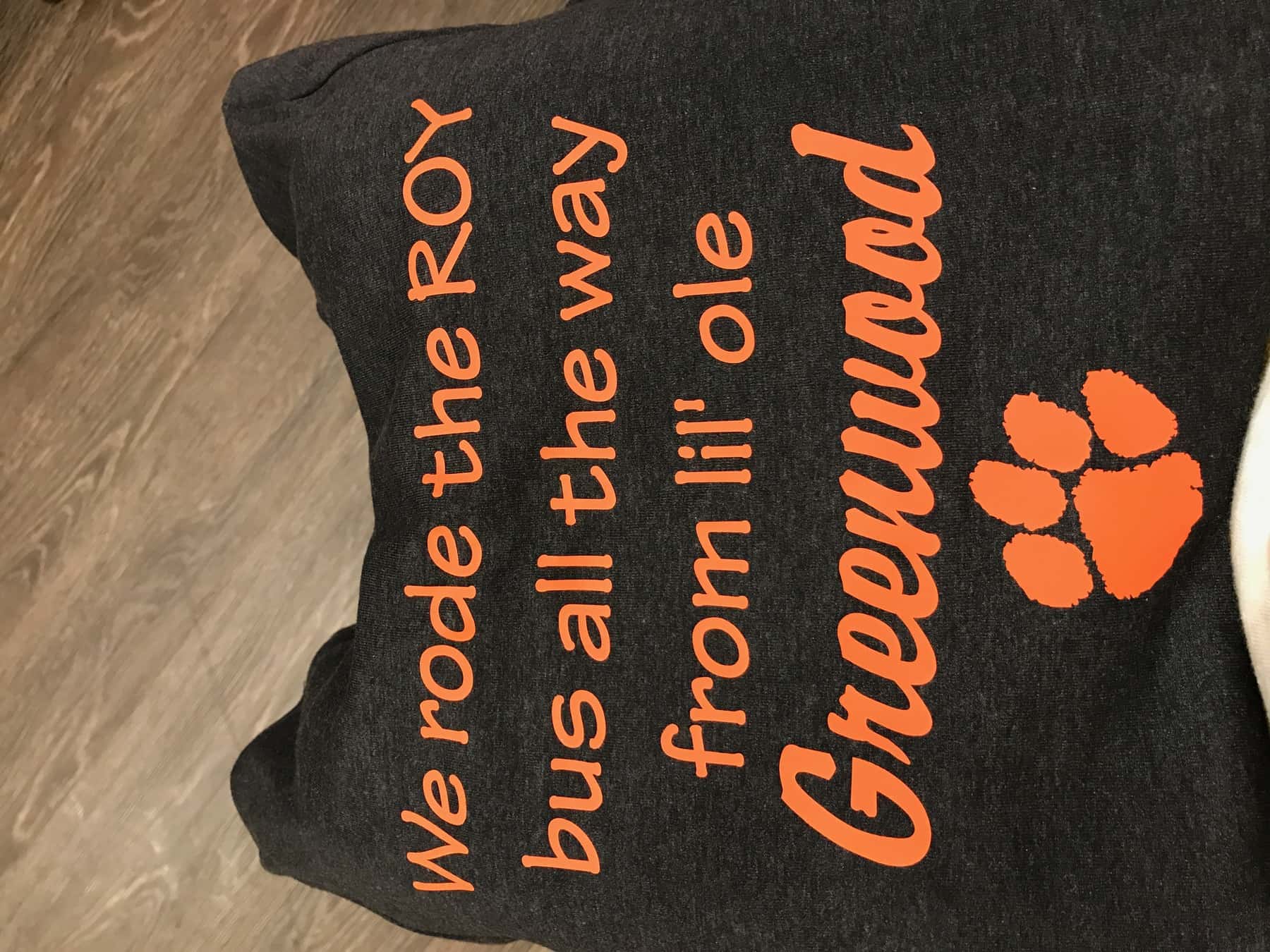 When you literally grow up grades 1-12 knowing each other and siblings, parents, and so on… it's a different kind of bond. You live in same neighborhoods, or go to the same Church, or just made that bond in one of the many schools they shared as they grew up in Greenwood. You know each others kids and grandkids as you come across them in your day to day or at the Festival Of Flowers or any other civic event . When you know people in this intimate way in a small town… You are like a "Family" just by association and familiarity. Sharing all that you can, and trusting with your own feelings in a way that only family could. I am sure the ladies in our audience can agree and attest to these same bonds and appreciate the years of staying in touch. This yearly gathering is a testament to a friendship that continues to this day. One I am sure we can all appreciate as these Lady Tigers from all over Show their "pride" and celebrate their "bond" now combining "Family & Football" in their own unique way .
In the past two years this "Girls Weekend" has moved venues to Clemson for the Dabo Swinney Camp as their new rallying point and geographical destination. When planning the trip this year the Ladies even came with their own moniker, as they have dubbed themselves the "DabORiginals" . Complete with matching T- shirts and plenty of orange blood pumping through their veins. These lifetime Tigers are now looking to continue this tradition and celebration of lifelong friends in Clemson for the foreseeable future. Ladies here's to a lifetime friendship and bond!
HavenLong Hart (Auburn,AL), Tammy Baucom Marshall, (Greenwod,SC). Libby Clark Smithdeal (Greenwood, SC), Taylor Wilson Tucker(Greenwood, SC), Lisa Agner Mann Greenville, SC), Dana Free Kaltz (Edgefield, SC) Suzanne Burdette Haynie (Atlanta, GA)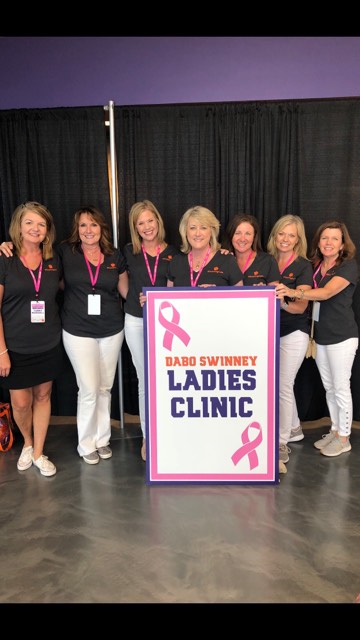 CSN: We asked each of the Ladies the same question to get their response and here is what they had to say to the following question:
Ladies as you look back on the Dabo's Ladies Clinic and the "DabOriginals" annual Girls Weekend in Clemson, What was the best part of the Weekend for you? "
* Tammy Baucom Marshall
"The best part of the Ladies Clinic was the entire clinic! The love and care Dabo's All In Foundation gives to their team, their staff, their family, and their fans is a beacon of light in the world. Also my favorite friends, in my favorite place, with my favorite team never disappoints! "
*Dana Free Katz
"Having lost my mother to cancer, I feel blessed to spend the day at Dabo's Ladies Clinic surrounded by beautiful survivors… and laughing all weekend until my sides hurt with lifelong girlfriends  is sweet medicine for my soul!"
*Suzanne Burdette Haynie
"The best part of the dabo clinic for me is the inspiration I get from the cancer survivors and knowing that the program is helping so many in the community.  (I also love the fact that it's right before football season so it gets us all psyched up!) ???? The speakers, entertainment, music, shopping and laughing with my best friends is also plenty enough reason to make this event an annual tradition. Looking forward to 2020!  Go tigers! ????"
*Haven Long Hart
"The best part for me was seeing my best friends and so many others come together for such a great cause. Clemson is a special, caring place. They not only win on the football field but also in the way they improve the lives of cancer survivors.
But this story is about a certain groups of ladies that attended this years Clinic. A group for the second consecutive year, coming from all over the southeast to come together and bond and discuss their past years lives, loves and of course Clemson."
*Libby Smithdeal
"this was my first year attending the clinic. It was a special time with special friends. I was happy to support a great cause and I understand better why Dabo is so loved by his team, the coaches, the students and all who support the Clemson Tigers! ????????He loved our matching T-shirt's which Suzanne created from one of his quotes."
*Taylor Wilson Tucker
"I love when we toured the athletic facility, we got to go into each of the different training rooms, like the RB room or QB room or DE room, on the wall at the front they have a board where the highlight a player each week.  It will have pictures of the athlete as a youngster in all ages of football and the caption says "Where I go my start" and then next set of pictures is family and friend photos with he caption "Who I am Playing for" .  The way each player is honored for his character as well as his ability is very special.  At the clinic, the players a there and happy to participate.  Unbelievable Day with amazing friends! Go Tigers!"
*Lisa Mann
"My favorite part of Dabo's Ladies Clinic this year, besides being with the Greenwood Girls, was the shopping, seeing all of the cancer survivors and just listening to our amazing, motivational coach Dabo! Hearing from the players & coaches, Nikki, Nancy and Kathleen was pretty special too!"
Brought to you by :