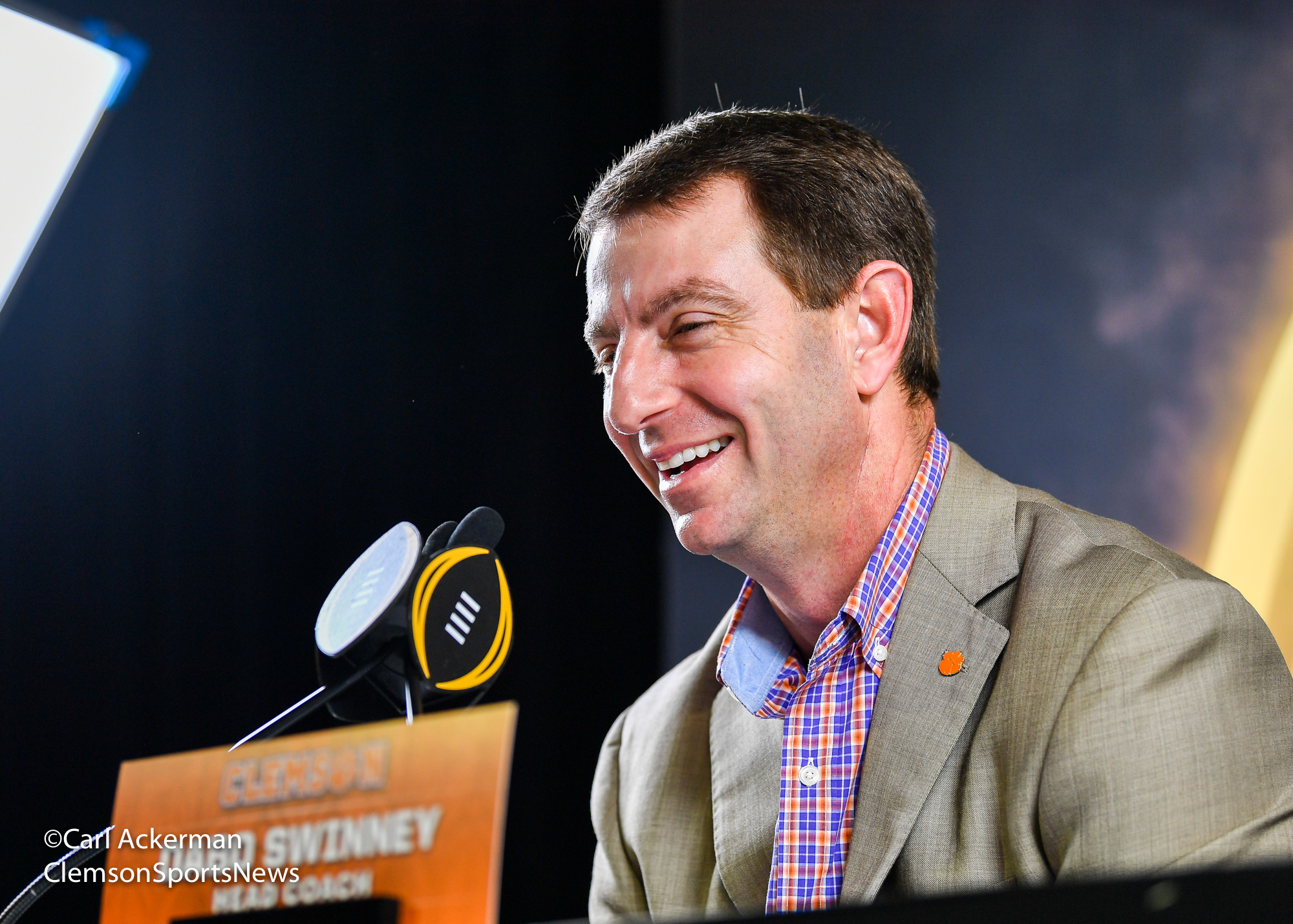 Clemson,SC
Clemson head Coach Dabo Swinney spoke with the media today via conference call and spoke on a number of topics. The biggest news to come out of the call was the info that Justyn Ross the Tigers All American wideout would miss the entire season. This resulting from back surgery to take place on Friday. The Clemson head coach also spoke on the Tigers return to campus next week, coronavirus and College Football in the fall, the recent death of George Floyd and much much more.
LISTEN HERE to the entire 48 Minutes Transcript below.. MOVE FORWARD to the 10:45 minute mark for the start of Dabo's comments.
Clemson Athletics Department

4:36

Hey everybody, there's Ross Taylor with Clemson athletics, appreciate you all joining us Coach Swinney should be joining us momentarily.

4:43

I'm not sure why Zoom is soliciting questions via Q AMP a format we we will go around to folks who cover us on a daily basis and ask her, ask for questions.

4:56

For folks just like a normal conference call. I don't know why. Zoom is having a solicit by text.

5:03

For those joining us via zoom. If you'd like to ask a question please raise your hand, using the feature included in zoom. Let me know if you have any questions about that.

5:12

Soon as coach wraps up his opening statements will start going around to to our local beat core for any questions so standby. As soon as coach joins us will get going. If you have any questions, feel free to let me know.
Dabo Swinney

9:37

ROSS Oh here's

9:41

Oh my goodness. Are you there.
Clemson Athletics Department

9:45

I'm here. Hello.

9:47

I think we got everybody with us. Can you hear
Dabo Swinney

9:48

Us.
Clemson Athletics Department

9:49

There, hear me, at least. Yep.
Dabo Swinney

9:51

All right. Excellent.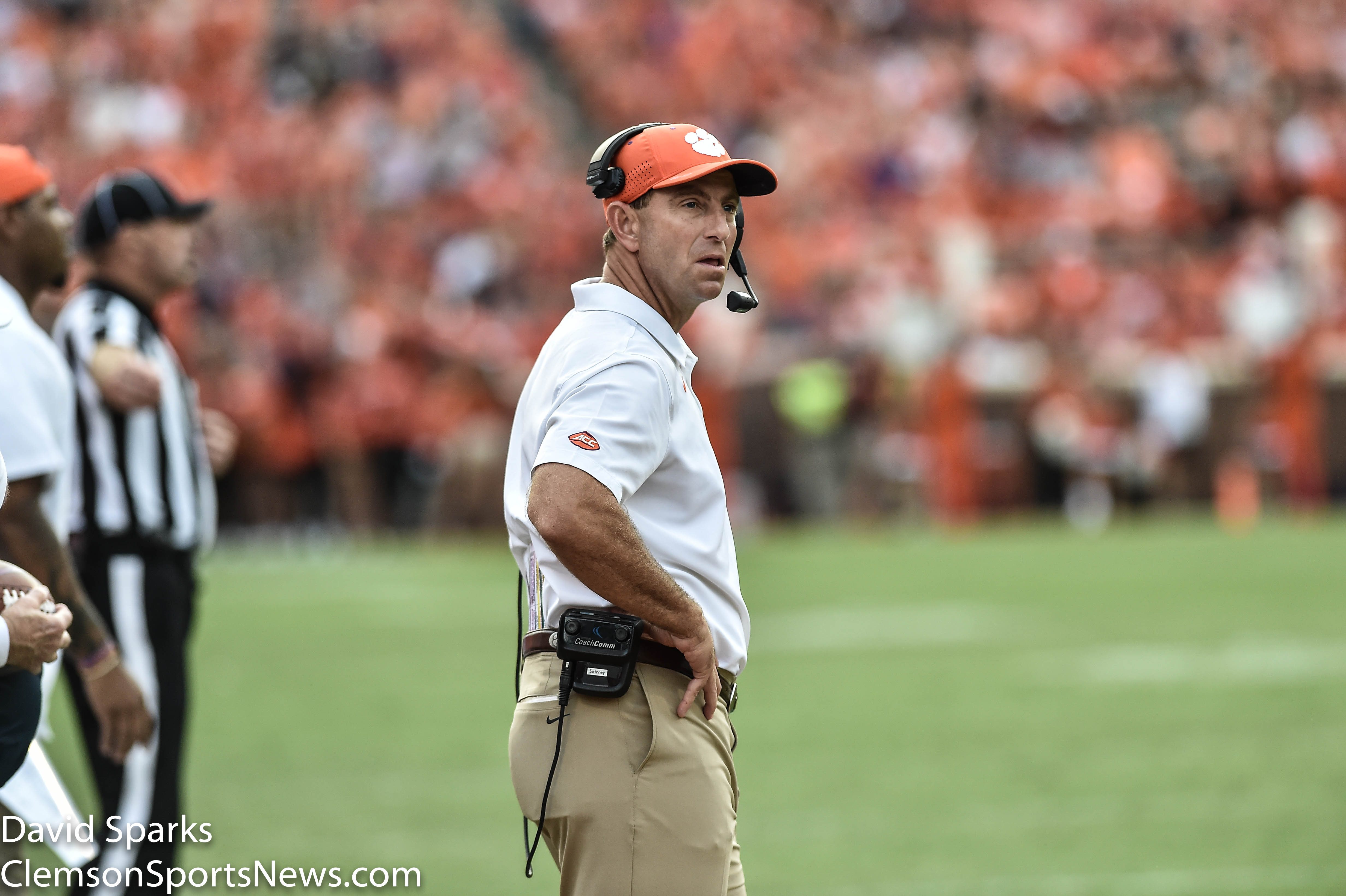 Clemson Athletics Department

9:53

Like I said, we really appreciate everyone joining us realize it's a little bit short notice. But really appreciate y'all.

9:58

being with us today.

10:00

Coach Sweeney has been very generous offer us a little bit of his time today to address you all directly on a myriad of topics.

10:08

Including, you know, current events and injury updates, our time window is a little bit limited. So just be advised. We are going to prioritize members of our local beat Corps for questions.

10:17

I appreciate those of you who have raised your hands already using the zoom feature or text me to let me know.

10:22

Like to ask a question separately if you're dialing in

10:26

Please continue to do so I will use that once it comes time for questions. But coach. I'll turn it over to you and let you lead off with the injury update with any introductory comments.
Dabo Swinney

10:36

Okay, thanks for also appreciate that. Sorry everybody.

10:40

I guess I'm what La La sent me a link, I got an update to a 5.0 or something, but not sure what that was all about. But

10:50

Anyway, just want to say good afternoon everyone and just really wanted to take a minute to address a couple things today. And certainly going to just put out a statement. But you know, I really just

11:04

Felt like I wanted to express myself properly and and and also there's a couple things to talk about. But first and foremost.

11:15

I know that

11:17

You know, we are all hurting for the Floyd family.

11:23

And and our country and

11:26

You know, I can speak for our entire staff and our team in that regard for sure.

11:33

We have, we have all witnessed just

11:37

Disgusting acts of evil. That's really the only word I can appropriately us

11:45

Over the past, you know, recent week here and just and beyond, but

11:52

You know, to address it for me to really be able to address it.

11:59

Everything, everything for me, goes back to my faith that's, that's where I draw my piece from. That's where I draw my hope from. That's where I draw my perspective from and

12:13

You know, I'm glad I don't have social media.

12:17

You know, because my reaction would probably been to jump on social media and probably say things I should say and regret and I'm glad I don't have that.

12:27

But what I know as I you know approach everything from from a perspective of faith is that that where there are people there. There's going to be hate there's going to be racism and greed jealousy crime so on.

12:44

Because we live in a sinful fallen world and

12:48

We've had so much bad news. Everywhere you turn. There's, there's, there's bad news, but

12:55

Really today. I just wanted to take a moment and and offer some goodness and

13:01

For me, the good news is, is that we have a lord that loves us all, and it has conquered already, and we all have a choice as to how we think how we love how we respond and how we forgive and there's no question that these are challenging times

13:24

But what I've learned is, is where there is no challenge there is no change. And we have to all accept the challenge.

13:32

And all help to bring about positive change and growth.

13:36

And as I talked to our staff this morning.

13:39

The soil is fertile.

13:43

And the seeds of this soil of change, if you will.

13:48

Or love or respect or attitude, kindness, humility service faith.

13:58

And forgiveness.

14:00

And you know what forgiveness is always the hardest forgiveness with something that I struggle with in my life.

14:08

In my teens and early 20s and and eventually, you know, I was the one being hurt because that forgiveness just

14:18

Just eat Sasha, and if you take the word faith, I can think Todd Bates for this. If you take that word faith and you make it into an acronym.

14:30

Forgiveness always is the hardest and it is

14:36

But love, respect attitude, kindness, humility service faith and forgiveness, these, these are the choices.

14:46

That we control.

14:48

We do control those choices.

14:50

And there are three truths right now for sure it for this time. And this is another thing cost base and now we're talking about and I agree. You know, love, does it see color hate does

15:06

Hatred has no heart loved us.

15:09

And as you know, football teams.

15:13

And just people in general, you know, we have to stick together. We gotta respect each other and we got accepted differences that do exist.

15:21

And for me, you know, my focus is my team and the staff and my prayer is that God will continue, as he has for the last 11 and a half years that God will continue to use our program at Clemson to develop

15:38

To shape to equip to educate and raise up great men through the game of football that are going to go on into this world as great leaders and create wonderful change and bring love and wisdom to our country.

15:56

That's my passion. That's our why

16:01

And that's my focus
Dabo Swinney

16:03

And one of the things that I always tell our team and they've heard me say many, many times.

16:09

In regards to football is that there is no hope for a better yesterday.

16:16

There's no hope for a better last week, there's no hope for a better last year.

16:22

It just is.

16:24

But one of the one of the verses in the Bible that I've always hung on to for a long, long time. It is always comfort me

16:33

When I needed it. And that's Jeremiah 2911

16:37

Verses for I know the plans I have for you, their plans for good not disaster.

16:44

Plans to give you a future and a hope.

16:48

For I know the plans I have for you. Plans for good not disaster plans to give you a future and a hope.

16:58

And while there may be no hope for a better yesterday.

17:04

There is hope in the future.

17:07

And when there's hope in the future. There's power in the present.

17:11

And that power.

17:13

For me comes from my faith comes from the strength and the piece of knowing Jesus is on the throne.

17:22

And that's, that's really all I can say. And, and that's, that's how I

17:30

That's, that's how I can. That's the only

17:34

Thing I can offer is my perspective of faith and hope that that can be an encouragement.

17:43

Our team is hurting communicated with them last week and our staff is amazing.

17:53

We absolutely, absolutely, absolutely must come together.

17:59

So I want to just share that and take a minute to let you hear that from me.

18:06

And make sure I articulated it the right way. But the second thing that I needed to discuss and I was actually going to

18:15

Speak with you guys. Originally I was planning on later. Later in the week probably Thursday.

18:22

But with with all the other things I felt like we needed to

18:27

Move it up.

18:29

But the second thing we needed to address with with everyone is is Justin Ross. And as you all know,

18:38

Justin missed the last few days of a couple days of spring back in March and

18:47

We then we had the virus and all that. And so we went back together. So it took a little bit of time to kind of get

18:58

All the information that we needed and so forth, to be able to properly assess the situation and to get the best plan of attack for what he's dealing with

19:10

And you know, I try to always be transparent with y'all. And, you know, obviously, we haven't had opportunity to meet in person or things like that, but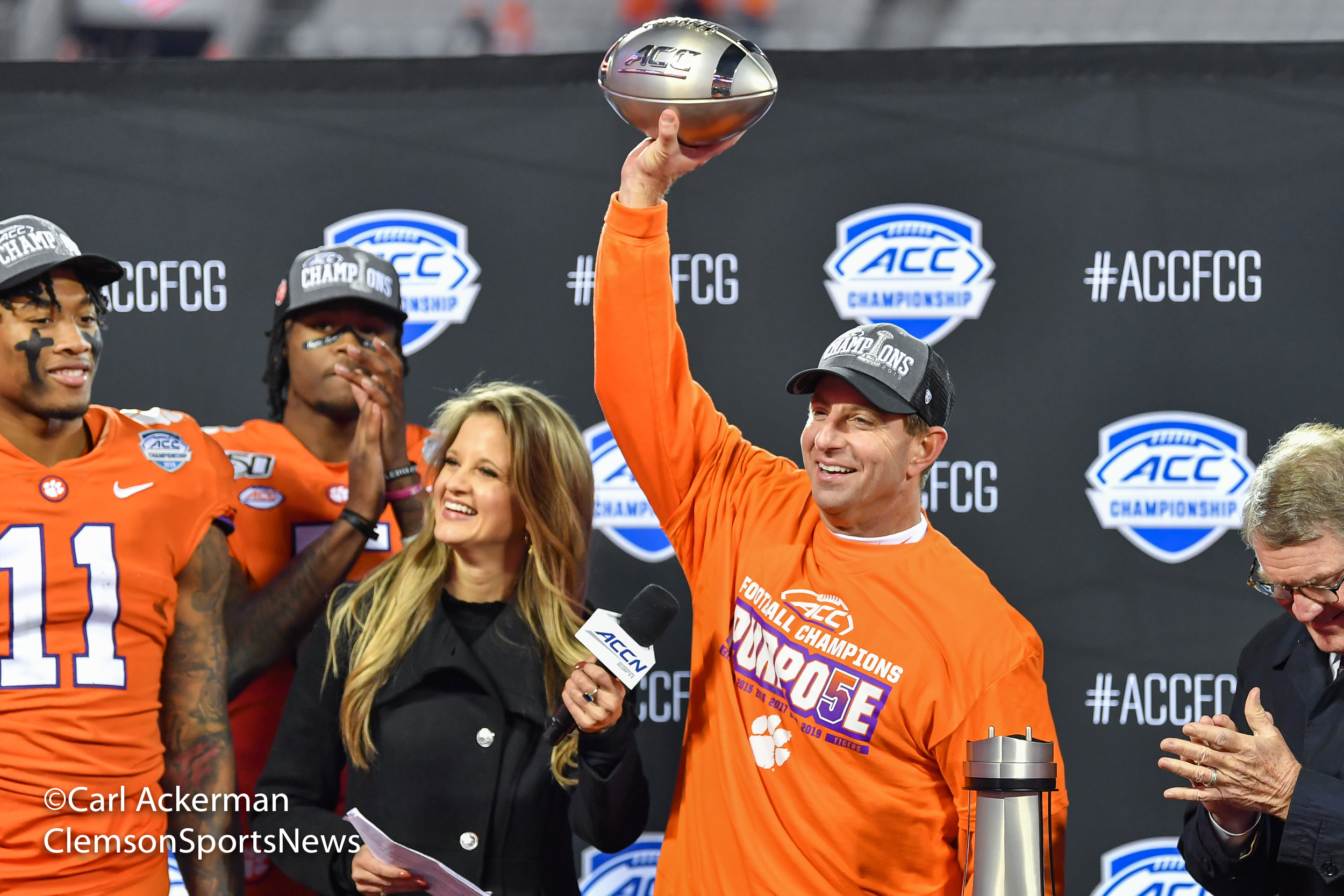 19:18

Really just again wanted to kind of just make you aware of Justin situation what he's dealing with and kind of the plan move forward from here, but Justin.

19:33

He's going to have surgery this Friday and

19:37

Basically the you know the best doc in layman's terms can say when he had a he caught a path is really just kind of just really kind of nothing.

19:51

Crazy just called a slant got hit, and I went down any any was very slow to get up and he kind of had stinger symptoms. Little bit of numbness type of thing and

20:04

Which which which is not uncommon in the game of football, you know, if you played football. These things can happen. Time to time but

20:12

It's a little slow to get up and you know our doctors who are great and and he didn't practice the rest of the day and and but he was fun. It was fun on the sideline and and also the I didn't really think much about it. So in that night at dinner was great. And the next morning.

20:31

Danny pool came in my office with

20:35

Dr. Martin and then you know you're not gonna believe this. And I'm like what I didn't know what was going on. I, the last thing on my mind.

20:44

But bottom line is anytime we have a player that has any type of stinger type of situation or anything involving the neck. They do an X ray. And as it turns out, when they did the x ray. Dr. Martin was pretty

20:58

pretty shocked at what he saw when he looked at his, his back and his spine and and the reason he was shocked is because Justin has what they call is a congenital fusion, which is something he was born with.

21:13

And so you know what what I can say to you is the crazy thing is in the frustrating thing for Justin is Justin, a great. I mean, he can run, jump through backflips dunk a basketball. I mean, he's, he looks like he's always look

21:30

And obviously he's never had any issues with this because he was born with it. He's had his whole life, and nobody even knew about it.

21:37

And

21:39

Eventually, the further he went in his football career probably would have shown up but nobody to this point knew that he had that

21:46

And he said, no issues and his whole career, but because of situation. They just, you know, they and they did this x ray. It showed up and so very concerned and and he has a little bit of a bulging disc as well and and that is an issue and so

22:09

There's been many people play football with a with a surgical fusion that's that's happens

22:17

A lot of times

22:19

But we don't know of one that's had a surgical Anna congenital. And so anyway, just really created some questions for our medical people because the number one thing is that he's safe to be able to play football and so

22:40

We've, we've spent a lot of time doctors have been a wonderful job in trying to get the best information and the best path forward. And so Dr.

22:53

Okonkwo who is one of the top neurosurgeons really

23:00

In the country and

23:02

He is the Steelers the neurosurgeon for the Pittsburgh Steelers and is one of the main an SNL guys. But anyway, that's how he

23:12

Has has stepped up and and really been great in this process for Justin.

23:20

He's already met with him once, and he'll fly up there on Thursday have surgery Friday and and then we'll go from there.

23:28

But the biggest thing is Justin will not, he will be out this year, you will not be able to play this fall. And you know if he was

23:39

I mean, if he was a football coach or an account in or or whatever, he'd be back at it probably six weeks, but

23:48

He's a football player. And so there's obviously a lot more

23:53

You know involved here when it comes for him to be able to play the game that he loves the frustrating thing for Justin is he feels perfectly fine. But the doctors know that that he is at risk. But Dr o clock Okonkwo

24:11

Is is awesome. And he's been very positive with Justin. He's been very hopeful and. And as you know, got a good plan ahead. So there's

24:23

There's no guarantees with anything certainly very hopeful that the surgery will go well and it will take him out of harm's way. As far as, you know, risk of paralysis or anything like that.

24:38

And then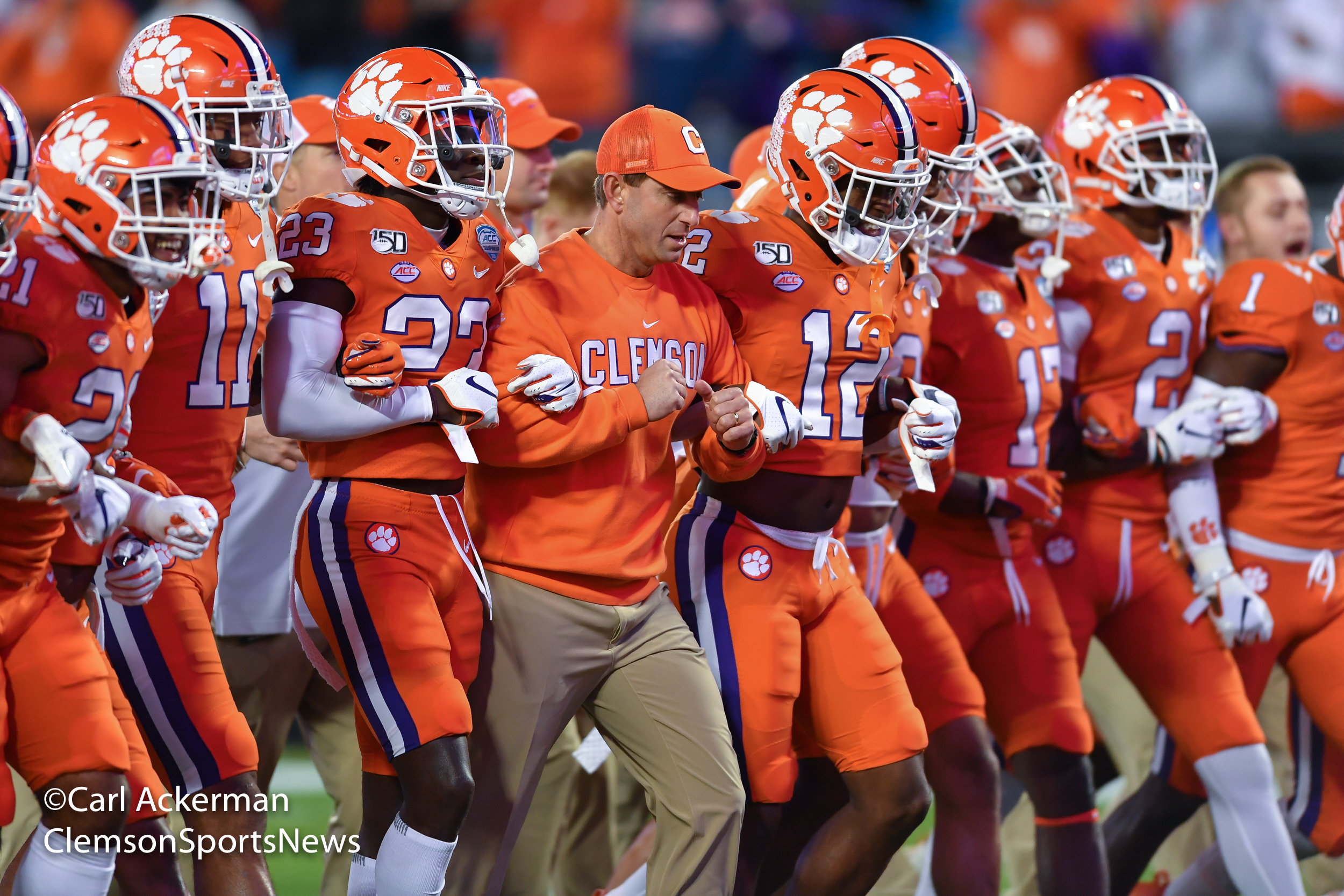 24:40

You know he can hopefully by January, he's he's doing great. And he's got a decision to make this he tried to go take his shot at the combine and and perform well there and have a chance to keep playing at the next level, or does he want to come back and

25:01

Play at Clemson another year and and go from there. Similar to Mike Williams and the decision that Mike Williams had had to make when Mike Williams said his injury.

25:10

You know, there was a lot that we didn't know it was a lot of unknowns, different, different injury but similar circumstances had to miss.

25:17

A year he ended up coming back and you know the rest is history for him and hopefully that'll be the case for Justin.

25:24

As far as a great recovery. But that's the situation with him. I can't, I can't give you any more details than that.

25:34

You know, I was shocked, just like everyone else, especially when you hear you're looking at him run and do everything. And it was great.

25:42

But it's a very unique situation. And again, Dr Okonkwo was is positive and you know he thinks that there is a good pass for Justin to play football again and

25:55

He's excited about, you know, the challenge ahead of seeing that happen but there again, there, there are no guarantees, but

26:04

Just wanted to kind of let you all know exactly where he is the surgery that he will be having on Friday.

26:14

And Justin's in a really good place. You know, the first, the very beginning, it was, it was a it was a hard thing for all of us to kind of get our arms around

26:24

But his mom is amazing. He's got a wonderful support system around and Justin does a great place, mentally, because you're ready to to take to do what he needs to do to give himself.

26:37

The best chance to play football again.

26:42

And so I just asked it. Y'all keep him in your prayers as well. This week, as he takes us in this next step on Friday.

26:53

And it has the surgery so that that was something again that that I knew I wanted to speak with the media about this week but felt like we should just go ahead and talk about it today because I felt like we needed to address.

27:12

This other issue that we've all been dealing with as a country. And just as people as well. So with that, take a few questions here and

27:26

You want to take it from there.
Clemson Athletics Department

27:28

I will. We're going to lead off with
Dabo Swinney

27:30

Pete yaka belly.
Clemson Athletics Department

27:31

From the Associated Press.

27:34

Be ready, take it away.
Pete Iacobelli

27:35

Yeah, hey Devo Ross, everybody. Thanks for

27:39

For doing this.

27:42

Demo I how difficulty think it'll be for these guys getting back together.

27:48

Next week, both with the news of Justin and with what's going on in the country.
Dabo Swinney

27:56

Well, I think it's going to be the best thing for all of us is to be together, to be honest with you, I don't think that's going to be difficult at all. I think that's going to that's going to be

28:06

A powerful help for all of us. And they, they all know about Justin. They've all known for, you know, for a little while I addressed it with the team.

28:17

A couple of team meeting because he go and so they all know exactly what's going on there and you know the team has been very good. And as well, you know, we've been together that the meetings have been awesome.

28:31

You know the coaching staff has done an amazing job. You know, we're further along mentally right now than we've ever been just because of our ability to be able to have

28:43

You know, all these football meetings that we would have not been able to have. So I think all over that part has been good.

28:51

But as far as, you know,

28:54

Everything going on in the world and just everybody being home. These guys are way past ready to see their brothers and to get back together and and hopefully continue to to move forward and getting back to do doing what we what we love to do.
Clemson Athletics Department

29:15

All right, I'm gonna go next.

29:16

To Matt Connolly.

29:17

From the state.
Matt Connolly

29:23

Hey Dad, why do you feel like it's important you mentioned wanting to come out and say something, instead of just released a statement when you feel like it's important to have your voice heard and have you heard from players that have said that they would like for you to say something.
Dabo Swinney

29:37

Oh well communicated with my players and, you know, had good conversations with several those guys and our team is great, but

29:46

Now I there was nobody on the team. One minute. So they all know I'm will say something that's that's that's just it just

29:54

You know, sometimes it's better to listen and speak and

29:58

You know, it's not about trying to speak first or something like that.

30:03

You know, spent the last week, listening and

30:07

And had a great

30:09

staff meeting this morning and we have just wonderful people on our staff and I know that and moments like this just reaffirms that but

30:21

Again, it wasn't a matter of if I was going to say something's a matter when I'm in. I'm not on social media and and i'm not i'm not going join Twitter, just to

30:32

Handle make a statement on something. And yeah, I can just release a statement anytime. But I really, I really wanted to speak and I wanted you guys to hear my voice and I want to try to give it. I wanted to give you an opportunity to ask questions.

30:46

So again, I've tried to always be honest and open and transparent and all those types of things. And, and I know when I speak I get criticized and and when I don't speak I get criticized, so I don't really worry about that. It's just more

31:03

You know, making sure that I have my thoughts.

31:07

In a way that I think can be constructive.
Clemson Athletics Department

31:13

Alright, we're going to go next to Scott keeper from the Greenville news, Scott. Go ahead.
Dabo Swinney

31:22

Oh, sorry.
Scott Keepfer

31:23

Yeah, Pete. Pete stole my thunder. So you can go on. I'm good.
Dabo Swinney

31:27

Okay.
Clemson Athletics Department

31:28

Thanks Scott will go to grace, Rainer the athletic

31:32

Grace. When you're ready, go ahead.
Grace Raynor

31:35

Hey, coach Sweeney, thank you for doing this. You mentioned your players. What kind of things are you doing your staff gonna be doing, especially

31:43

As the players get back on a campus to make sure they feel

31:46

Supported and that you're having those types of

31:49

Things.
Dabo Swinney

31:51

Well, you know, we try to do the same things that we always have done and that is to to love them and to hopefully demonstrate

32:01

All those things and I talked about earlier on a daily basis and and that's one of the things that that has helped us sustain success for a long time around here is communication and

32:15

And so, you know, we try to be very open. We try to communicate in a very transparent way we we always have and will continue to do that.

32:26

But we've got a wonderful staff and and you know support these guys in any way that we possibly can. And they know that we're available to them and

32:36

And we're going to, like I say, we're going to, we're going to all we have a great opportunity here to truly and I said the source photo and to hopefully so so some great seeds in in all grow from this
Clemson Athletics Department

32:54

Alright, we're going to go next to Josh Needleman to the post and courier Josh. When you're ready, go ahead.
Joshua Needelman

33:01

Yeah, hey Devo I

33:03

Know, you've said on the record or that

33:06

You respect the right protest I just

33:08

Want to ask you about something you said back in 2016

33:11

You said that in regards to people who

33:14

Quote belt. The world is falling apart that

33:16

Some of those people need to quote move to another country. Just wondering if you stand by that. Or if you're thinking has changed in any way.
Dabo Swinney

33:26

Oh, well that was probably a harsh statement for sure, but, you know, again, we we we do I still believe in the good of people

33:36

And you know i just i just as a person of faith. I believe in that. And I do believe that that

33:44

We had lots of problems for sure but I still think we have

33:49

The best country in the world and

33:52

It's up to us to make it better. It's up to us to, to, to, you know, create the positive change that we want to see in this world.

34:03

And we all have to do our part. And for me, my part is, is, again, as I said, you know, trying to use the game of football and to to shape and develop and educate and raise up great men.

34:17

And I think we've been able to do that in a great way. Over the last decade. We have a lot of great men that have come through this program and they're going to continue to come through this program that are creating wonderful change and

34:31

You know, I'm a football coach and that's what I love to do. That's my passion.

34:37

And the way I can create that change is to try to do my job in a way that glorifies God and that

34:48

You know, helps create and cultivate

34:53

All those things that we all want to see in each other, such as love and respect and attitude and kindness and humility forgiveness and and all those those things, but I'm certainly have a long way from a perfect person but

35:10

You know that's that's that's we just try to stay focused on those things.
Clemson Athletics Department

35:17

All right, we're going to go next to Larry Williams from tiger illustrated where you go ahead and you're ready.

35:30

Larry, are you with us.
Larry Williams

35:34

Sorry about that. I was muted apologies.

35:38

Demo with the players returning back to

35:41

Back to campus beyond what they're being

35:43

Told just
Dabo Swinney

35:44

With the
Larry Williams

35:45

Regulations handed down from above.

35:47

Above You are. You're instructing them.

35:50

On what

35:51

To do or not to do during their time back like away from team.

35:55

related activities and such.
Dabo Swinney

36:00

I mean, we, you know, same things that we've been

36:03

You know, instructing them to do the whole time, you know, and to be honest with you. The great majority of our team's been back for quite a while, you know, because most of our guys live off campus. And so we've had lots of guys back for a good while.

36:20

As you know, they have some they have a right to be back and their own places and things like that. And that's their choice.

36:27

But you know the Old Campus guys are able to come back and they're not we're have temporary housing for them.

36:35

Because our own campus housing is not available yet, but it's the same things that we've been talking about, and that is, you know, to be smart and to be advice that's that's out there to

36:47

You know, stay clean and, you know, stay, you know, practice, the social distancing and and stay away from big groups and all those types of things so that that that's not any different. But, you know, obviously.

37:04

June one, things are a little different than they were April one, and so that's why our guys are allowed to come back and and

37:13

You know, keep moving forward. But, but even though we're things are opening back up and it can go to restaurants and do different things still just be smart and we've got a great plan in place.

37:27

All across this campus that everyone feels good about and it's a very

37:34

Organized and phased in process that we're going to go through over the next month and a half here and hopefully continuing to get back to

37:44

You know more of a normal situation you know later in the summer in August.
Clemson Athletics Department

37:52

All right, I'm gonna go next two and a hickey from close and 24 seven. And when you're ready, go ahead.
Anna Hickey

38:00

Hey, Dad. Well, thank you again for doing it to another every question Mario good rich. I know he had a quick surgery. I don't think it was anything major but just kind of an update on him. And when you expect him to expect him to get back
Dabo Swinney

38:14

Yeah, he's doing good, and

38:16

There was, it was actually he had a little, just a little fragment of the head to kind of scope out of there. And we're going to do it here after we got back if he wasn't where they wanted to be, but obviously we did get back so

38:33

He's doing well. He's doing really well. And he's actually

38:38

Staying out there. This week he, I think he's the only one that's not back

38:43

You know, as far as our scholarship, guys.

38:46

Mario be back. I think he's gonna get back here on the eight because he had had one more week finishing up his, his therapy out there. And then he he'll be here after that. But he's doing good. He's doing really good, don't expect any issues.
Clemson Athletics Department

39:02

With the next David hood from tiger net, David. Go ahead and whenever you're ready.
David Hood

39:07

Hey, Coach. Good to talk to you again. Um, first question.

39:11

Be a

39:12

Real quick, one day, all of the staff all the players have any of them, you know, had any contact with the coronas everybody helping anybody recovered from it.
Dabo Swinney

39:22

All everybody's good, you know, everybody's been great. You know, it's a constant weekly

39:29

Contact with the pool and our medical team and the coaches and all that, you know, we've all been good and but we know will continue to

39:39

Daily monitor that especially as we get that together and everybody's, you know, we mean we're gonna we're going to be everybody's going to be tested and all that stuff. So

39:49

If we find out something later on, you know, again, those are all private medical things. It's not something I'm will be i can i can't come out and

39:58

And I have no idea, we don't you know everybody's been great. I'll I can tell you we're all in great health and all that, but

40:05

Who's to say, you know, when we do all the testing. I mean, they may come out and say, oh, this guy's had it in this guy's head, but it's not like we're going to do a report card every week.

40:15

You know those are those are medical medical type of privacy things, but all I can tell you is everybody's great we've had no issues. Everyone's healthy as much as far as we know, and but we will do that. We will do the testing.

40:33

On

40:36

Starting this next week that our guys are back at you know be here for a week of quarantine, and being back in the area.

40:44

And then they'll come in and start Monday with the testing and you know we got the daily process of temperature checks and and all the precautions that you can think of are in place.

40:59

So that's what we'll continue to do and and hopefully, hopefully, continue to have the good fortune that we've had and not having issues.
Clemson Athletics Department

41:09

Right, we're going to attempt to go next to will Vander board at the Clemson insider

41:13

We'll go ahead. Whenever you're ready.
Dabo Swinney

41:17

I don't even have another question that maybe

41:24

We try to circle back with David real quick.
Clemson Athletics Department

41:26

David you I was
David Hood

41:27

Yeah yeah if you still hear me okay

41:31

Yeah, the second part would be just, you know,

41:32

With with Justin obviously Cornell Powell, you've still got Mr. Rogers, but he was going to be counted on this.
Dabo Swinney

41:38

Year.
David Hood

41:39

How have the young wide receivers and Tyler Grisham kind of

41:43

reacted to the news and then for you who are going to be

41:46

You know, a couple of the guys that have to be next man.

41:48

Up and this is why you recruit

41:51

Like you do
Dabo Swinney

41:53

Oh, there's no question. I mean injury, your game of part of football part of the game of football for sure. And, you know, every, every player understands that. But you know, it's something that like I said that we have been dealing with for a while.

42:11

Since since, you know, you know, early April as far as kind of the realization that hey, he's probably going to be out for the fall and we got a great group, you know, obviously, Frank. Last one, and then gotta

42:25

And Brandon specter were were three guys from last year's class that we're really, really excited about in Joseph's and Frank and got some great experience. Brandon, we were able to red shirt.

42:37

It was he's getting DJ

42:40

And he EJ EJ got

42:44

Spring.

42:46

But Griffin.

42:48

Can y'all hear me.
Clemson Athletics Department

42:50

Hello, we can hear you.
Dabo Swinney

42:54

Okay, but you know having EJ in the spring was great for him.

43:00

You know he's he's actually very similar to Ross, to be honest with you, maybe a little faster, but very similar type of player and talent. So we're really fortunate we got some good guys and then obviously, you know, Mari and Cornell.

43:16

Bring some some great veteran leadership there and will be counted on that way and then we'll Sweeney and will brown

43:24

Two guys that that you know we're having good springs for us will be counted on from a depth standpoint as well. But we got a good group and you know we're excited about the group and then we got one more coming in. So it'll, it'll put

43:41

A lot on Greece's plate and my plate to make sure those guys are ready and we got to Joe, Joe, you know, showing up here this summer, who's another really great young talent.

43:53

But with all of this a positive of the disco bad situation is like I said earlier, we've been able to have so much time from a football meeting standpoint.

44:07

That is incredibly has been incredibly valuable for us. I mean, to be able to have

44:12

The opportunity to go through our installation multiple times to do individual stuff to really Britt, because the biggest thing with young players is just knowledge and

44:26

You know, to be able to have a Joe sitting, you know, and listening in those meetings to have Ej, you know, getting you know bridging that gap a little bit because he's the furthest away mentally and from those other guys.

44:40

That's been very helpful. And then you look at a guy like Cornell Powell. He was was. I mean, he was the most consistent goddess spring. It was awesome to see that and

44:50

You know, so hopefully he's going to he's going to rise up and take advantage of this opportunity in a big way. But, you know, we got a great group and

45:00

That's what you have to do. You gotta, you gotta get get the next guy ready and and we're fortunate that we got multiple guys that can play multiple positions and

45:11

You know, be excited about the opportunity we all they'll hurt for Justin Justin's been great Justin's been great. He'll be he'll be, you know, I expect him to be, you know, one of the best coaches that we have this fall in helping you know get these guys ready cuz

45:29

It's important to him and and and he loves these guys.
Clemson Athletics Department

45:35

We're gonna have to go back to Wolverine aboard here will do you have it now.
Dabo Swinney

45:41

Yeah, man. Hey, I just want to ask, no one
Will Vandervort

45:44

In ways that are sugar and then also

45:47

Announced see ready to go. Awesome. I love you guys.
Dabo Swinney

45:53

I'm sorry, one more time will
Will Vandervort

45:57

Be showing her how he's doing. And then also
Dabo Swinney

46:00

Yes. No. No one is doing great. And, you know, now she's been really working hard and progressing as well, you know, been getting updates, you know, from from Danny and the coaches everybody's progressing and doing really good and you know no one in particular.

46:20

Just because I was in a conversation. I mean, he's he's, he's pretty much doing everything full speed. So I think he's in a in a really good spot.
Clemson Athletics Department

46:31

We've got time for about one more. We're trying to squeeze in Mitch Brown from Fox Columbia, Mitch. Go ahead.
Mitch Brown

46:40

Thanks. Thanks.

46:43

Hope you hear me seeing, hearing some feedback. My question was just

46:47

You talked about the steps, about how you're going to

46:50

Love your team or and work with your team and talk with them. Obviously, the team is your, your first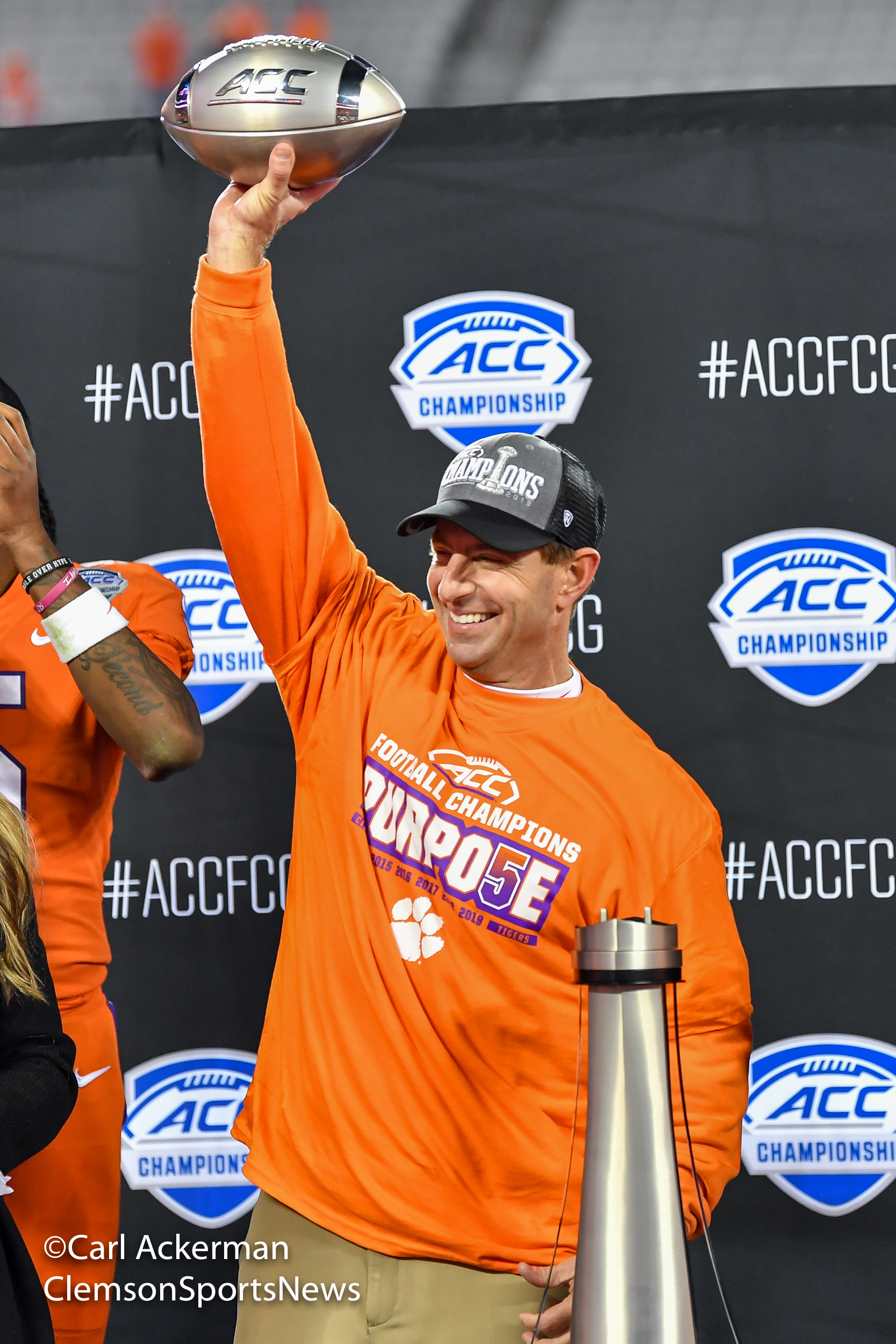 Dabo Swinney46:58Priority
Mitch Brown

46:59

In the players on the team, the coaches on the staff, but what do you plan to do as a program to kind of help in your community with the same steps because obviously surrounding communities and South Carolina sometimes go through the
Dabo Swinney

47:13

Same issues.
Mitch Brown

47:14

Of inequality and social injustice.

47:17

Just how to help the community in this instance and

47:20

Not just from a team standpoint.
Dabo Swinney

47:24

Well, the best thing you know is to use our platform in a positive way and to be an example. I mean, we are a football team. And, you know, the best thing that we can do is be able to for people to be able to point to our team and and and see

47:42

You know, hopefully what the world wants and to see people who love and respect each other and you know sometimes disagree that are disagreeable and

47:55

You know, that's really the biggest thing is to is to exemplify and demonstrate

48:03

You know, with the platform that we have

48:06

love and positivity and

48:10

And and respect and service, you know, to serve others kindness, humility, all those things that's that's the best thing that we can do for our communities to be good examples and all these things.
Clemson Athletics Department

48:26

All right. That brings us to about 415 so we're gonna need to wrap this up. We. We really, really appreciate everybody joining us especially being on about three hours short notice. Thank you all. And hopefully we will

48:37

Be in touch with you all in person, a little bit sooner.

48:39

Down the line Celtic there.Dabo Swinney

48:42

Alright, appreciate