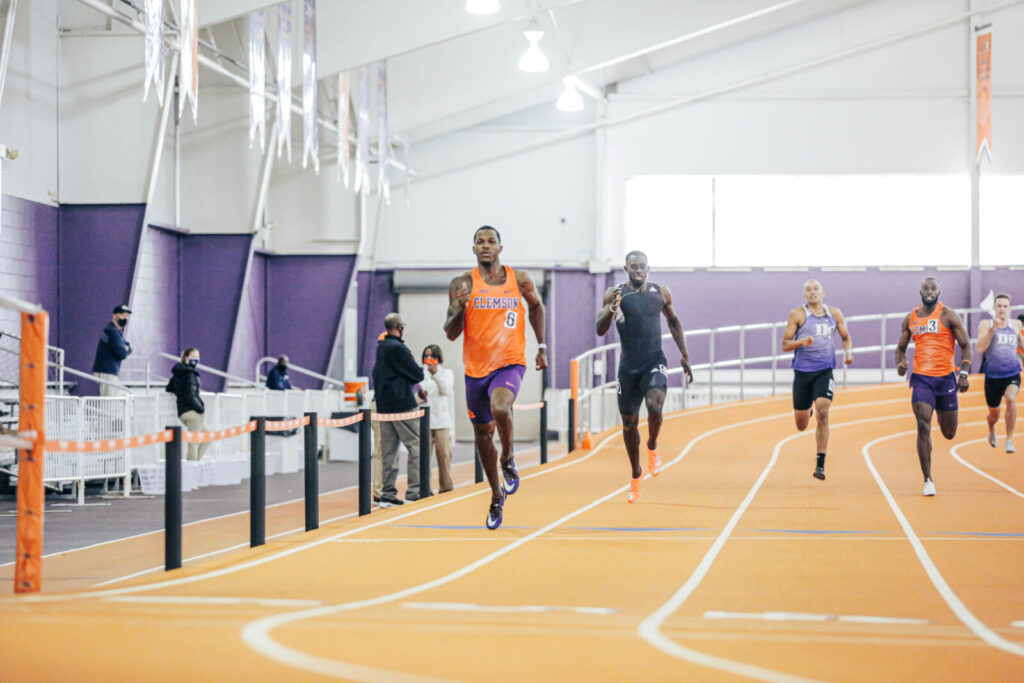 Conwell, Hemmings Shine as Tigers Open 2021 Season
CLEMSON, S.C. — In his first meet as a Clemson Tiger, Terryon Conwell set the school record in the men's 300 meters, running 32.97 to win the event. Conwell, a senior from Decatur, Ga., became the 10th fastest performer in collegiate indoor history and the first Clemson athlete to break the 33-second mark in the event with his performance on Saturday. This achievement marks the second consecutive year that a new men's 300-meter school record has been set during the team's opening meet of the season.
As a program, Clemson track and field set one school record, had 24 student-athletes make their track debut for the program, and garnered 10 individual event victories while competing at the Orange & Purple Elite on Saturday."Overall, today went pretty well. We saw some good signs with some athletes," said Director of Track and Field Mark Elliott. "We're going to take a look at it (the performances) and get ready for next week. Next week is going to be a better meet with more teams."
Another bright spot for the program came in the meet's opening track event, where senior Trishauna Hemmings sprinted to a new personal best of 8.29 in the prelims of the women's 60-meter hurdles. Entering Saturday's meet, Hemmings' best was 8.39, which she set at the 2020 ACC Indoor Championships.
Saturday's Highlights
Anthony Hamilton won his fifth high jump competition while representing Clemson with a clearance of 2.10m (6-10.75) during the meet's first event.
Laurie Barton led the Tigers in what was a speedy women's 600 meters, with the Clemson native running 1:30.9 to improve upon her personal best by nearly three seconds. Barton was one of three Tigers to earn a PB in the race.
Darryl Burton III made his debut for the program in the men's 60-meter hurdles, crossing the line in first place with a time of 8.50.
Zico Campbell won the men's shot put with a new personal best of 16.46m (54-0) on his second throw of the competition.
Cole Myers made his debut for Clemson in today's meet, doubling in the men's mile and 1k. In the 1k, Myers was the top Tiger, running 2:33.39.
Lauren Hayes made her debut for Clemson track, earning victories in both the mile and 3k. In the mile, Hayes led her squad to four personal bests.
Marlin Young improved upon his personal best in the 3k by over 23 seconds on Saturday, running 8:47.25 to lead a pack of five Tigers.
"Our kids can build on this and these good performances will motivate their teammates," said Elliott. "I'm excited about it!"
While competing unattached, Kameron Jones set a new facility record in the men's 600 meters, running 1:16.16 to break the previous record of 1:16.55 set by Penn State's Isaiah Harris during the 2018 season. Jones will compete unattached throughout the 2021 indoor season after transferring to Clemson following four indoor seasons and three outdoor seasons of competition while representing Maryland.
The Tigers will return to action on Jan. 15-16 when the program hosts the Clemson Invite, the team's first two-day meet of the season. Competition on the track and in the field is tentatively slated to begin on Friday at 2:30 p.m.
For all of the most up-to-date information regarding Clemson's track and field program, be sure to reference clemsontigers.com and follow @ClemsonTrackXC on Twitter.